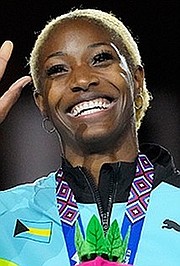 By BRENT STUBBS
Senior Sports Reporter
bstubbs@tribunemedia.net
With the Wanda Diamond League kicking off today in Doha, Qatar, quarter-miler Shaunae Miller- Uibo said she's looking forward to running fast but, at the same time, she's hoping to have some fun competing against her peers.
Miller-Uibo, preparing to add the World Championship title to her ledger this summer, was addressing the media yesterday, along with Great Britain's sprinter Dina Asher-Smith and Sweden's Olympic and World Indoor pole vault champion Mondo Duplantis.
Competing out of lane five where she will be sandwiched between Dominican Republic's Marileidy Paulino in four and Jamaican Stephenie Ann McPherson in six, Miller-Uibo said she's expecting to run well.
"The main thing is I'm trying a new race model and I'm trying to find that perfect one before Eugene and we can go sub-48," said Miller-Uibo, who already posted a season's best of 49.91. "But for right now, it's just testing things out and getting familiar with it.
"But I'm expecting some fast times, but overall, I'm just looking forward to some good competition with the girls."
Miller-Uibo, coming off her first gold-medal performance at the World Indoors Championships in Belgrade, Serbia in March, is one of three Bahamian athletes competing in the first of the Diamond League series.
She will be joined by World Indoors' 100m hurdles silver medallist Devynne Charlton and 60m semifinalist Anthonique Strachan. "We opened and closed our season at the World Champs and think I can't complain about walking away with the gold medal," said Miller-Uibo when asked about her indoor campaign this year.
As she prepares for this year's season, Miller-Uibo was asked about her approach and she didn't hesitate to point out that her coach, Lance Brauman, is taking it one step at a time.
"The main thing is to make sure we train well and we're making decisions as we go, but right now, the main goal for us in Eugene is to try and take home the title," she lamented. "So we will see how it goes. But everything is going very well right now and we're excited to see it."
At the last World Championships in Doha in 2019, Miller-Uibo lost out to Bahrain's Salwa Eid Naser, who has since been suspended by World Athletics for two years for a doping violation. Miller-Uibo came back last year and won the delayed 2020 Olympic Games crown and will now go after the World Championship crown in Eugene in July.
As she opened her season last year, Miller-Uibo did it with a victory in Eugene at the Hayward Field, which will host this year's World Championships.
She's looking forward to making her appearance in Oregon.
"It was the first time competing back there after the renovations and it's a pretty quick track," said Miller-Uibo about running in Oregon last year.
"I'm expecting to see some pretty fast times at both the Diamond League and the World Championships, so I'm excited about it and I hope things go very well because the competition is going to be pretty fast."
When asked about her training session during the off-season, Miller-Uibo said they have been taking it easy.
"Obviously, we were coming off an injury after Tokyo, and the coach took a little more time getting me back into the normal schedule with training," she pointed out. "We stepped it up throughout and we picked up a few knick-knacks here and there but it's a part of sports.
"But we've been making our way through it and training has been going really well, we're expecting great things this year and we will see what will come from it."
Looking at the landscape of track and field right now, Miller- Uibo said the women's 400m has certainly become one of the hotly contested events for fans to watch.
"Just to make the Olympic final last year you had to run sub-50, so it's pretty hot," Miller-Uibo said. "Everyone is stepping up their A-game and I'm expected to push forward. I think the ladies coming up right now are exceptional and I think the 400m is going to go very far very soon."
On competing at the Olympics without any spectators, Miller-Uibo said it was out of the ordinary, but she's eager to see what the World Championships hold when they are expected to have the crowd back.
"It was a little different. I'm someone who feeds off the crowd. That's where I get my energy boost, so it did feel a little bit like training," said Miller-Uibo about the difference in having fans in the stands at a meet.
"I guess I was fortunate that my 400m was more the ending of the track schedule and I had a lot of
the athletes come out and support, so I was able to hear a few people cheering. It was good, but it was definitely a different feeling. I'm looking forward to having the crowd come back."
The crowd is expected to be in the stands in Doha as Miller-Uibo competes with the other Bahamian competitors.
Charlton, with her season's best of 12.89, will run out of lane seven in the women's 100m hurdles. She will be next to Nigeria's Tobi Amusan (12.61) in six and American Gabriele Cunningham (13.06) in eight. American world record holder Kendra Harrison, with her season's best of 12.56, is in lane four.
And Strachan, who has a SB of 22.55, will run out of lane three in the women's 200m.
She will trail Asher- Smith, who is in lane four, American Gabrielle Thomas in five and Jamaican Shericka Jackson in six.