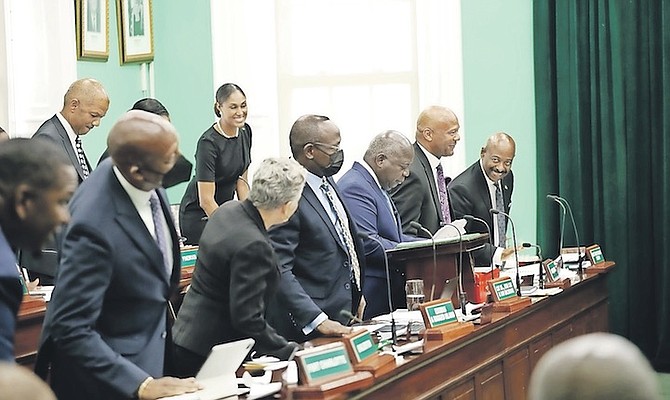 AS he unveiled his administration's plans for the next fiscal year, Prime Minister Phillip "Brave" Davis announced a series of policy initiatives that are envisioned to assist Bahamians struggling with the inflationary high cost of living.
Mr Davis yesterday outlined three key priorities for his administration in the upcoming fiscal period, which includes bringing relief to Bahamians struggling with inflation, stimulating job creation and strengthening the nation's security.
As such, Mr Davis told the House of Assembly that not only had the government submitted a proposal to the Bahamas Public Services Union to increase minimum wage in the public sector with incremental increases starting in July 2022, but there were also salary increases planned for teachers, adding that both educators and nurses were to receive a retention bonus.
The Cat Island, Rum Cay and San Salvador MP added that in this budget the government would reduce the duty on a significant number of food items to bring relief to citizens and residents.
Acknowledging the financial hardships faced by many Bahamians, Mr Davis said his government planned to offset rising costs through targeted wage increases for workers in the public sector.
"The first priority is to help Bahamians cope with a cost-of-living crisis," Mr Davis told members of Parliament. "Bahamians were already struggling with high energy prices, high food prices, and expensive housing costs. In recent months, geopolitical conflict and continued supply chain disruptions around the world have caused prices here at home to go up even further, which has put the squeeze on everyone, especially the middle class and the most vulnerable."
He also said: "We have included amounts for pay increases for most public officers," the prime minister said. "This is because we recognise that public officers have not had a general salary increase since we were last in office, and we have therefore engaged the leadership of the various public service unions to reach an agreement. At this time, we also like to announce the full reinstatement and payment of all outstanding increments.
Regarding the minimum wage, Mr Davis said there was a general erosion of spending power among ordinary Bahamians, prompting his administration's view that there needed to be an increase.
"We also believe that the rate of minimum wage needs to increase because of the general erosion of spending power of ordinary Bahamians - an imperative which has been made more urgent by the current level of inflation. To this end, we have submitted the proposal to BPSU to increase minimum wage in the public sector with incremental increases starting in July 2022.
"We have also engaged union leadership on the issue of a contributory pension plan," he also noted. "Contrary to popular belief, a significant portion of the public service workforce has no pension. This is simply untenable and we hope that our partners in the labour movement share our view, and seek to correct this anomaly within this fiscal period."
Other relief measures include duty reductions on some food items for the restaurant and tourism sector – and construction materials such as roofing, plumbing and electrical supplies.
The prime minister said more details will be released during the budget debate but noted that strengthening the country's food security will be especially key to "how we will feed our nation and bring down the cost of living."
"We have increased our food security allocation by $1.5m to aid the provision of greenhouses and other smart technology for food production in the Family Islands, as well as to provide training and capacity-building for farmers in the use of more modern technology," Mr Davis added.
"In the new budget, we are continuing to provide support to farms by allocating $500,000 to secure broilers, and $600,000 in the form of livestock to increase the supply of fresh meats in the market; we are investing $300,000 to restore the feed mill at our Gladstone Road location to ensure that farmers have ample domestic supply of feed for livestock; and we are also providing $500,000 in grant support to farmers.
Mr Davis also announced expanded tax concessions for first time homeowners, saying the move brings aspiring homeowners one step closer to their dreams of buying a home.
"Currently, concessions are available for persons who purchase a home for the first time. We are expanding these concessions so that people who purchase a home, or purchase land and construct their first home, or purchase a house and renovate it to be their first home, will receive the same level of concession."
"For those who are constructing or renovating their first home, we also are refunding up to $40,000 in cash for any VAT paid for construction services or materials purchased, once the occupancy certificate is provided within eighteen months of the commencement of construction. We are also increasing the level of exemption for first home buyers from $250,000 to $300,000 and reducing VAT on property transfers below $1m for individuals."
As it relates to the government's plans to create more jobs for ordinary Bahamians, Mr Davis said the budget will increase investment in public infrastructure and create direct partnerships with institutions to provide expanded job training opportunities.
More details in this regard will be announced in the days ahead, he said, while also announcing plans to enhance the country's national healthcare, saying $10m has been budgeted for catastrophic healthcare in the 2022/23 budget.
Mr Davis said this means "the government can provide meaningful assistance to long-term dialysis patients, heart patients and others facing serious medical issues."
"There is no doubt that the world's problems - from intensifying hurricanes to deadly viruses to energy shocks and supply chain interruptions – have all washed up on our shores," Mr Davis said in closing remarks.
"The perils are real – but so is the promise of what we can become, if we move forward together. This budget provides a foundation to strengthen our nation, to lift ourselves up, to face the future with strength and optimism. This budget provides support for the here and now, and also charts the way forward for a brighter tomorrow."
Yesterday, Mr Davis, while at Superclub Breezes, was unable to say how much the minimum wage would increase by.
He only said officials were waiting to come to an agreement with BPSU before making a final decision.
"We have an idea what the figure is. We have made an allotment for it in the budget but we cannot decide on what that is until we've made an arrangement and agreement with the union but we want them to know that the money has been allotted and we just want them to sit down and agree and we are incrementally moving the minimum wage to a livable age over the next five years. We're going to start in July and move on from there," he said.