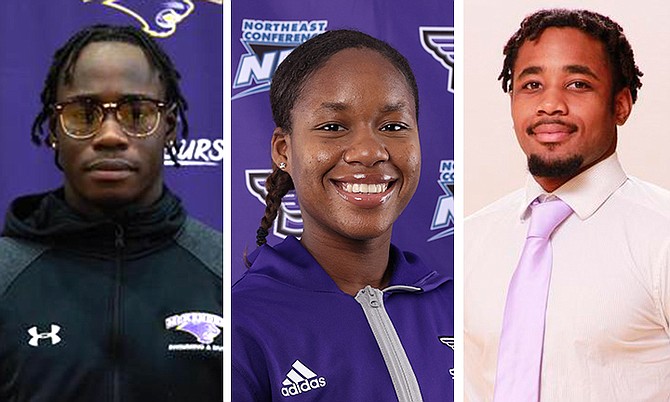 By RENALDO DORSETT
Tribune Sports Reporter
rdorsett@tribunemedia.net
The NCAA Swimming and Diving season continues and several Bahamian student athletes participated in winning meets for their respective programmes.
In NCAA Division I, Jami Hepburn and the Stonehill Skyhawks of the Northeast Conference won 148-112 over Merrimack.
Hepburn, the sophomore standout, had three podium finishes at the meet.
Her sophomore season is off to another fast start after she was named the Skyhawks Rookie of the Year.
She took first place in the 200 yard breaststroke in 2:34.81 seconds, second in the 100 yard breaststroke in 1:10.54 and a third place finish in the 50 yard freestyle in 27.11.
Kevon Lockhart and the Wingate Bulldogs swept Catawba College and Lenoir-Rhyne University in a South Atlantic Conference dual meet.
The Bulldogs are ranked no.8 in the College Swimming and Diving Coaches Association of America's (CSCAA) NCAA Division II top 25 poll.
Individually, Lockhart won the 50 yard freestyle in 21.84 and took third in the 100 yard freestyle in 49.24.
He teamed with Jonathan Carlsson, Noah Sadler and Connor Wright to win the 200 medley relay in 1:33.99 and again with Carlsson, Ethan Hathcock and Jonathan Douib to win the 200 freestyle relay in 1:25.97.
"Going into the meet, we knew it was going to be tough on our bodies due to our hard training prior to the meet, but we all had to remember our head coach Kirk Sanocki saying 'We can still swim fast tired.'
"This statement really made me confident in all the hard work that I've already put into practice and that I would do pretty good, despite not feeling rested," he said. "Overall, the team did great and I can't be prouder. Let's keep the momentum going!"
Davante Carey and the McKendree Bearcats picked up two wins in the dual meet as the Bearcats defeated both Saint Louis (217-114) and Oklahoma Christian (207-105).
The Bearcats are ranked no. 2 ranked in the aforementioned CSCAA poll.
Individually, Carey finished third in the 100 yard breastroke in 50.57 and also finished fourth in the 100 yard butterfly with a time of 51.27. And the 400 yard medley relay team of Carey, Caleb Law, Alireza Yavari and Arthur Souza finished second in 3:20.38.
In the 200 yard freestyle medley relay, Carey teamed with Yavari, Leo Gandaria-Hernandez and Kirk Brotherton to finish third in 1:23.68. The 200 yard medley relay team of Carey, Law, Brotherton and Jackson Lustig finished second in 1:30.98.