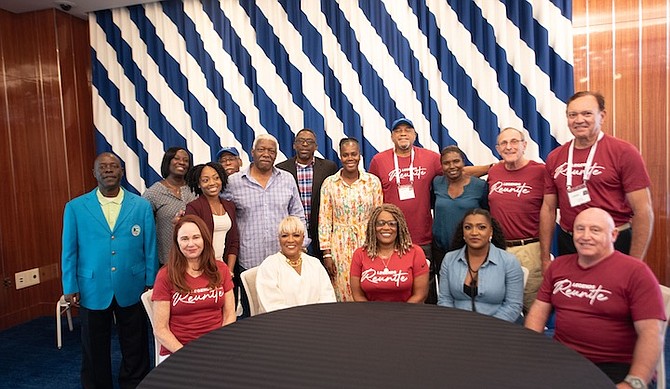 By BRENT STUBBS
Senior Sports Reporter
bstubbs@tribunemedia.net
IN their bid to enhance their relationship in their post track and field careers, the United States of America Track and Field decided to stage their first Legends Reunion and Retreat in the Bahamas.
The three-day event took place from Thursday to Sunday at the Grand Hyatt at Baha Mar with assistance from the North American, Central American and Caribbean (NACAC).
Bahamian Olympians along with members from the Ministry of Youth, Sports and Culture, the Bahamas Olympic Committee and the Bahamas Association of Athletic Associations also joined in the celebrations.
A total of 38 persons representing the USATF staff were in attendance along with the top-notch class of athletes, who competed for the USA in the Pan American Games, World Championships and the Olympic Games.
The list included Earl- Givan Alexandria (Pan American Team); Tiffany Barnes (World Championship Team) (World Championship Team Indoor); Edward Elder (Olympic Team Staff); Chryste Gaines (Olympic Team) (World Championship Team) (Pan American Team); Claudette Groenendaal (World Championship Team); Stephanie Hightower (Olympic Team) (World Championship Team); Carol Lewis (Olympic Team) (World Championship Team; Lee Palles (Olympic Team); Edwin Roberts (Olympic Team) (Pan American Team); Tommie Smith (Olympic Team) (World Championship Team); Mary Wineberg (Olympic Team); Earl Jones (Olympic Team); Aretha Thurmond (Olympic Team) (World Championship Team) (Pan American Team) (USATF Staff); Wallace Spearmon (Olympic Team) (World Championship Team) (Pan American Team) (USATF Staff) and Sharrieffa Barksdale (Olympic Team) (World Championship Team) (Pan American Team) (USATF Staff).
While the group was entertained on Friday night at Tonique's Beach Bar & Grill, a newly opened restaurant by "Golden Girl" Tonique Williams, they were feted to a dinner on Saturday. The majority of the members left town on Sunday. Others will be leaving today.
Through the Ministry of Tourism's Sports in Paradise concept, Mike Sands, president of NACAC, said it was only fitting that USATF make the Bahamas its first destination for their reunion.
"This is not just about competition, but it's about embracing their sporting families and their sporting communities," Sands said. "As a tourism-based destination, we have any number of things that we can offer."
As their largest member of NACAC and with their close proximity to the Bahamas, Sands said it was only a natural fit to have the Reunion/Retreat here.
"Wherever I travel, I always tell people, consider the Bahamas," he said. "Whenever we have meetings, I always tell them to consider the Bahamas. I don't try to take credit for anything, but I do consider myself a sports ambassador separate and apart from all the roles that I play within the sporting community, so I'm always happy to entertain my friends for life."
In the absence of Mario Bowleg, the Minister of Youth, Sports and Culture, acting sports director Kelsie Johnson said it was their pleasure to host the legends in the Bahamas and she wished them every success and hopefully their experience will allow them to come back again and again.
And Roy Colebrooke, a first vice president of the BOC, said they support the visiting Olympians to the Bahamas.
"Having this first ever retreat is very important and historic, as it relates to the United States Legends," Colebrooke said. "They have the blessing and support of the Bahamas Olympic Committee."
Sharrieffa Barksdale, the senior manager of alumni relations at USATF, said while they were eating lunch with some friends and OIympians, the idea came up to have a reunion. Once she took it back to their office in Indianapolis, Indiana, she said everybody agreed to do it and they started the process to come here a year ago.
"A lot of the athletes had a setback because of COVID-19, but now that the economy is moving forward, I believe there will be so much more coming as we move forward," she said. "The Bahamas is so beautiful and the people are family because everyone has treated us with open arms."
Barksdale said with so many people dying, they decided to bring the event to the Bahamas in unity in one family and they hope to have the reunion retreat at least every two years, if not, every four years.
Rose Monday, the chairperson of the USA Women's Track and Field programme and the head women's coach of their 2020 Olympic team, said she was honoured to be in the Bahamas with the rest of the legends and they're even more appreciative of the support from Sands and NACAC, of which the USA is a member.
"When Sharrieffa (Barksdale) and the committee met and we said where shall we have this, we said the Bahamas and it was a no brainer," Monday said.
"We loved it when the World Relays were here. In my opinion, it should be here every year. I've been here for all of the relays when they were hosted here. It's just love the warmth of this country. We're like family."
Maybeline Miller, the chief executive officer of the BAAA, welcomed the group to the Bahamas on behalf of president Drumeco Archer, who was unable to attend the event.
"I'm glad that you chose the Bahamas to have your event," she stated.
"I know this won't be your last time here. So we're glad to have you and we just hope that this can be a partnership that we can have with the country going forward."
Pauline Davis, the vintage Bahamian Olympic quarter-miler, also joined in welcoming the legends from the USA to the Bahamas. She noted that it's a Bahamazing experience.
"We're so delighted to have you here, we're so happy that you chose the Bahamas," she said. "As an athlete myself, I know many of you. My good friend Chryste Gaines, who led off the 4 x 1 relay for the USA back in 2000 when the Golden Girls won the gold medal, we're great friends.
"She's here also and so I'm just delighted to spend some time with her and spend some time with the rest of you who I know all so well. We're so thankful that you chose these islands of the Bahamas."
Williams said she was thrilled to have entertained the group at her beach bar and grill where they had a lot of fun where they got to share their best stories of what they remembered of their careers and she noted that they were all hilarious.
"We just extended our hospitality to the athletes visiting here," she stated. "It was definitely a good time to get together in a different format, not competing against each other. We're on the same side, so it was a lot of fun."
Williams said she's hoping that the BAAA will follow suit and have their own retreat for the Bahamian athletes in the future.
Another "Golden Girl", Eldece Clarke was also in attendance although she didn't speak.