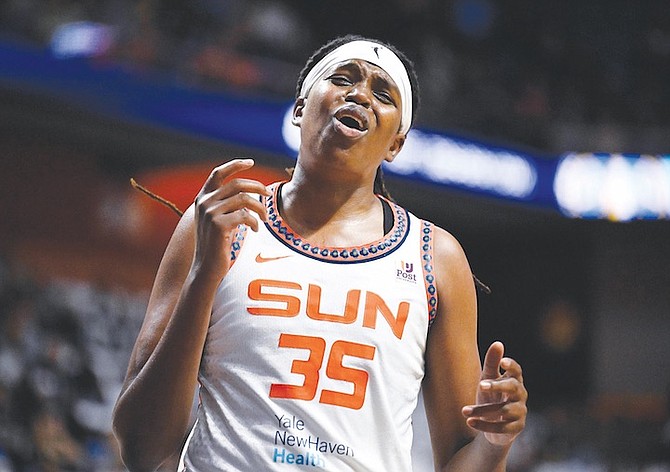 By RENALDO DORSETT
Tribune Sports Reporter
rdorsett@tribunemedia.net
The Connecticut Sun lost a pivotal game three of the WNBA semifinals and surrendered home court advantage for the remainder of the series, but the story emerging out of yesterday's game was the limited time Jonquel Jones received down the stretch.
With Connecticut trailing 66-64 with 3:37 left to play, Sun head coach Curt Miller subbed Jones out of the game. She checked back in with 54 seconds left to play and the Suns down by six.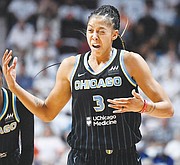 Jones finished with just six points on 3-10 shooting from the field with eight rebounds and two blocked shots in just 24 minutes.
Miller explained his late game substitution pattern in his post-game availability. "It's sometimes offence-defence and it's so much harder at the pro level to do that unless there's a dead ball, you can't be offence-defence substituting at the pro level is difficult. At times, now can we get them spread out moving with a smaller lineup," Miller said.
"I have to make those calls, difficult decisions, all the time. At times they don't come with as many doubles to Bri Jones so at times do we get the ball inside with spacing that we want because they send so much attention to JJ.
"It's kind of a feel and there's always going to be second guesses when you don't win. When you win people will say you pushed the right buttons. Searching, when we were struggling to score and trying to find some more movement late in that game when we were struggling to score."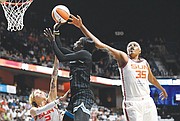 The Sky leads the best-of-five series 2-1. The Sun will host game four 8pm Tuesday night at Mohegan Sun Arena.
The Sky's Kahleah Copper made a three pointer to give her team the aforementioned 66-64 lead with 6:14 left to play. Both teams followed with a nearly four-minute drought.
"It was 66-64 forever," Miller said. "I wondered if one team would have an offensive run. It was to the point where if a team could put back-to-back baskets together, they would have all sorts of momentum. ... We just couldn't put together that offensive run when we needed it."
Connecticut led 23-21 after one quarter but Chicago took a 40-38 lead at the half and a 56-55 lead heading into the final period.
Jones is averaging 15.2 points on 51 percent shooting from the field, 43 percent from three-point range, and 8.5 rebounds per game this postseason.
She shot just 5-8 from the field in game one, followed by 10-17 shooting in game two. "They're trying to limit shots by Jonquel and shots by Bri Jones and really coming with doubles. It's hard sometimes to score through that, step through that, I think they're making good plays out of doubles. Can we repost?
"The challenge is trying to get them some touches before they are loaded up. Once they get into the halfcourt and they have their style of play defensively and schemes defensively situated they're just sending so many bodies toward our postgame so it's difficult at times," Miller said.
"Everyone gets hung up on shot attempts but we want to know that we are taking good shots, taking shots when we can get the spacing and have them spread out. In stretches we won that battle and stretches they forced us to do different things."
Each game in the series has been a single-digit margin for the winning team through three games with the Sun taking a 68-63 win in game one, followed by the Sky's 85-77 win in game two.
"We've talked a lot in this series about how hard we have to play and how we have to make the game messy, we got the game way that we truly relieved we can be successful. Our defensive energy and effort was unwavering even when they made some plays," Miller said. "We were excited we got the game in the style of play we thought we could be successful.
"Unfortunately, we didn't get to the finish line but our players have to leave confident that we can make games against Chicago the type of style we want and desire to have," explained Miller.