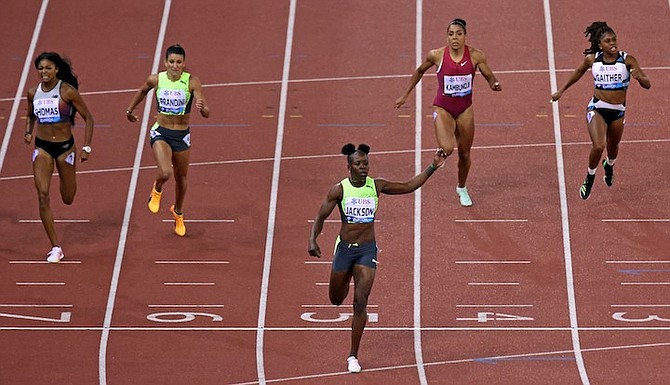 By BRENT STUBBS
Senior Sports Reporter
bstubbs@trkibunemedia.net
ENJOYING what she described as her best season ever, Tynia Gaither said she's satisfied with her sixth place finish in the women's 200 metres at the Wanda Diamond League Final in Weltklasse, Zurich, Switzerland, yesterday.
The 29-year-old Gaither, coming off her silver medal performance in the 200m at the NACAC Championships in Grand Bahama, clocked 22.06 seconds, off her lifetime best of 21.41 she posted this year, running out of lane three.
"Considering how my body is feeling, I think I went out there and gave it my all, so I'm pretty satisfied with that," said Gaither after the race.
"I tried to get out as best as I could, but my start and the curve wasn't the way I wanted it to be lately.
"But I know I have a very strong finish, so I just tried to keep myself in a position to try to make up at the end and I think I did that very well."
Jamaican sensation Shericka Jackson, who earlier got silver (10.81) in the 100m behind compatriot Shelly-Ann Fraser-Pryce (in a meet record of 10.65), won the deuce in 21.80 over the American pair of Gabrielle Thomas (22.38) and Tamara Clark (22.42).
American Jenna Prandini was fourth in 22.45 with Switzerland's Mujinga Kambundji was fifth in 22.65, while Denmark's Ida Karstoft was seventh in 22.80 and Great Britain's Beth Dobbin rounded out the field in 22.83.
"We had some of the best women in the world, so to place sixth in that field, I'll take it," Gaither said.
"The goal is always to run a personal best, but I will take sixth for now."
Gaither was one of two Bahamians competing in one of the biggest prized events for athletes this year. National record holder Devynne Charlton got fifth place in the women's 100m hurdles to earn $2,500.
For her efforts, Gaither pocketed $2,000.
The other prize money offered for the Diamond League was $30,000 for first place, $12,000 for second, $7,000 for third, $4,000 got fourth, $1,500 for seventh and $1,000 for eighth place.
The meet brought the curtain down on Gaither's season and now she will return to Austin, Texas to do some rehab and treatment and just allow her body to heal before she and her coach Tonja Buford- Bailey begin prepping for next season.
"It was a fantastic season. My coach is amazing. I ended up getting into the best shape of my life and I ended up having my most consistent season," Gaither reflected.
"I ran two personal bests and I had a lot of fun this season. I got to compete a lot, so I'm very grateful."
Next year, however, Gaither said one of her goals is to crack the 11-second barrier in the women's 100 metres.
She's sitting on the edge looking in, having ran a personal best of 11.02 as the eighth fastest Bahamian.
Her PR of 22.41 has her listed at number seven.
"My second year with coach Bailey should be awesome, so I'm really looking forward to that," she said.
"And when I make the championship meets, I really want to be able to do something.
"Making the semi-finals won't cut it anymore. So my goal next year is to make an impact for Team Bahamas in the sport."
Hopefully, she can eventually get back on the podium like she did at NACAC in Grand Bahama (with the silver in the 200m and as the anchor of the women's silver winning 4 x 100m relay team) for another medal to add to the bronze she collected at the Pan American Games in the 200m in Lima, Peru in 2019.
While she will gear up for the possibility of returning to the Pan Am Games, scheduled for Santiago, Chile, October 20 to November 5, 2023, Gaither is also looking at making her presence felt at the World Championships in Budapest, Hungary, August 19-27.