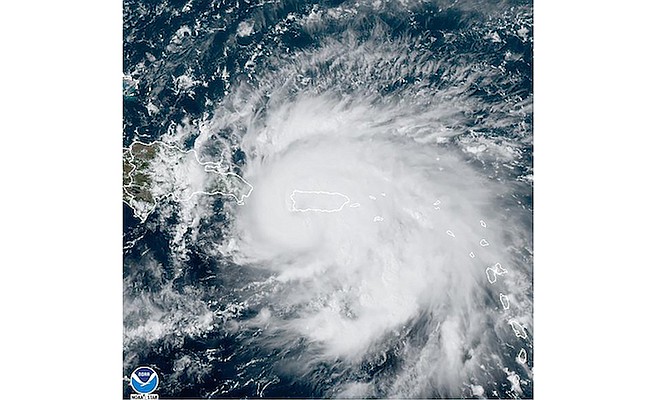 TUESDAY 4.15pm UPDATE: The Office of the Prime Minister has released the following statement on Hurricane Fiona:
The Government is closely monitoring the development of Hurricane Fiona, a Category 3 storm which is forecast to impact the southeastern Bahamas today.
Fiona is a dangerous Category 3 hurricane, which on its projected path, is expected to impact the islands of Mayaguana and Inagua today with Tropical Storm conditions.
Fiona is packing maximum sustained winds of 115 mph and is moving NNW at 9 mph. The storm is likely to further strengthen into a Category 4 hurricane later today and could strengthen to Category 5 by Wednesday.
A tropical storm warning remains in effect for the SE Bahamas.
On its current NNW trajectory, Hurricane Fiona is expected to move away from The Bahamas today. However, we strongly caution everyone, especially those in the warning areas to stay alert and up to date with the latest forecasts.
The Bahamas Department of Meteorology reported that as of 9:30 this morning residents on the island of Mayaguana began to experience tropical storm conditions and that those conditions were expected to last for about 12 hours.
Several important steps were taken today as the government sought to safeguard the most vulnerable residents of Mayaguana.
A Bahamasair flight departed Mayaguana for Exuma this morning carrying ten (10) residents. The flight arrived in Exuma at 8:30 this morning.
The Administrator's Office in Exuma will manage accommodations for those residents until the all clear is given and they are able to return to Mayaguana.
Meantime, a team of Defence Force officers arrived in Mayaguana this morning carrying food, blankets and other supplies and a Defence Force vessel stands ready to depart for Mayaguana this afternoon with additional manpower, food and water, generators and other recovery tools and equipment should the need arise.
The National Emergency Management Agency (NEMA) is in regular contact with officials on the ground in Mayaguana primarily through the use of satellite phones.
They report that shelters in Mayaguana have been activated and that several residents have reported to those shelters.
We are advised that the regularly scheduled mailboat service to Mayaguana arrived on the island on Monday (yesterday) supplying food and other goods for private residents and local grocers, therefore residents have access to sufficient supplies for the medium term.
We encourage residents, those in the southeastern Bahamas is particular, to monitor the developments of Hurricane Fiona as we seek to safeguard life and property.
______
FROM EARLIER:
RESIDENTS of the southern Bahamas were bracing for tropical storm conditions last night as Hurricane Fiona continued on its path towards those Family Islands.
Fiona strengthened into a category two storm yesterday packing maximum sustained winds of nearly 100mph with higher gusts after battering Puerto Rico and leaving that island without electricity, according to international reports.
The storm made landfall in the Dominican Republic yesterday.
In an alert issued at 6pm yesterday, the Department of Meteorology said rainbands were spreading across the southeast Bahamas and Turks and Caicos Islands.
A tropical storm warning was in effect for Inagua, Mayaguana, Acklins, Crooked Island, Samana Cay, Long Cay and Ragged Island.
This means tropical storm conditions were expected within 36 hours.
Fiona was moving toward the northwest near 10mph and was expected to continue this general motion overnight, followed by a turn toward the north-northwest today and to the north on Wednesday.
 "Steady strengthening is expected during the next couple of days and Fiona is forecast to become a major hurricane on Tuesday," the Met Department said.
 The agency said residents in the southern Bahamas, particularly Inagua, Mayaguana, Samana Cay, Acklins and Crooked Island, were warned to brace for possible tropical storm conditions last night. This includes strong wind, heavy rain and localised flooding. Up to three inches of rain is expected.
 At a press conference on Saturday, Captain Steven Russell, the director of NEMA, said that emergency evacuation services were on standby to assist residents of Mayaguana if necessary.
 "The commitment of a number of aircrafts airlines here in New Providence and they are standing by if it becomes necessary. From our discussion this afternoon (Saturday) in terms of a number of persons in Mayaguana who might need to be evacuated for medical reasons or facing a medical condition we will refine that plan of action tonight with a view of executing to evacuate those persons (Sunday). Definitely before the watch and warning phase, definitely during the watch phase we will have those persons evacuated from Mayaguana as necessary," Capt Russell said.