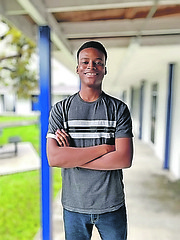 Twice a month, BTVI nominates a student to celebrate - so this week, meet who's #BackedByBTVI.
Meet media technology student Nathan Bowe.
Nathan chose to attend BTVI after his father, who was once a BTVI instructor, brought him to apply after he graduated from high school. Nathan was most excited to improve his media skills and learn about new digital media.
A fun fact about Nathan is he was a content creator and media volunteer during this year's CARIFTA Games.
He sends a huge shoutout to Radio Production instructor Mr Anthony Coakley.
"Mr Coakley uses humour to make his lessons more engaging and invites us to events so we can gain more hands-on experience," Nathan said.
Nathan's BTVI experience enables him to be globally competitive and economically independent. Nathan is #BackedByBTVI!
• Do you know a student you would like to see featured in Student Spotlight? Send a picture and brief details to jsimmons@tribunemedia.net.