THE Lucayan Youth Organisation is more than just basketball.
Ricardo Lees, coach and co-founder of the organisation spoke with this paper about the club founded by himself and Tamaro Butler in 2017. He said the club currently has students from ages nine to 21 enrolled and takes two trips to play in tournaments and tour college campuses.

He said: "We decided to put a club together for young men, just to help mentor them to help with their leadership and be willing to use basketball as that avenue to help them. So, in 2017, we started the Lucayan basketball club, and we take two trips a year. We travel during the Easter and we travel during the summer. On these trips, we play in tournaments and we have a college tour-we would normally put off for three to four days where we would visit different colleges."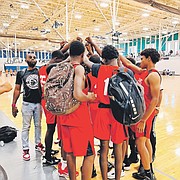 This year's Easter trip included visits to the campuses of South Eastern University, Full Sail University, Monteverde Academy, Windermere Prep and Altamonte Christian Academy where club members had a work out session and were offered five scholarships. In order to travel on this trip each club member had to complete their professional portfolio. This programme is a part of the Lucayan Curriculum and as a result three seniors were able to apply on site to Southeastern and register for a few of their scholarship opportunities. Coach Lees and Coach Butler agree that the trip was a success not because of the championships but because we were able to expose our student athletes to the world and was afforded the opportunity to represent our brand and country.
Mr Lees said the programme focuses on developing the spiritual, academic and athletic lives of their students and has helped a number of students to continue their education at boarding schools and colleges abroad.
He said: "We just want to give them that exposure - we want them to understand that you can get off his rock and you can use basketball as an avenue ensuring that your academics is straight. One of our slogans is 'we are more than just basketball' so we try to focus on the whole child. We try to focus on the spiritual. We try to focus on the academics as well. We try to push them to be leaders."
He added: "So right now we have like eight young men projected to go off to boarding school. We have three of them that are projected to go to Snow College in Utah. We tried to build partnerships with different schools abroad, so we can help our young people to experience more than just basketball. We have a volleyball programme. Next, this summer, we're doing our track programme so we have a lot of things that we're trying to do, but we really push academics and trying to broaden their horizon from just New Providence and The Bahamas as a whole."
Club activities include basketball training and development activities, enrichment sessions, mentoring and a monthly church service and lunch. Mr Lees stated that the goal of the club is ensure that members become better persons on a spiritual, academic and social level.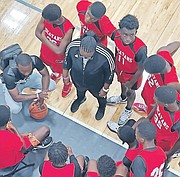 He said: "What we normally do on every third Wednesday of the month is we have an enrichment session where we invite different leaders throughout our country to come and talk to them about their education about spiritual things about their future goals. On every fourth Saturday of the month, we would have a live chat with them. And it's more like a mentorship type thing, where we would talk with them about their future, about their goals and ensure that they are on the right track academically. And the second Sunday of every month we worship at Liberty Baptist Church, where we would get together and we afterwards we go for lunch and then we have our training and development on Sundays as well. So we have a unique program that we try to mentor young men and young ladies."
He said: "They can find us on Instagram, they can find us on Facebook, they can contact me via WhatsApp. Any one of those social media sites can work. At the end of the programme, we want our young people to be better. And that's better, spiritually better academically and better socially. And so our goal is to ensure that they have that avenue and they have that exposure, so they can be better citizens. So that's, that's our main push because the talents can take them to a tertiary level. Some might not make it to the pros, but we want them to be better, better young people, better men and better young ladies."