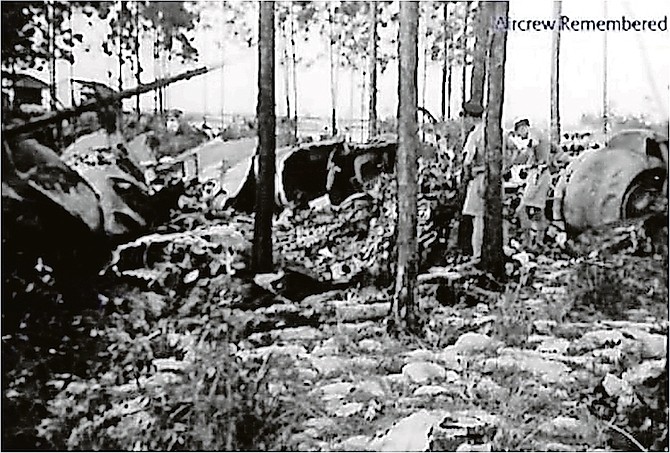 WHETHER planes touched wingtips, men walked into propellers, bombers collided, planes were lost in microbursts, or had training gunnery mishaps, Nassau, Windsor and Oakes air fields and adjacent waters claimed many lives. More than half of all accidents in the colony – 80 of 150 – took place at or near the air fields and New Providence. This article deals with the 55 accidents that happened or ended up on land. In the three years from January 1943 131 aviators and a Bahamian family of three were killed by military aircraft in New Providence and its waters, with 83 rescued, and those fatalities recovered buried on Farrington Road. Pre-existing Oakes Field, used for training, saw nine crashes and most of the 25 unallocated, and Windsor Field, still in use, had 21.
Some accidents resulted from blown tyres, heavy bounces, uncontrolled loop-arounds, mid-air collisions, and machine guns accidentally self-shooting aircraft. Sixteen of the planes burnt out, one hit the control tower, and 40 were at least partially salvaged and removed at the time. While I have walked the perimeters and runways of both Windsor and Oakes fields without finding plane pieces, ideally the location of where airfields dumped unused and destroyed metals can be located. Photos show masses of gnarled metal from collisions and crashes in the pine barrens just off the fields.
Exactly five weeks after she was married to Charles Bullard, a labourer aged 24, Louise Marguerite Newbold, a 19-year-old seamstress, tucked their newborn infant Philip in and went to bed in their modest home in Delaport Village. Hours later, at 3.36am on Friday the 26 of February, 1943, a 68' wide, 53' long, and 16' tall B-25 bomber which had recently been abandoned by its crew of 3 aviators in parachutes, hurtled into their dwelling at over 200 miles per hour. The coroner's report described how the child's skull was fractured, and his mother Louise died of asphyxia, and the child's father Philip died of "fractured ribs and internal hemorrhage result of RAF airplane crash at Delaport". Amazingly, Louise's uncle managed to escape the inferno alive.
The aircraft damaged or lost included 20 of the A-20 or A-30 Havoc, Bolo, Baltimore small bombers, seven B-24 Liberators, two dozen B-25 Mitchells, five B-26 Marauders, of which two have been found), five Curtis C-47 or Venturas (think DC-3 transports), six smaller De-Haviland Mosquito fighters, and almost all of them – 70 – were flying for the Royal Air Force, even if built by the US. The others were US Army Air Force or US Navy aircraft in transit for the most part south. Some aircraft were seen by the tower and residents to crash into Yamacraw Hill, Soldier Road and Fox Hill Road, and in Lake Killarney. The causes included take-off and landing mishaps, and equipment failure. The remnants of many of these sad crashes still litter the bush as well as populated areas on the capital island today.
In terms of frequency, the 60 or so accidents were spread over roughly 40 months; more than half - thirty-seven – happened in 1943 alone, perhaps when recruits and planes were the newest. Only six accidents marred 1944 and 15 in 1945, the last being an unknown lorry driver who struck an aircraft meant to carry VIPs to Canada. The primary causes were damage to undercarriages due to faulty landings or take-offs, with aircraft salvaged, or catastrophic pilot error or equipment failure resulting in nose-dive crash into the bush from which no one survived.
Among the fatalities, Ian Simpson Glen was thrown through his cockpit cover, and Daiken, and Zdan were trapped in a burning B-25. Houlding, Downey and Anderson survived over-shooting the runway in an A-30, yet their colleagues Harris, Anderson, and Thompson hit earth when the plane veered uncontrollably after takeoff. Likewise, Parson, Gedye and Hunt had dangerous undercarriage failures yet jettisoned tanks and survived a belly landing. Amazingly BL Dawson was under an aircraft when the crew dropped the Dakota airplane on top of him, yet he survived. In one case a plane lost its entire tail and wheel assembly whilst testing fuel consumption. And tragically John Francis Hole and Edred Day were both killed while repairing an aircraft at night – the eruption of an engine fire drove them instinctively backwards but into an active propeller.
August 7, 1943, witnessed one of the greatest losses of life in a single day, when a B-25 piloted by free Czech airmen crashed and burned 2 m E of Windsor, at Soldier Rd area, reached 1,000'. Two minutes into the flight nose rose sharply and it then nose-dived, burst into flames, and crashed to earth within sight of the airfield hangars, also said to be 2 miles from Windsor Field. Lost were Briza, Hadravek, Mares, Salz, Turna, and Satola, whose remains lie at the War Cemetery to this day. Another pilot, J. H. West landed without wheels and Learmont, Cunliffe and Aitken whose A-30 over-ran the runway without a port engine.
Sadly, three men survived the initial crash of a B-25 on 13 September 1943, only that airfield crash, taking off from Oakes Field when it swung wildly, crashed into trees, and burst on fire. The aircraft was destroyed, Rafuse was taken alive to RAF hospital, died at 4.30 pm. Days later Co-pilot raised undercarriage at takeoff, Marauder burnt out. Mistook signal from Captain, raised undercarriage, plane burnt out. And Ross, Merckercher and Fisher must have remained in Nassau a few days after following B-24 down runway, lost brakes, veered off runway, lost nose wheel, pump not activated, damaged beyond repair.
Pilots Grant and Pynn suffered ignominy when they landed at Windsor, were taxying, co-pilot accidentally raised landing gear, buckled lower frames, port propellers. They were more fortunate than Bartlett. Carberry, Foreman, Lewis, Woodeson, and Bentick. Those men perished when their B-25 lost height after bombing run and flew into trees at Yamacraw Hill, with smoke seen by civilians. Other planes reported "an aircraft was on fire in swampy bush, disintegrated, difficult to identify aircraft type. Ambulance and fire tender sent. Found it was B-25, which had commenced bombing practice but banked steeply, crashed, and only after hitting the earth caught fire".
Then aviators Hayes, Holland, Birch, Birkett, Cribbes, Tomlinson, Jackson, Hutchings, Warren, and Richards were also killed when their B-25 collided with another training aircraft, wrecking their plane with all aboard it. Just before VE Day, on April 10, 1945, a pilot named Creed nose-wheel would not extend/jammed on landing, damage to front of plane. As an incubator for pilots who left the Bahamas directly to the front lines against German and Japanese aces, it was part of the tragic math that aircraft and pilots and sometimes both at the same time might fail. Nassau has borne witness to this, with some 60 aircraft on terra firm on the island – literally among us.