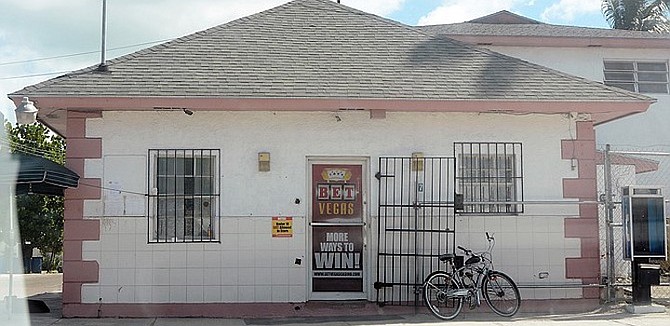 • 'Cogent evidence' backs Bet Vegas no-go
• Yet unlicensed web shop operated to 2020
• Gaming Board: 'Blatant disregard' for law
By NEIL HARTNELL
Tribune Business Editor
nhartnell@tribunemedia.net
The Gaming Board's decision to reject a web shop's licence bid during the industry's legalisation was fully vindicated yesterday by the Supreme Court.
Justice Indra Charles, in a written verdict, ruled there was "cogent evidence" supporting the regulator's finding that Bet Vegas was an "unsatisfactory" applicant for a Gaming House Operator Licence after it conducted an investigation "based on the law and best practices" employed by the global gaming industry.
The judge said Bet Vegas' action should have been dismissed without the merits of its case being heard because it had continued operating for four-and-half years without a licence until the Supreme Court ordered closure of its "unlawful operations on April 30, 2020.
Nevertheless, Justice Charles proceeded to hear the web shop's full claim. The Gaming Board ultimately rejected Bet Vegas' licence application due to "blatant disregard" for the law governing the industry's transition period, as the sector's activities moved from being illegal to lawful; questions over its funding sources and ownership; potential links to a group of businesses using the corporate name 'Bowe' and persons connected to it; and lack of disclosure.
Bet Vegas was the sole applicant out of nine to be rejected for a Gaming House licence when the web shop industry was legalised, regulated and taxed in 2015. Anthony Brown, its president, at the time described its rejection as "nonsense" and added that it had paid all outstanding taxes and fees required.
"Bet Vegas has paid all of its fees that were levied for the RFP process in full. Bet Vegas has paid all of its monthly gaming taxes in full since the Government regulation came into effect; in excess of $400,000," he said in a December 22, 2015, interview.
"Bet Vegas has paid all of its bills up to date, including National Insurance. Bet Vegas has spent over $200,000 to implement the systems and infrastructure that were required by the RFP (Request for Proposal) for licensing. Bet Vegas also has its local server at Cable Bahamas, which was required by law. If all of these were put into place, then why is it that Bet Vegas is the only operator without a license?"
However, Justice Charles' judgment more than seven years' after these events upholds the Gaming Board's verdict in its entirety. Bet Vegas' challenge to its licence denial, filed on November 2, 2015, attacked the decision as "unreasonable and unsatisfactory" because it was "denied due process" and the move was not supported by evidence. The web shop also argued that it had "a legitimate expectation" to qualify for a licence.
Mr Brown, in Bet Vegas' licence application on March 10, 2015, was listed as its 99.66 percent majority owner. The only two other shareholders were listed as Florence Knowles (his mother) and Leonardo Rodgers (his brother), each serving as executive directors and secretary and vice-president of the web shop, respectively. Both held a 0.2 percent stake.
However, Justice Charles said she could have halted Bet Vegas' action at the preliminary stage because, as an unlicensed operator, it did not cease business on October 26, 2015, when the industry's transition to legal operations as required by the Gaming Act 2014.
She added that Kenria Smith, lead attorney for the Gaming Board from the Attorney General's Office, "argued that it is crystal clear from the evidence of Mr Brown, adduced on November 14, 2016, and November 13, 2017, respectively that the appellant continued to knowingly - and with blatant disregard for the law - operate numerous gaming facilities in contravention of the Act.
"In doing so, says Ms Smith, he siphoned domestic players away from licensed gaming house operators and deprived the consolidated fund of the gaming tax revenue that should have been generated by their play. In light of these illegal activities, this court ordered that all such unlawful operations cease by April 30, 2020.
"Counsel maintained that the appellant is not entitled to be heard as he relies on what he clearly understood to be his continued illegal act, upon which he moved the court to consider." Mr Brown and Bet Vegas did not respond to this, and Justice Charles added: "It is not in dispute that the cessation period ended on October 26, 2015, when the appellant ought to have ceased operation.
"The appellant's continued operation of Bet Vegas renders its operation unlawful...., and such illegal operation is also ground for the disqualification of such business for any licence under.... the Act. As the respondents correctly argued, the appellant ought not to be heard on his appeal. On this preliminary objection alone, I ought to dismiss the appeal with costs to the respondents. In the event that I am wrong to come to this conclusion, I shall carry on with the appeal."
The Gaming Board, in common with its regulatory counterparts throughout the world, has to conduct especially thorough investigations into licence applicants and their senior employes given the substantial amount of customer monies they handle.
Ian Tynes, the Gaming Board's secretary, in giving evidence on the regulator's behalf said Bet Vegas first came to his predecessor's attention over its employees allegedly using handheld devices to enable customers to gamble. The web shop was warned on April 15, 2015, that if such allegations were proven its application for a licence would be denied.
Subsequently, Mr Brown was asked to provide information on net worth, ownership and funding by the Gaming Board on July 15, 2015. Some two weeks later, he informed the regulator that his web shop's software supplier, RSL Ltd, had stopped providing casino game platforms due to a contract dispute.
Mr Tynes, in his evidence, cited multiple grounds for why Bet Vegas was denied a licence. These included Mr Brown being "unable or unwilling" to provide evidence that the web shop's financing came from reputable sources, and doubts that he had been "transparent" over Bet Vegas' ownership
There were also concerns about a December 8, 2014, "deed of assignment", in which Vernal Major had conveyed to Bet Vegas five web shops bearing the latter's name for a "conspicuously nominal" $10 price. The Gaming Board became concerned about whether Mr Major would have any continued role in the web shop's operation or share in its revenue, and no clarity was allegedly provided by Mr Brown.
The five web shop locations covered in the deed did not match the addresses of the five that Beg Vegas said it would operate once licensed. The Gaming Board also had misgivings about Bet Vegas and Mr Brown's ties to businesses operating as Bowe's Tavern, Bowe's Web Shop, Bowe's Liquor and Bowe's Electronics, given that one of the five web shops it planned to operate referred to Bowe's Sporting Lounge.
And, in relation to Bowe's, Mr Brown denied knowing its principals or a Donnie Stuart. He added that he only knew John Stuart from leasing two properties for Bet Vegas - its operations centre and Blue Hill Road and Market Street location. The Gaming Board, though, said its investigation found such assertions to be questionable.
"On or about May 28, 2015, in connection with a site inspection of the appellant's Blue Hill Road and Martin Street premises, senior level Board staff observed a person, who introduced himself as John Stuart and, as manager of the location, engaged in counting what he represented to be cashier floats impressed at $5,000 each in a secure area of the premises," according to Mr Tynes' evidence.
"When confronted with the observations of Board staff during the course of the September 9, 2015, interview, Mr Brown contended "it could not be John Stuart" but did not otherwise put forth any information to refute the observation." And interviews with Bet Vegas' senior management team raised "a very strong suggestion" that "possibly many" of the web shop's locations and agents would not be under its control or that of Mr Brown.
The Bet Vegas principal was also said to have reduced the valuation of a note payable, listed in the web shop's net worth statement, from $1.8m to $180,000. That note payable was represented as a loan from Mr Brown's Florida company, Sanjay Chraritable Holdings, to Bet Vegas, with the latter valued at $2m.
No documents were provided to support this, and the Gaming Board had doubts as to whether Mr Brown was "ordinarily resident" in The Bahamas as required by law given the amount of time he spent in the US before November 2014. Then there was "the unauthorised expansion" beyond the four locations and one agent that Bet Vegas has pledged to operate during the transition period to the industry's legalisation.
"According to Mr Tynes, the repeated and overt expansion constituted a blatant disregard on the part of the appellant for its regulatory obligations and demonstrated a lack of corporate integrity, honesty and regard for the law that was deleterious to the fostering of a good reputation for the domestic gaming sector, to the health, safety, morals, good order and general welfare of the inhabitants of The Bahamas and in inimical to the provisions and policies of the Act," Justice Charles wrote. She found that Bet Vegas' challenge had little merit on any of the grounds put forward.