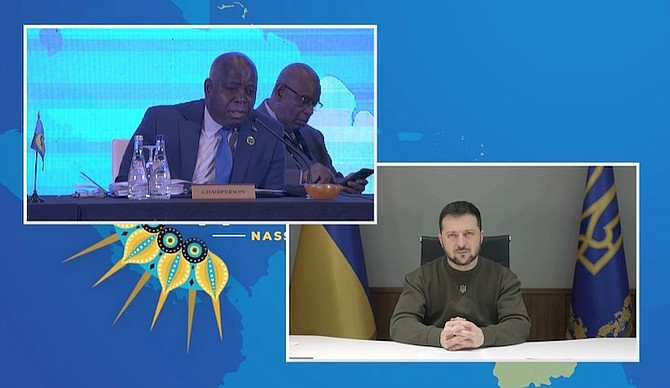 By JADE RUSSELL
Tribune Staff Reporter
jrussell@tribunemedia.net
PRIME Minister and Chairman of CARICOM Phillip "Brave" Davis on Friday condemned Russia's violent attacks against Ukraine as he applauded Ukraine President Volodymyr Zelenskyy for his "dignity" and steely determination throughout the war.
President Zelenskyy addressed CARICOM delegates on Friday by video when he explained the ongoing battle with Russia, which has left a trail of devastation in Ukraine.
Russia is not just burning down cities, killing people, and stealing property. It is also destroying the environment, Mr Zelenskyy said.
The president added: "Its aggression brings about destruction and flooding of coal mines. Mines and hostilities in the Black Sea resulted in the death of tens of thousands of living creatures."
His comments came during the last day of CARICOM meetings in The Bahamas.
On February 24, 2022 the Russian attacks on Ukraine started in such major cities as Berdyansk, Chernihiv, Kharkiv, Odesa, Sumy, and the capital, Kyiv.
Mr Zelenskyy noted that currently 18 percent of Ukraine territory was reportedly occupied by Russia, adding no normal life is possible when human life has become worthless due to the violence.
"Russia's domination means no human rights but the rule of militarised gangs. When Russia comes, it means that repressions and murder come. If the Russian flag appears, it means that torture chambers and total looting will appear," he said.
During his remarks, Mr Zelenskyy stressed that if Russia is successful in any way the balance in the world will change in the favour of violence.
"I know that Russian propaganda – and in your region in particular – draws a completely different picture of what is happening on our land and in Europe. But I warn you that if Russia, God forbid, is successful in any way, the balance in the world will change. Not in favour of law, but in favour of violence," the president said.
He added that the law must always prevail, adding every state in the world should have the right to its independence and the respect of all others for this independence.
For his part, Mr Davis commended Mr Zelenskyy for his "dignity" and efforts despite the ongoing conflict with Russia.
Mr Davis on behalf of the Caribbean Community pledged his solidarity with the Ukraine people in their ongoing fight for liberation.
"We have watched in admiration as you and your people have defended yourselves against formidable odds, and with unimaginable bravery. And even as we have watched in horror, the bombs and missiles attacking your towns and villages, we have marvelled at your dignity and steely determination.
"We condemn the actions taken by Russia in violating the sovereignty and territorial integrity of Ukraine. And we stand firmly with you and the international community in seeking a just and secure diplomatic solution to this terrible crisis," Mr Davis said.
Mr Davis also acknowledged the historical challenges the Caribbean region has also shouldered.
Mr Davis continued: "Most of us in the Caribbean region are descended from peoples who were once brutally enslaved. And many of our nations are born out of the ashes of social colonial struggles, fully committed to realising the vision of Independence and the right to self-determination.
"We wish for you now, what we wish for ourselves the right to live freely and peaceably. Alongside neighbours with whom we may or may not agree amongst family and friends, and all those whom we love. Protected by the rule of law and the principles enshrined in the Charter of the United Nations."