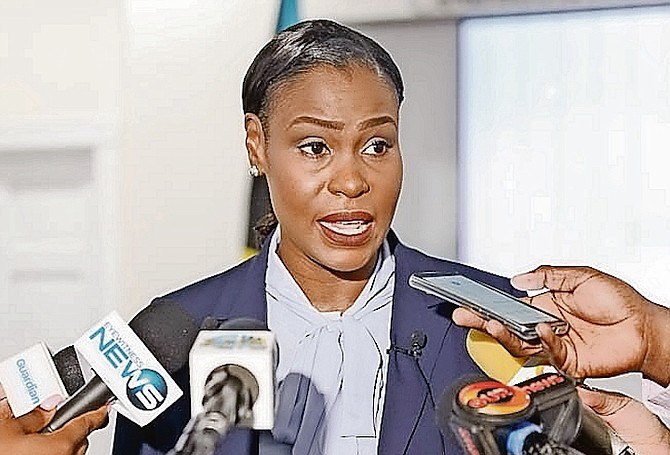 By LETRE SWEETING
lsweeting@tribunemedia.net
THE Davis administration hopes to conclude ongoing industrial agreement negotiations with the Bahamas Public Service Union this month, despite the union saying the government's latest proposal puts its members at a "disadvantage".
Public Service State Minister Pia Glover-Rolle said yesterday she is hopeful a new industrial agreement can be signed before the end of this month.
"I am hopeful that before the end of January, we would have all industrial agreements behind us. I would love to have the public service agreement signed today if possible," Mrs Glover-Rolle said.
"On the 14th of December 2022, to the BPSU who would have received the final agreement for the public service general workers agreement, we subsequently got a response saying that the BPSU would like to come back to the table with our labour relations unit, our labour relations unit responded, the holidays came," she said.
"Every agreement that we can get signed, is a step in the right direction. Our administration is still and always focused on good, positive, amicable labour relations. The agenda for this year is how we move forward. We would have wanted to get those agreements behind us," Mrs Glover- Rolle said.
Last month, Mrs Glover- Rolle said she was hopeful a new industrial agreement could be signed before the end of 2022, however that did not happen.
On the sidelines of an event at the Office of The Prime Minister yesterday, BPSU president Kimslet Ferguson said that there could be "no finality" in negotiations with the government about the union's outstanding industrial agreement until there is discussion "at the table" between both parties.
"In our initial conversation, when the prime minister met with all trade unions he indicated that he wanted to give a uniformed increase and so we were expecting that. When the proposals were forwarded we found that we were at a disadvantage in comparison to other trade unions," Mr Ferguson said.
"We haven't been at the table yet. We had an introduction meeting. Hence, we would have forwarded communications submitting the names of our team members and are waiting for the government to indicate when we can get started. We had indicated that we would have been ready from the 23rd of December," he said.
"We received a communication from the government indicating that they would have submitted a final proposal, could I suggest today that there is no finality in negotiations until we reach an agreement. So, we're very concerned in that particular regard and are awaiting a response from the government on when we can commence those negotiations and sit like all the other unions would have sat and arrived at an amicable solution," he said.
When asked what is outstanding from the government in terms of negotiations, Mr Ferguson said: "Everything."
He added: "There has been no discussion on the salary increases. We have seen where the government made a decision unilaterally to pay public servants a particular amount of money.
"Whenever there is an industrial agreement there is dialogue coming from both sides. And so we didn't have the opportunity the other trade unions would have had in order to arrive at a solution and an agreement concerning what our members would receive."
Mr Ferguson added that he has received no response on letters sent to Prime Minister Philip Davis, who is also the Minister of Finance regarding concerns he had including a conflict of interest, citing that the last letter sent was in November or December.
"Disappointingly, I haven't gotten a response from the Prime Minister on any of the communications that the Bahamas Public Services Union would have written to him. We do have some concerns about conflict of interest. I don't want to go into detail in that particular regard, but we do intend to forward those communications again," Mr Ferguson said.
"We have already invited counsel to forward communications in that particular regard and so we're hoping that will prompt a response from the substantive Minister of Finance," he said.
However, Mr Ferguson said he does not expect the union to take any further industrial action before meeting with government officials on negotiations for an agreement.
"I think we have to sit to the table. I don't want to preempt anything. So I would wait and if there is any form of industrial action that may be taken, that is going to be determined by the membership," Mr Ferguson said.
"It is my job and responsibility to present to the members what is presented to me by the employer and once there is a consensus from the membership as to whether we should accept or reject, then we follow the lead of the membership," he said.
Mr Ferguson last voiced his concerns on December 7, when scores of BPSU members gathered outside the House of Assembly outraged over the government's failure to meet with union executives to resolve several outstanding matters.
A week later, Mrs Glover-Rolle said she could not fault BPSU for wanting more money for members, but explained that based on the country's current financial state, the package proposed was the best offer the government could make at the time.
Should the union reject the proposal, Mrs Glover- Rolle said negotiations will continue.