By BRENT STUBBS
Senior Sports Reporter
bstubbs@tribunemedia.net
AT least four athletes attained the qualifying standards for the 50th CARIFTA Golden Jubilee here over the Easter holiday weekend, while there were several record-breaking performances as the T-Bird Flyers concluded its two-day meet at the Thomas A Robinson Track and Field Stadium on Saturday.
It was the first meet for the year on the Bahamas Association of Athletic Associations' 2023 calendar and T-Bird Flyers' head coach Foster Dorsett said they can't complain because everything went according to plan.
"Despite the cold wind and the weather, I think the kids performed well," said Dorsett of the meet that got started on Friday night and honoured the memories of the late Bahamas Association of Certified Officials, Courtney Wallace, the immediate past president and Ivy Campbell, a senior member.
"We had a few qualifiers for CARIFTA, so the coaches got a good opportunity to see where their kids are at and so did the athletes. We also had some record-breaking performances, so overall I think it was a good meet."
Dorsett, the first vice president of the BAAA, thanked meet director Bernard Newbold for pulling it all together, the Tek team, led by Trevor Moss, for keeping accurate records of the stats, the BACO officials, now headed by Val Kemp, for officiating and the clubs, coaches, athletes and spectators who all showed up in great numbers.
"We had close to 600 athletes participating," Dorsett said. "We expected more, but we know that Queen's College just had their inter-house meet on Thursday and St Augustine's College's was on Friday, so many of their athletes didn't compete because it was so close to their meets.
"We also want to thank the Andros Heats and the Grand Bahama Heats track clubs and coach John Ingraham for coming in and participating as well. I think they performed well. But on the whole, I think all of the athletes performed well with this being the first meet of the year."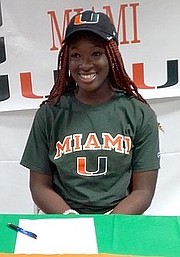 One of the highlights of the meet came from University of Miami bound Calea Jackson tossed the under-20 girls discus 45.35 metres to surpass the qualifying standard for the Carifta Games, scheduled for April 7-11 and erased Shelby Knowles' meet record of 41.23m, set in 2021.
Finishing second was Cailyn Johnson of Triple Threat with 34.83m. Jackson's Blue Chips Athletics' team-mate Annae Mackey was third with 28.02m.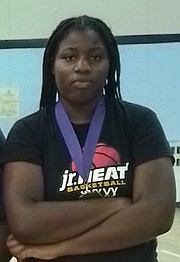 Terrell McCoy, who doubles up as a basketball player, also made her presence felt when she threw the under-17 girls' discus 12.85m to not only break Danielle Nixon's meet record of 10.07m, but also hurled past the Carifta standard of 12.56m.
Nixon, who competed in the event for Blue Chips Athletics, had to settle for second with her best of 9.79m, while Kenyce Scavella of Ags Athletics was third with 9.37.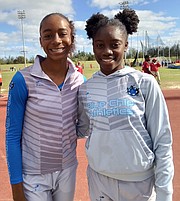 In the under-17 girls javelin, Taysha Stubbs of Air Assault threw 36.09m to break the meet record of 28.81m, set in 2021 by G'Shan Brown and surpassed the CARIFTA standard of 35.35m.
Her team-mate Chea'Lesa Knowles was second with 14.37m and Taj Ellis of Ags Athletics was third with 7.69m. "It feels good to win it and to qualify for CARIFTA," said Stubbs, a grade 10 student at Nassau Christian Academy. "It was not my best, but it was still a really good throw and I'm happy that I qualified. I want to give thanks to God for it."
Stubbs, 15, said she will now get back into training and work a lot more on her technique so that she can be better prepared for CARIFTA once she is selected to the team.
Kamera Strachan, the little sister of strongman Keyshawn Strachan, won the under-20 girls javelin with a heave of 38.34m to wipe out Carmitra Mackey's meet record of 37.17m that she established in 2021 and she also qualified for the Penn Relays in April where she will get to travel as a member of St Augustine's College team.
The 14-year-old Strachan had moved up to the under-20 division, according to coach Corrington Maycock, to achieve the latter feat. But the ninth grader also attained the CARIFTA standard in the under-17 division where she will get to compete with Stubbs in April.
"I am happy that I qualified for CARIFTA because I want to represent my country," said Strachan, who qualified twice last year, but was unable to travel with the team because she was too young. "It was good. I'm really happy that I qualified for the Penn Relays as well."
Grand Bahama's Erin Barr turned in one of the most impressive performances on the track when she captured the combined under-17 and under-20 women's 800 metres in a time of 2:28.24 to replace Breyanna Kemp's meet record of 2:40.92. However, she fell short of the CARIFTA standard of 2:19.22.
"The wind was crazy, but I tried to rely on my strength training like my coach (John Ingraham) told me to do," said Barr, a 10th grader at Tabernacle Baptist. "I think I executed the race the way I should."
Under the right conditions, 16-year-old Barr said she intends to qualify for both the 800 and 1,500m for CARIFTA.
And in the boys' under- 20 division, Hurry Murray's Raywind Winder clocked 2:04.35 to replace Creswell Farrington's previous meet record of 2:05.91 from 2021, but he too fell short of the CARIFTA standard of 1:54.12. "I went out with the open man and tried to run at least 1:55, but in the second lap, I had him until the final 200m when my knees just clipped and I couldn't go with him," said Winder, a 16-year-old 11th grader at Doris Johnson Secondary High.
He said he will continue to work on his maintenance and stay hydrated during competition in order to achieve his goal.
Sharan Roker, of the T-Bird Flyers, was second in 2:04.57 and Kristofer Wong of the Phoenix Track Club was third in 2:04.64. Jackson Ozias, of the University of Bahamas, won the open men's 800m in 2:01.34 and Auston Clarke, of Speed Dynamics was second in 2:03.29.
Emma Johnson, running unattached, also produced an outstanding performance in running away from the field in the final lap to take the under- 15 girls 800m in 2:56.20.
Hurry Murray's Breytesiha Kemp (2:41.95) and Ramonique McLennon (2:41.11) had to settle for second and third. On Friday night, the top two finished in that same order in the 1,500m as Johnson took the tape in 5:32.99 over Kemp, who did 5:39.93.
Kemp's sister Breynice was third in 5:48.57. Breynice was fourth in the 800m in 2:41.36.
Jayden Cooper of Speed Capacity took the under-17 boys' 800m in the fastest heat time of 2:13.75.
Quincy Rolle of the Red Line Athletics was second in 2:13.83 and Breck Kemp of Hurry Murray was third in 2:16.38.