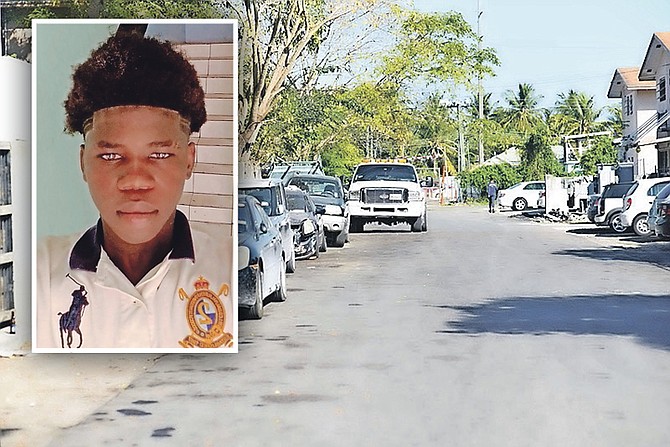 By JADE RUSSELL
jrussell@tribunemedia.net
THE distraught mother of 18-year-old Kwondrick Lowe, who was killed in a police-involved shooting on Saturday, believes her son "ran for his life" when he saw the officers.
She dismissed an official police report that said her son, who was 4'2", engaged officers.
"They shouldn't shoot my child like he's a dog," Fredricka Richards said.
Police said a man who allegedly engaged police in the Kemp Road area on Saturday was killed by officers around 12.30am.
Officers were on routine patrol in the area of Kemp Road and Edwards Avenue when they saw a man with a gun. The suspect fled the area on foot after seeing the officers.
Police pursued the suspect onto Hillbrook Close, where the man "engaged the police and was fatally wounded," the Royal Bahamas Police Force said.
EMS attended the scene where he was pronounced dead.
Police said a handgun with ammunition was recovered from the deceased.
The coroner will investigate, police said.
Ms Richards said she didn't learn of her son's death until hours after he had passed, adding her son was "kind" with a future ahead of him.
"All he wanted to do was fix cars," she told The Tribune.
 "Be a mechanic, that's all my baby wanted to do," she said.
Ms Richards said her son had always been fearful of police, saying she believed he "ran for his life" when he saw the officers.
"When they said my son had a gun, I know my child," his mother said.
"That's a lie, shoot at them? I know my child, my child scared of police."
Ms Richards said the day of her son's death she was told he went out with some friends to a club.
Asked if she believed her son had a good social circle, Ms Richards responded "no" noting her son's friends weren't good company.
Cynthia Ferdinand, the victim's grand aunt, said she was told her nephew was on his knees pleading for his life when police approached him.
She said that the deceased was only 4'2 and barely weighed 120 pounds, adding when they viewed his body he had seven bullet injuries.
"Seven bullets in him, we went to identify his body not too long ago. On his left eye it's a big bullet hole.
"That's overkill but y'all (police) in fear for y'all life.
"What they have to realise, too much of these police are doing this to people children; they are not dogs, they have family. And they (police) are getting away with it because it gets swept under the rug," Ms Ferdinand said.
The distraught aunt cried out that her nephew will not be another statistic, adding her family wants justice for him.
Members of the family said that they are in need of a lawyer's assistance to aid in the investigation surrounding Lowe's death.
The distraught family said that they want answers and footage of what led to the fatal incident.