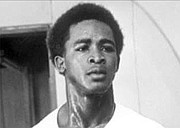 By BRENT STUBBS
Senior Sports Reporter
bstubbs@tribunemedia.net
LONG time close friend Wellington Miller is calling for an honour for the late Everette 'Elisha Obed' Ferguson, the first and only Bahamian to win a world boxing title, during the 50th celebrations of the Independence of the Bahamas.
Ever since he won the World Boxing Council's light-middleweight title in 1975, Miller, the immediate past president of the Bahamas Olympic Committee, has been advocating for some recognition for Elisha Obed, who has been placed in the initial Bahamas Hall of Fame in 1989. Elisha Obed died on June 28, 2018.
"I was in El Salvador for the technical meetings for the Central American and Caribbean Games that will be held in June, and I was surprised by so many people who have indicated to me that they remember Elisha Obed," said Miller, a former amateur heavyweight boxer, who, in November, was inducted into the Hall of Fame.
"I have agitated before and I'm pleading again to the Bahamas Government to honour Elisha Obed for his accomplishment. We have nothing for people to come and say that we had a world boxing champion.
"We don't have anything tangible for our kids to remember their history. Are we ashamed of our history? Elisha Obed is our very own Bahamian, who won a world title and, today, there is nothing substantial that is named after him."
Miller said track and field has two stadiums named after Thomas A. Robinson, baseball has a new stadium named after Andre Rodgers, Tonique Williams has a highway named after her and now Frank Rutherford has a subdivision named in his honour.
"What about Elisha Obed?" Miller questioned. "I'm asking our Prime Minister Philip 'Brave' Davis, our Minister of Sports Mario Bowleg and our Minister of Works Alfred Sears to consider naming the East-West Highway in honour of Elisha Obed.
"In this 50th anniversary of our Independence, let's do something more tangible to keep the memory of Elisha Obed alive.
"With the schools using the highway as a crossing, they can recall the history of Elisha Obed. It could inspire and give some young man some hope to do something great for our country."
Elisha Obed captured the WBC's light middleweight title in 1975, defeating Miguel de Oliveira. He went on to defend his title twice, relinquishing it in 1976 top Germany's Eckhard Dagge after he claimed he was thumbed in his eye and had to quit.
After moving up to the middleweight division, Elisha Obed fought Australian Rocky Mattioli for the world title, but was knocked out in the seventh round.
He continued fighting locally before he eventually retired in 1988.