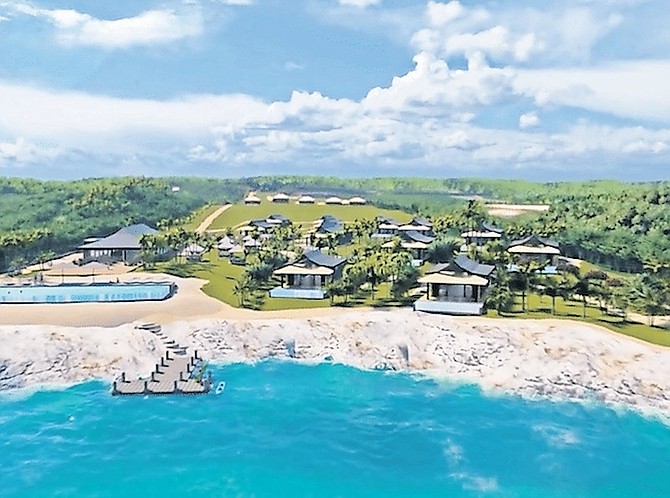 Queries if NEC bar on Eleuthera investor lawful
Bel Air principal can't start firm, invest in sector
$50m project gains environmental approvals
By NEIL HARTNELL
Tribune Business Editor
nhartnell@tribunemedia.net
The Bahamian Contractors Association's (BCA) president has challenged whether the Government can lawfully bar a foreign investor from becoming a minority partner in a local construction company.
Leonard Sands, in a recent interview with Tribune Business, suggested that the rejection of an Eleuthera investor's application to become a part-owner in an existing Bahamian construction company amounted to "strong arming" and could be subject to legal challenge provided it did not involve a majority interest.
He spoke out after this newspaper obtained a Bahamas Investment Authority (BIA) letter informing Eric Harari, principal for the Gregory Town-based Bel Air Resort development, that his applications to set up a construction company on the island or take an equity stake in an existing one had both been declined by the National Economic Council (NEC).
The July 8, 2021, letter, which would have been issued when the Minnis administration was in office, informed Mr Harari's attorney, Merrit Storr, that his client's bid for permission "to own and operate a construction company on the island of Eleuthera" or "take an equity stake in an existing Bahamian construction company" had each been "refused".
The letter was included in a batch of documents disclosed by the Department of Physical Planning related to the application by Mr Harari and Bel Air Resort for site plan approval for their $50m project. Mr Sands, though, argued that the issue of barring the investor from taking a minority stake in an existing construction company, and joint venturing with Bahamian partners, could be challenged in court.
"Let's look at the legal position," he told Tribune Business. "The law does not have a challenge with any foreign investor having minority status in any company, including construction companies. Right now, as it stands, there are many construction companies that have foreign investors or investments. The law requires that companies are at least 51 percent owned by Bahamians and, at maximum, 49 percent by the foreign partner.
"That would be something that the NEC, which happens to be the Cabinet of The Bahamas, will have to explain. That's a Cabinet decision. Nothing prevents any person, once they've satisfied the requirements to be in The Bahamas, from having an investment in any company. You couldn't be the majority shareholder if investing in that manner."
Mr Sands said majority control was reserved for Bahamians in sectors such as construction to preserve the industry for local ownership. However, he argued that the outright bar on Mr Harari having any construction industry ownership involvement was open to legal challenge.
Citing other foreign developers that have set-up their own construction companies, the BCA chief added: "They can't enforce that. The Cabinet must understand they can say that on paper but it's open to legal challenge. Until they amend the law, any investor in The Bahamas is able to invest up to 49 percent. They can't stop them from that. The Cabinet can't stop that. That's impossible to stop. That's just strong arming.
"As it stands, they are free to make an investment and free to partner with someone. What they are not free to do is create their own construction company with majority ownership. They are certainly free to partner and invest in existing ones. There's nothing to stop that. I hope they have a good attorney. They'd win that off the bat. We have to follow the law."
Mr Sands, though, said the real construction industry discussion point around foreign investors joint venturing with Bahamians was the "unfair playing field" this sometimes created when compared to local rivals who lacked outside partners. This was especially the case if foreign partners were "able to leverage" their access to foreign financing, equipment and contacts overseas to gain a competitive advantage over others who lacked such access.
And the BCA chief added that further problems occurred, especially in the Family Islands, when foreign contractors provided little to no opportunity for local Bahamians to get involved with projects. "These guys bring in foreign labour and no one is stopping them," Mr Sands said. "We have to put a stop to that. It's unfair. I'm going to keep my ears to the ground and see what happens with that."
Meanwhile, the documents lodged with the Department of Physical Planning reveal that Mr Harari and Bel Air Bahamas received their Certificate of Environmental Clearance (CEC) on July 21, 2022. The Department of Environmental Planning and Protection (DEPP) made approval conditional on the project generating 30 percent of its energy from renewable sources, payment of an unspecified environmental bond and 75 feet setbacks from the creek and dunes.
Mr Harari, in a previous interview with Tribune Business, said he plans to create "a Bali in beautiful Bahamas" through a mixed-use project forecast to generate up to 200 full-time jobs via a $50m investment in the resort component alone.
He added that he was seeking to "create something very special and unique" by combining the environment and culture that The Bahamas offers with the quality service typically found at Aman Resorts and other high-end Asian inspired boutique hotels.
Speaking last August, Mr Harari disclosed that site clearance had already begun at the 50.73-acre parcel located some 300 yards from The Cove resort. A Miami-based real estate developer who has delivered projects in Canada as well as three upscale villas on Harbour Island, told said the project's build-out will see 50-100 construction workers on-site "at all times" with this number potentially increasing to between 150-200 once work on the 44 residential home sites begins.
Pledging that the development will seek to employ as many Bahamians, and especially Eleuthera natives, as possible, he revealed the first phase will involve a $15m investment on construction of the club house, associated amenities and 15 cottages that will be the first units in a hotel pool intended to ultimately be 70-strong.