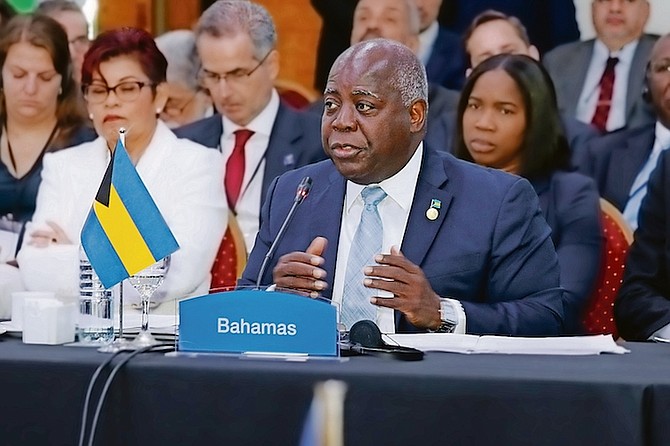 PRIME Minister Philip "Brave" Davis said the crisis in Haiti poses a substantial threat to The Bahamas due to an increase in irregular migration.
He told a summit in Argentina that with the support and leadership of Haiti, regional counterparts can help Haitians build a path out of the crisis.
Mr Davis made the remarks at the opening session of the heads of summit meeting of the Community of Latin American and Caribbean States (CELAC) in Bueno Aires, Argentina.
"The crisis in Haiti is getting worse," Mr Davis said. "The tragic situation there continues to pose a substantial threat not only to Haitians, but also to The Bahamas and neighbouring countries, all of whom are experiencing a significant increase in irregular and often dangerous migration.
"With the support and leadership of Haiti, collectively, we can, through CELAC and other regional organisations, help Haitians build a path out of crisis."
"We commend Haitian-led efforts to hold elections before the end of 2023, to arrest the threat to public security posed by violent gangs, to relieve hunger and malnutrition, and to alleviate the political crisis. Enhanced regional partnership can especially help to scale up capacity-building for the local police, and tackle trafficking, particularly in people, contraband and guns."
At the summit, Mr Davis continued his push for developed nations to compensate smaller countries for their contribution to climate change. He said rising sea levels pose an existential threat to The Bahamas, noting the damage Hurricane Dorian brought to Grand Bahama and Abaco in 2019.
He called for action on climate change and lamented how the phenomenon has affected economies of countries like The Bahamas..
"We are not and have never been the polluters, yet we suffer from the greatest vulnerabilities caused by carbon emissions. Our debt burden remains high, in significant part due to these climate risks, including the need to regularly rebuild homes, businesses and infrastructure after devasting hurricanes," Mr Davis said.
"Our cost of borrowing also prices in the risk of future hurricanes; we are already paying a high price for the intensifying weather patterns of tomorrow. We urgently need the developed countries to honour their commitments to compensate for the loss and damage associated with climate change. And in order to build resiliency, we urgently need finance and access to technology. Each of our countries must keep the pledges we've made, in this and other settings, to reduce our own emissions. We have seen glimpses of a future we cannot survive; we must change course, or perish. It is that simple."
Mr Davis also spoke out against "the discriminatory practice of the blacklisting of countries".
He said The Bahamas will also continue to advocate against the unfair use of GDP per capita to determine how or if developing countries, in vulnerable developing regions, qualify for reasonable concessionary financing or grants.
"The use of the multi-vulnerability index in assessing eligibility for help, rather than the blunt, outdated measurement of GDP per capita is a fairer measurement. I invite you to join us in advocating for mutual agreement of alternative eligibility criteria for international financing and overseas development assistance," he said.