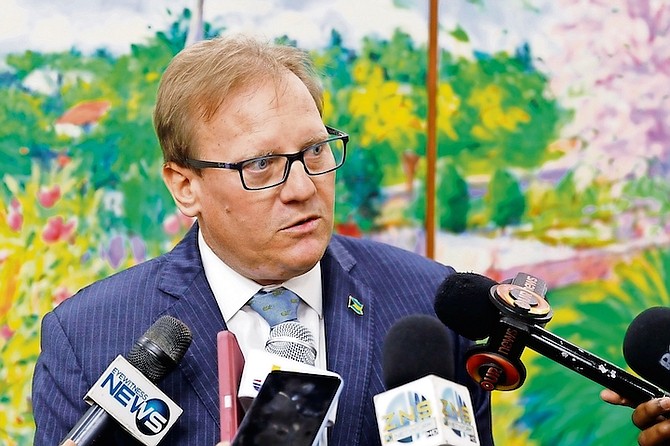 • Online portal out for six months in title search blow
• AG: Gov't 'doing what we can' to resolve 'a horror'
• Pledges 'new solution' imminent amid frustration
By NEIL HARTNELL
Tribune Business Editor
nhartnell@tribunemedia.net
The Attorney General yesterday conceded that long-standing problems with the Registrar General's Department's online portal "are beyond our control" as lawyers and realtors branded the situation "a horror".
Ryan Pinder KC, in a messaged reply to Tribune Business, said he "understands the frustration" over woes that private sector executives say have persisted for up to "six months" and increased both the time and cost associated with real estate transactions.
He pledged that the Government is "doing whatever we can to rectify" the issues caused by the Registrar General's portal going offline since last summer, which has left attorneys, in particular, unable to conduct rapid and relatively inexpensive searches for title deeds and particular conveyancing documents.
"The issues related to the civil registry are being addressed and should be online in a matter of weeks," Mr Pinder told this newspaper. "We are looking at a new civil registry platform much as in the same framework as we are going to launch on the commercial side.
"The issues with the current system are beyond our control and we are doing whatever we can to rectify in the short-term pending a new solution. I understand the frustration and delays, but the issues are out of our control on why it has had to be down." He did not go into specifics on what had caused the online portal to shutdown.
Multiple attorneys and realtors spoken to by Tribune Business yesterday said the issues surrounding the online portal "seem to be worse by the day". With a general consensus that it has been offline for around six months, or since summer 2022, persons wishing to access title deeds and conveyances lodged with the Registry of Records are now having to visit the Registrar General's Department physically by making an appointment several days in advance.
Once the appointed day arrives, then then only have a limited time - around half-an-hour - to conduct the relevant searches, which are performed by Registrar General staff. Alternative methods involve hiring third-party providers to conduct title searches and pull the relevant documents, such as Computitle and Benchmark, but this can prove costly depending on the amount of information required and is more expensive than using the online portal.
Mr Pinder said last year the Government was conducting a "pilot" project that could ultimately see the Registrar General's Department split into two between its civil and commercial functions. The agency is a key hub vital to the Bahamian financial services industry and entire corporate sector, especially the legal, real estate and related professions when it comes to the recording of conveyances, as well as for company incorporations, annual returns and other filings.
It has, however, been viewed by many in the private sector as a consistent choke point or bottleneck for tasks as simple as reserving a company name due to functions that are still manual and paper-based. The online portal's closure will only add to such concerns, with some fearing that the problems are getting worse rather than being fixed.
One Bahamian law firm, in a message sent to its attorneys, said: "Just sending this e-mail to notify all that there has been a halt on deeds and documents being received from the Registrar General. I have been informed that the recording system is currently down and unavailable; therefore our documents are not being recorded and given to us at the normal pace that they usually are.
"I was told that the system would be down until further notice, so there is not a specific set time that I can provide on when our deeds and documents will be available for collection once again. For anyone expecting certain documents from the Registrar, or wanting me to follow up on certain documents that were placed in for recording, I'd please advise that you be patient and give it some more days/weeks.
"I will communicate with the people in deeds and documents to the best of my ability about the system and receiving our documents as normal. Sorry for any convenience and thank you for your patience." One attorney, speaking about the situation at the Registrar General's Department, said: "It's ridiculous. It really is. It's out of hand. It's been going on for months and I don't know if they've fixed it. It's a horror right now and I don't know if there is any end in sight.
"It will certainly slow down the process [of real estate transactions]. The Government may be putting in some new fancy system, but they've not let people know the details. Maybe it's not worth the effort to get the present one functioning, but it would be nice if they advise us as to what's going on.
"People are up in arms because they can't get any information online. We don't know when the fix is going to happen. It's been months, and nobody in government seems to be concerned about it." Rhchetta Godet, an attorney specialising in real estate transactions with the Halsbury Chambers law firm, told Tribune Business that the situation means lawyers and, by extension, their clients are paying more to conduct title and related searches.
"It's well over six months. We can't access the online portal at all," she confirmed. "It's the searches we have to do. We have to reach out to Computitle if we know the recording reference, but if we don't know we have to pay them to do a search on the name, which can be very expensive..... What it means now is we're spending more."
Ms Godet explained that, when the online portal was functioning, attorneys and realtors could pay $20 for between 60-120 minutes of search time to try and locate reference numbers and send for them. "Now we don't have that option so we have to do specific searches," she explained. If physical documents are required, the cost can run as high as $70 per page depending on the volume sought, while charges for searching by name could hit $45 per hour.
Suggesting that the situation disadvantages small and medium-sized Bahamian law firms compared to larger rivals, who have the staff numbers to be able to send persons to the Registrar General's Department in person, Ms Godet said: "It definitely slows us up. Everything is really slow. It has been for the past six months, and I don't know if it is coming back any time soon. At this point we don't know what is going on."
Some larger Bahamian law firms also have their own databases of title documents and conveyances, thus minimising the impact for them. And realtors, too, yesterday voiced concern about the cascading impact for their profession. Mike Lightbourn, Coldwell Banker Lightbourn Realty's president, told Tribune Business: "Everything has gone to hell. It's just total chaos.
"It's something that lawyers, in particular, and real estate professionals use to conduct searches for documents and titles. It's been a disaster not having it available, and nobody seems to be doing anything to try and fix it. The whole country is falling apart and everything is going wrong."
David Morley, Morley Realty's principal, said the impact was mainly being felt on the country's ease of doing business and the streamlining of critical processes via digitisation. "I know for a fact that the online portal was such a convenient thing that, once you bought your minutes, you could do your research and whatever you wanted to do," he said. "It's something that's been missed for the last couple of months.
'"If I can't find a document I have to send someone down there with the volume and page number. There was a property in Andros that I did not have the volume and page number for, so my daughter had to go down there, wait in line and make the request. Twenty-four hours later we were notified to come and pay for a copy.
"It is a tremendous inconvenience right now and we've heard nothing from the registry and law firms as to when it's coming back online again. I think they give you half an hour to search, and when it's time you're out. You can't extend that because someone is behind you. You've got to make another appointment to come back."
Another attorney, speaking on condition of anonymity, said: "It is getting worse, not better. We don't have a land registry here, so you can imagine the chaos that this is causing. The online portal has been down since last September, October. I know for a fact it was down because I needed something and couldn't use it.
"You have transactions that can't get done, and who's in the hole on that? The lawyer or the client. It's detrimental, especially to commercial attorneys in time sensitive transactions. There are penalties for them not being done in accordance with the time, and clients are negotiating while not taking that into consideration."
Besides slowing down transactions, one legal practitioner said it also impacts "reliability". They explained that the online portal at the Registrar General's Department had proven especially useful as a last-minute check to ensure there were no competing ownership claims, or liens, placed on a subject property after the title search was completed.
"It really needs urgent attention," the attorney said. "We were beating down the door last summer, individual law firms contacting the Registrar and complaining directly." With no explanation as to the cause for the online portal's shutdown, some openly speculated yesterday that it may have been hacked - as happened on a previous occasion at the Registrar General's Department - although there is no proof that has occurred now.