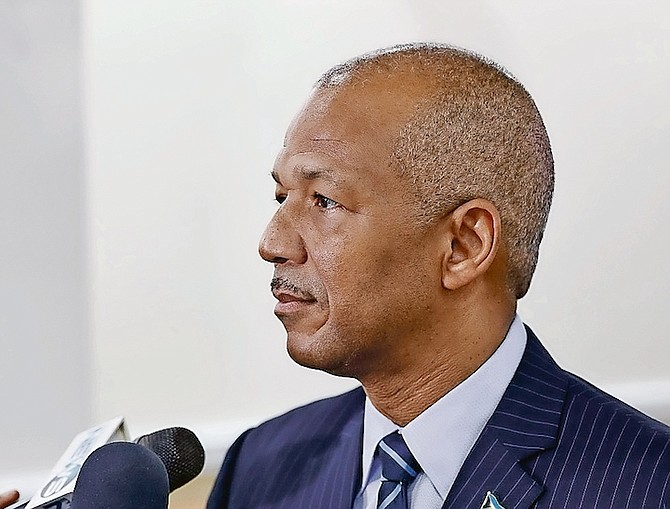 By YOURI KEMP
Tribune Business Reporter
ykemp@tribunemedia.net
The National Insurance Board (NIB) is predicting it will incur a $98m total deficit in 2023, it was revealed yesterday, as a Cabinet minister reiterated warnings that The Bahamas cannot afford to delay critical reforms any longer
Myles Laroda, minister of state in the Prime Minister's Office with responsibility for NIB, told the House of Assembly during the mid-year Budget debate the social security system is forecasting that benefits alone will exceed contribution income by some $86m this year.
And, once all other income and expense sources are included in the mix, NIB is projecting total income of $358m and total expenditures of $456m, resulting in the forecast $98m deficit. The deficit, which is similar to a private company's profit and loss account, measures by how much NIB's benefits expenditure and expenses will exceed income.
Mr Laroda yesterday reaffirmed that a decision has been made over whether to increase NIB's contribution rates, although he again declined to disclose the details. Many persons are anticipating an increase of up to 1.5 percentage points, which could be unveiled as early as the May Budget and implemented by July 1, 2023, in time for the new fiscal year's start.
The International Labour Organisation (ILO), in the 11th actuarial report on NIB's solvency and sustainability, warned there is no choice but to immediately increase contribution rates beyond the existing 9.8 percent otherwise the social security system's future may be endangered by the chronic underfunding.
It called for a two percentage point increase in the current NIB contribution rate, split 3.9 percent/5.9 percent between employee and employer, to be implemented from July last year. That recommendation, too, was never taken up by the Government, with the report calling for a series of rolling rate increases every two years through to 2036 to help stabilise and shore up NIB's $1.5bn reserve fund which currently faces exhaustion in 2028.
Other reform options also include raising the retirement age, plus a further crackdown on delinquent employers and self-employed persons. Many observers have also called for NIB to cut its administrative costs, and urged the Government to stop using it as a financier of last resort.
Meanwhile, Mr Laroda said yesterday: "The reality is that the number of pensioners increased from 43,208 persons in December of 2021 to 44,640 people in December of 2022. The average monthly pension payment for 2022 was $25.2m compared to $23.5m in 2021, reflecting an increase of $1.7m per month."
"Pension benefits were increased in July 2022 and that was done every two years. For the year ended December 2022, contributions totalled around $280m, while benefits expenditures totalled $355m." This, Mr Laroda said, had led to a shortfall of some $75m.
Mr Laroda said NIB was recording surpluses up until 2016. That year, it recorded income of $261.191m and expenditure of $275.155m, and has not recorded a profit since. "In the year 2020, NIB took in $225.984m and paid out $405.876m. We go to 202. The NIB took in $257.687m and paid out $327.473m. In 2022, the NIB took in $280.008m and paid out $354.942m."