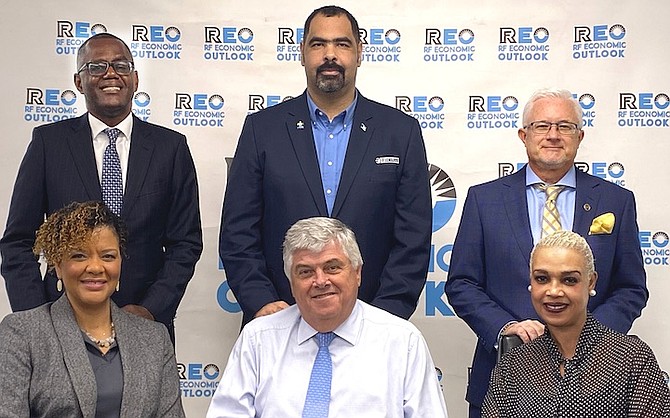 RF Bank & Trust (RF) has announced it will host regional and international experts during a 1-day conference to help Bahamians forecast and future-proof their business. The annual RF Economic Outlook (RFEO), under the theme Evolving Risks: The Way Forward is scheduled for Tuesday, March 14th at Baha Mar.
Headlining the 2023 event are leading economist and Caribbean Advisor Marla Dukharan and the 1st US Chief Intelligence Officer and economic futurist, Andy Busch. Joining them are CNBC Senior Analyst and commentator, trailblazing financial journalist and best selling author Ron Insana, serial entrepreneur and tech innovator Kevin Hobbs and adventurer and expedition leader Jeff Evans. Marla will also appear on a panel discussion at the event, under the topic "Global minimum tax and what it means for The Bahamas' financial services industry", alongside Michael Halkitis, Minister of Economic Affairs and Leader of Government Business in the Senate, and Kevin Moree, Partner at McKinney, Bancroft and Hughes.

Known for its hard-hitting themes, RFEO has become a highly anticipated event attended by professionals, C-Suite business leaders, policymakers and curious minds. The 2023 event will explore the impact of the exponential changes left in the wake of a period of intense disruption.
"While disruption was the catalyst for accelerated innovation and technological advancement over the past two years, it has also spawned a wide range of rapidly evolving risks across the world that will likely have a significant impact on our businesses and our lives," said RF Group President and CEO Mr Michael Anderson. "Geopolitical issues between the US, China and Russia, the ongoing Ukraine war, energy disruptions plus the highest level of inflation in decades are all major issues that will impact us in the Caribbean. Our team of world-recognised speakers are well positioned to advise on the expected outcomes of these risks so as to minimise the negative impact of these global trends on our continued growth. We invite all to join us in gaining valuable insights and strategies as we look forward together."
Registration is now open. Special rates are also available for members of accredited associations looking for Continuing Professional Development (CPD) credits. The event includes a welcome breakfast, five inspiring sessions, a full lunch, tonnes of networking opportunities and access to a post-event cocktail reception.
RFEO 2023 is proudly sponsored by RF Bank & Trust, Aliv, Doctors Hospital, Fidelity Bank, GSO Legal, JS Johnson Insurance Agents & Brokers, PwC and The Tribune. For full details on the speakers and the event schedule visit www.rfbeo.com.