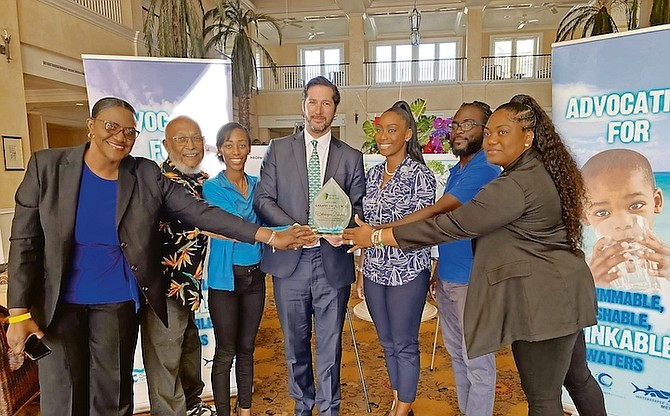 By DENISE MAYCOCK
Tribune Freeport Reporter
dmaycock@tribunemedia.net
WATERKEEPERS Bahamas (WKB) received a 'Grantee Excellence Award' for its outstanding contribution to community engagement through its Dover Sound mangrove restoration work.
Rupert Hayward, Vice Chair of Bahamas Protected Areas Fund (BPAF), and Karen Panton, executive director of BPAF, presented the award to the organisation on Thursday.
Ms Panton praised WKB for their excellent work at Dover Sound.
"I am really pleased to present this excellence award to Waterkeeper Bahamas because of the work they have been doing over and beyond just securing the project objective, which was to restore mangroves at Dover Sound, but also to activate and motivate the community to become involved in conservation in the Bahamas," she said.
"As NGOs, we struggle sometimes with getting communities involved, and we saw WKB not only engaged in the government level, but also engaged with local families. And we saw the many gardens, many mangrove sites that contributed to Waterkeepers securing over and above the $30,000 objective they had for the project. We are really pleased."
Ms Panton said BPAF has had lots of investments with other organisations, including the University of the Bahamas, Bahamas National Trust and Restoration of National Parks.
"All our grantees have done well, but WKB has demonstrated excellence and we are pleased to be here to give them this award today," she said.
Rashema Ingraham, executive director at WKB, said: "It is a great day for the organisation and its partners who were involved in the mangrove restoration work at Dover Sound.


"We are happy that the Bahamas Protected Areas Fund recognised the work and effort that all of us, the GB community, put into executing this project," she said.
She commended BPAF for providing support to organisations through funding.
Ms Ingraham said that Waterkeepers is focused on swimmable, fishable, and drinkable water. She noted that the water at Dover Sound was a spot for kayaking, bonefishing, and where fishers gained access to their traps.
She explained that it was important to rebuild the mangrove forest there that was devastated by Hurricane Dorian.