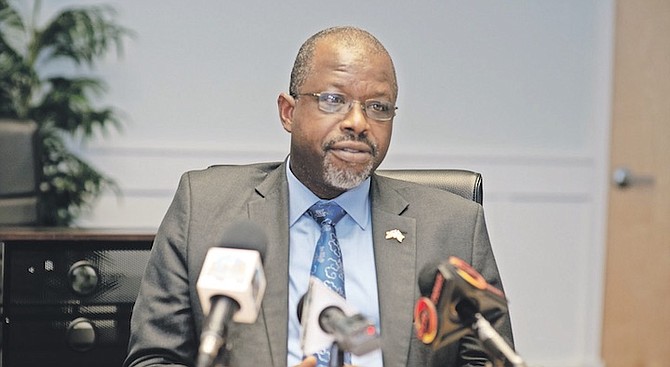 By Earyel Bowleg
Tribune Staff Reporter
ebowleg@tribunemedia.net
NATIONAL Security Minister Wayne Munroe said there is a shortage of firefighters, especially on Family Islands.
He said some islands do not have firefighters because there are only a few in the country.
Mr Munroe was speaking after the fire in Bimini on Sunday that left 22 people displaced, four homes destroyed and three homes damaged.
Since the fire, the focus has been on the shortage of working firefighting equipment on Bimini. Residents insist the fire would have been contained if there had been functional equipment.
Mr Munroe did not address reports of failing equipment, saying he does not keep track of operational issues in the Royal Bahamas Police Force.
However, he said: "Some of these islands are miles long. There are two issues about fire apparatuses. For instance, I know that some people from Acklins put together and bought a fire truck.
"There are no firemen on Acklins so if you can remember, when we came to office, we went out and recruited 50 officers to join the fire branch because their numbers had run down. So, to operate a fire engine which is a specialised vehicle, you need training. So there aren't any firemen in Acklins, but they have a piece of equipment that they were asking the fire branch to, one, come down and train persons locally to operate and also for us to provide some cover for it.
"In Bimini, for instance, there is a volunteer fire department as there is on many islands because we don't have the manpower to send firemen to all of the islands. That's just the reality of it. We don't have sufficient manpower to do some other aspects of policing, which I wouldn't disclose."
Mr Munroe said he was briefed that there are two police officers on Bimini who "have some fire training."
On Sunday, Minister of Social Services Obie Wilchcombe, the MP for Bimini, said officials knew they needed firefighting equipment on the island. He said he had discussed the matter with Mr Munroe before.
Meanwhile, Chief Superintendent Kenrick Morris, the Director of Fire Services, said the fire trucks on Bimini that failed to work were donated to the local government. He said the engine on one of the vehicles has been repaired since the fire.
He said the investigation into the cause of the fire is ongoing.