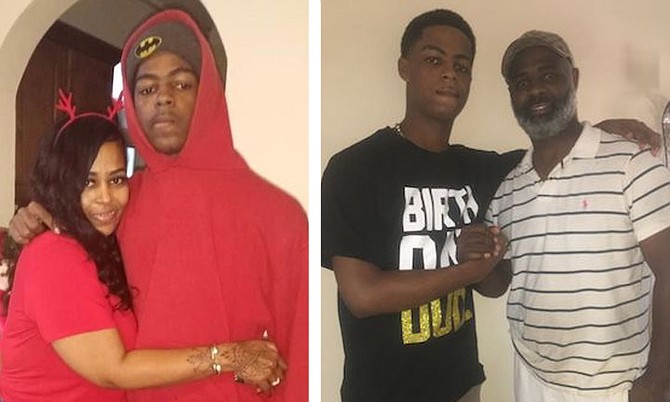 By LYNAIRE MUNNINGS
Tribune Staff Reporter
lmunnings@tribunemedia.net
RELATIVES of a missing 20-year-old man are increasing their search efforts and remain hopeful for his return.
Police issued a MARCO alert for Kyle Carey on Saturday. The man was reported missing on May 11.
According to the man's mother, Tracey Carey, relatives have conducted several search activities for him in the last week, including one involving Golden Isles MP Vaughn Miller.
"We had a huge search that did take place on Saturday with, you know, neighbours, family and friends," she said yesterday, adding Assistant Commissioner of Police Zhivargo Dames and Golden Isles MP Vaughn Miller were part of the search efforts.
"They asked if it was okay for the alert to be sent out," she added. "So we greatly appreciated that they were able to assist in that regard."
Ms Carey said to remain level-headed, she has avoided social media and the discussions surrounding the alert.
"I'm just trying not to go too much on social media because I know I've heard persons saying there were some negative comments and whatnot," she said. "So, I'm just trying not to really follow up or to be on it (social media) that much to avoid seeing that."
"He is a child who never slept out before. He always would come home and so this has been a tremendously difficult time for me and my family. I'm just trying to stay optimistic that he is found alive and well and if anyone has him or whatever the case may be that he's returned safely."
The worried mother is grateful for the support she has received.
"It feels good to see that people you don't know are giving love and support," she said. "I've heard some people are taking it for a joke but, you know, it's not a joke until something happens to one of their family members, God forbid.
"I just think the public needs to be sincere and more caring and concerned when things like this happen because never in my wildest dreams I thought it would happen to me. And so, people just need to show more care and concern towards each other."
Persons with information on Kyle's whereabouts are asked to contact his relatives at 816-1330 or 822-7821 or their nearest police station.