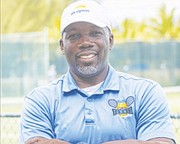 THE Bahamas Lawn Tennis Association (BLTA) is pleased to announce its return to hosting international tournaments.
The J30 International Tennis Federation (ITF) Junkanoo Bowl will see players from all over the world converging at the National Tennis Centre June 24 to July 1.
The qualifying rounds are scheduled for June 24-25 and the main draw starts on Monday, June 26.
The BLTA anticipates that some local players will have the opportunity to play in their first ITF tournament on home soil.
Players are eligible to compete on the ITF World Tennis Tour Juniors in the year they turn 13, if they have reached their 13th birthday on or before the start of the singles main draw of the tournament they are competing in, until the end of the year in which the player turns 18 years of age.
BLTA President Perry Newton expressed his pleasure on the BLTA being able to put on this international tournament once again post-COVID, and to offer this opportunity to locals as well as international juniors.
"Tournament travel is expensive and if we can host this tournament in our country, it provides an avenue for our talented juniors to get exposure and match play," Newton said.
The tournament normally features juniors from the United States, Canada, Europe, Italy, the Caribbean and Central and South America. The association expects athletes from over 20 countries, and the tournament will be great for the country and for tennis in The Bahamas.
The tournament is being sponsored by RMS Insurance Agents and Brokers.