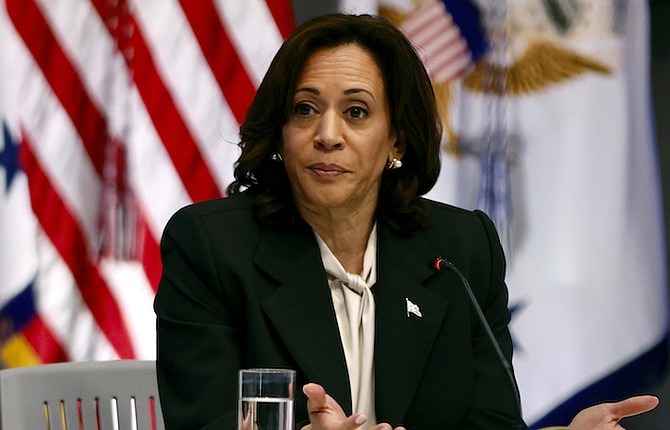 By JADE RUSSELL
Tribune Staff Reporter
jrussell@tribunemedia.net
US Vice President Kamala Harris will be the highest ranking US government official to visit The Bahamas since 1973 when she arrives on June 8 to meet Caribbean leaders.
Press Secretary Clint Watson announced yesterday that, in his capacity as CARICOM chairman, Prime Minister Phillip "Brave" Davis will co-host the US Caribbean leaders meetings with Mrs Harris.
"This gathering will convene leaders from CARICOM and other key regional stakeholders," Mr Watson said during an Office of the Prime Minister press briefing. The agenda for the discussion comprises pressing global concerns including climate change, energy management, food security, and the process of rebuilding in the aftermath of the COVID-19 pandemic."
Building on the foundation of previous meetings, the dialogue will continue to highlight the importance of climate change and mitigation and will address the region's energy crisis, Mr Watson said. He noted strategies will also be discussed to reduce the region's reliance on fossil fuels.
Mrs Harris previously met Caribbean leaders at the June 2022 Summit of the Americas in Los Angeles.
The prime minister also met with Mrs Harris at the White House in January to discuss several issues facing The Bahamas and the wider region.
"The vice president's trip delivers on the Biden-Harris Administration's commitment to advance cooperation with the Caribbean, pursue shared prosperity and security, and celebrate the common bonds between our nations," a U.S. Embassy statement said. "The vice president is traveling to The Bahamas during Caribbean-American Heritage Month and will celebrate the longstanding people-to-people ties between the Caribbean and the United States."
US Embassy Nassau's Chargé d'Affaires, Usha Pitts, applauded the timing of Mrs Harris' visit.
"Vice President Harris will be the highest-ranking U.S. government official to visit The Bahamas since Independence in 1973," she said. "Her visit commemorates not just 50 years of Bahamian independence, but also and 50 years of enduring partnership between our two nations."
"Next year, the embassy team will move into our new $310 million-dollar complex in downtown Nassau. From this base of operations, we look forward to strengthening our bilateral ties for the next 50 years and beyond. Vice President Harris' visit demonstrates the value of our friendship and solidifies our commitment to address climate change and advance our shared democratic principles."