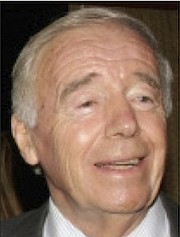 RECENT reports that the World Health Organization (WHO) is trying to impose new protocols and requirements on its member states in dealing with future pandemics is causing concern in Britain and other countries. Indeed, this information seems to have unleashed a fierce public reaction amidst fears that a United Nations specialised agency wants to transition from an advisory organisation in to a controlling international authority. The issue is especially interesting in the context of the recent coronavirus pandemic and in light of fears of the possibility of another such case lurking around the corner.
According to the UK press, new powers for the WHO are being considered as part of an updating of the agency's International Health Regulations. These set out obligations for its 194 member states to prepare for and respond to disease outbreaks and other public health risks. But now, among numerous suggested changes, there are proposals to create what amount to "legally binding" responses by them to health emergencies, thus turning the WHO from a body providing guidance and assistance to issuing recommendations that will become compulsory and enforceable.
It is also being suggested that member states would be required formally to recognize the WHO as the global authority on public health measures. This would mean, in effect, that the body would be empowered to dictate the health policies of individual countries and impose border controls and closures, quarantines, lockdowns and vaccine passports, as well as demanding levels of budgetary expenditure. Thus, their plans show a major change for the organisation from a member-led advisory body to a health authority with powers of compulsion.
Some will welcome such a move on the grounds that it is good, in principle, that a UN specialised agency in such an important field as health should, where necessary, be enabled to go beyond its purely advisory powers because it is desirable to have consistency of action worldwide in dealing with a pandemic like coronavirus which, by definition, knows no borders. Coordinated international action, it is argued, would help make the world a safer place. By contrast, others see it as an unacceptable assault on the sovereignty of member states who believe that the WHO should be a trustworthy and reliable scientific advisory body which also facilitates the provision of vaccines, medication and supplies, but nothing more than that. Moreover, individual countries have different demographics and conditions and a centralised UN agency could not realistically impose a "one size fits all" regime.
Growing opposition to the WHO's plans is partly based on the body's perceived poor track record in providing scientifically sound advice for managing international disease outbreaks and, in particular, for its unsatisfactory handling of the coronavirus pandemic – not least for taking too long to warn the world about its seriousness. Furthermore, it has come under fire for its stalwart defence of China, including its repetition of Beijing's dismissal of claims that the virus could have leaked from the Wuhan laboratory. The WHO's probe into the origins of COVID-19, which concluded that the Wuhan leak theory was extremely unlikely, was widely seen as a whitewash. More recently, however, it has called for a new inquiry, saying that "all hypotheses remain open" and require further study. 
In defence of its quest for wider powers, a WHO spokesperson claims that the organisation's plans are a process led by its member states whose agreement would doubtless take account of their own national laws and regulations.
 Nonetheless, in the view of many this still represents an unprecedented land grab by the WHO. In the UK, a group of Tory MPs has written to their own government to express concern about the body's attempt to grant itself new powers and to demand that this should be blocked because it would "appear to intrude materially into the UK's ability to make its own rules and control its own budgets". These MPs are calling for a debate and vote on the issue in the House of Commons.
It is the case, of course, that all this is still at a relatively early stage. But it is surely unlikely that any British government would allow the WHO to dictate its health policy or budgets. As commentators have pointed out, no UN agency has the legal authority or the means of enforcement to compel any member state to do anything. Nonetheless, the conspiracy theorists, who maintain that this is another step towards the establishment of world government, are out in force. Historians say that after the creation of the UN in 1945, world leaders hoped the organisation would herald a new era of global governance that would prevent conflicts and settle disputes between nations. That turned out to be an unrealisable Utopian dream, which was anyway opposed by conservatives and libertarians as a threat to democracy; and the world developed instead a mixture of treaties, agencies and platforms for multilateral co-operation under a new international order after the Second World War.
Britain is already taking a robust stand against the WHO's efforts to increase its powers. Foreign Office Minister Andrew Mitchell has been quoted in the press as saying that, while the UK is supportive of a pandemic treaty currently being negotiated by national governments which could speed up the sharing of data on new pandemic threats, "we would never agree to anything that crosses our points of principle on sovereignty or prevents the UK from taking decisive action against future pandemics". It will be interesting to watch how this situation develops – fraught with difficulty as it is.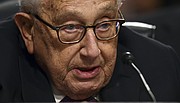 VARIED LEGACY OF FAMOUS WORLD STATESMAN
Self-centred, narcissist, genius, world statesman, war criminal. These are some of the labels pinned on Dr Henry Kissinger who reached the impressive age of 100 this past weekend and remains, even as a centenarian, a controversial figure whose legacy overall remains mixed.
Kissinger worked for two US presidents – Richard Nixon and Gerald Ford – first as National Security Adviser and then as Secretary of State. At his peak in the 1970s – after having received the Nobel Peace Prize for his role in bringing the Vietnam war to an end in early 1973 - he was famous for his tireless shuttle diplomacy and became one of the world's most powerful and well known political figures as a colossus of Western foreign policy and perhaps – at the time - one of the most influential men on earth. He seemed to hold the fate of nations in the palm of his hand as he pursued US interests around the world and, allegedly, was not averse to stoking conflict abroad if he deemed that to be advantageous to those interests. He also courted publicity and made sure he was photographed with Hollywood stars like Elizabeth Taylor and Raquel Welch while also being notably active on the Washington social scene. So he became a celebrity as well as a statesman. He was voted one of the most admired men in America and famously coined the phrase that "power is the ultimate aphrodisiac".
Now, as a retired statesman, it is said that Kissinger's views are still listened to in the US because of respect for his exceptional achievements in the field of foreign affairs. Among the most significant of these were the ending of the Vietnam war, détente with the Soviet Union that included President Nixon's ground-breaking visit to Moscow in 1973 and rapprochement with China when he masterminded Nixon's historic visit there the year before.
Kissinger was lauded by most parts of the political and media establishment in the US and it is noteworthy that, with his bipartisan approach, he became a consultant and adviser to every president since Nixon. Surrounded by powerful friends, reportedly he is still feted by the rich and famous as a celebrity intellectual. So he is widely revered at home – except, of course, by liberals who regard him as a callous warmonger.
Notwithstanding all this, in studying the range of foreign press commentary about his reaching the 100-year milestone, I was struck by the range of divided opinion abroad about him as a statesman and America's top diplomat. His legacy is flawed outside his own country. It has been described by some as "tortured and deadly" and is at the very least mixed, with many calling him a war criminal and a person who should never have been allowed to wield such power.
Critics remind us that Kissinger's chief priority was to end the Vietnam war which had already cost tens of thousands of American lives. But he was said to be deeply opposed to cutting and running. So, initially, he intensified the war by bombing North Vietnam, Laos and Cambodia, causing the deaths of thousands of innocent civilians while simultaneously pursuing peace talks with the North Vietnamese in Paris. He has also been accused of "enabling" genocide in places like East Timor and Eastern Pakistan (now Bangladesh) and, allegedly, indirectly supporting, for example, the Pinochet military coup in Chile in 1973.
Historians claim that Kissinger's greatest intellectual achievement was to make the case for hard-headed realism in world affairs; and one of his well-known quotations was that the enemy of stability is an "excessively moralistic" approach to foreign policy which leads to "ineffectual posturing or adventuristic crusades". That looks to be advice ignored by President Bush when he was persuaded to invade Iraq in 2003 – and even more so by Prime Minister Blair who shamelessly supported him.
Whatever Kissinger's legacy, however, British historian Dominic Sandbrook, in commenting about his becoming a centenarian, has written of the extraordinary achievement of a shy, stammering Jewish refugee who fled as a boy from Nazism in his home country of Germany and became one of the most powerful men in the world - as Sandbrook says, humorously, an impressive effort for a short, bookish fellow with thick glasses and an even thicker accent who had escaped persecution in his own country to enjoy enormous success as an adult in America!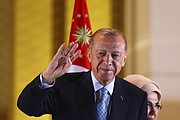 TURKEY'S STRONGMAN LEADER, ERDOGAN SECURES ANOTHER FIVE YEAR TERM BY MERE FOUR PERCENT
Top of the international news agenda in recent days has been the unprecedented presidential re-run election in Turkey last weekend after the first round two weeks ago failed to produce a winner with the required 50 per cent of the vote. On Sunday evening, Recep Tayyip Erdogan, who has been in power for the last two decades, emerged victorious, winning 52 per cent of the vote against his opponent's 48 per cent and securing a new five-year term in power.
Having already examined in this column the background and significance of this election after the first round, it would be superfluous to write about it further – apart, that is, from emphasising that the nation's strategic significance has not changed so that Erdogan's victory matters to the West. Most importantly, over the years he has become known for his independent foreign policy. Turkey is a key member of NATO and provides military aid to Ukraine. But it also maintains close links with Russia, including bilateral trade and contributing to the UN-brokered grain deal. It refuses to condemn the Kremlin's invasion of Ukraine but agreed to Finland joining NATO. The West needs Erdogan as an ally and will surely now try to persuade him to approve Sweden's NATO membership.
Meanwhile, with Turkey's economy in a dire state with roaring inflation, it is said that Erdogan will need to stabilize the country's finances and attract foreign investment while also taking action to restore trust over his so-called mishandling of the disaster of February's earthquakes. Immigration from Syria is another major issue.
In his victory speech, political heavyweight Erdogan called for unity while at the same time ridiculing his opponent, Kemal Kilicdaroglu, who in the end was no match for the winner's well-drilled campaign and emphasis on the strength, continuity and stability that a sitting president could offer. However, the experts point to the stark fact that almost half of the electorate in this deeply polarized country did not back Erdogan's authoritarian vision of Turkey. So observers await developments in this important country with interest and even some concern.