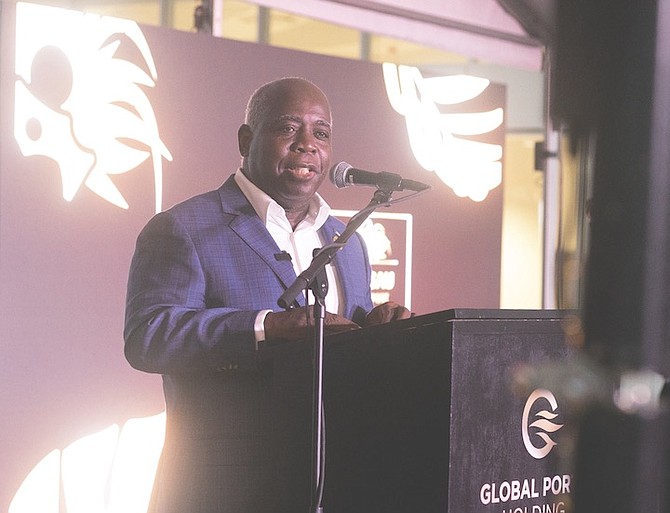 By EARYEL BOWLEG
Tribune Staff Reporter
ebowleg@tribunemedia.net
PRIME Minister Philip "Brave" Davis hailed the opening of the new cruise port as a "major step forward in the transformation of Nassau" on Friday, emphasising the importance of the opening to the downtown area.
He said: "Downtown Nassau holds an important place in our history, culture, and economy. While redevelopment is challenging, we remain committed to the revitalisation of downtown Nassau. We are taking bold steps to address these challenges, including demolishing existing eyesores and creating room for new development."
Mr Davis said the goal of the new port was to ensure that "visitors who step ashore will be immersed in our heritage, creativity and excellence".
The $300m project expands the port capacity, while Mr Davis also noted the presence of a Junkanoo museum, amphitheatre and more.
In his speech, he called on investors to help "shape the future of Nassau and create a vibrant and prosperous urban centre that we can all be proud of".
The event was a red-carpet occasion featuring such celebrities as American model Tyson Beckford and actor Anthony Anderson. Highlights included live performances, a Junkanoo rush-out, and a mini-drone light show in the sky.
"As we move forward with our ongoing plans for redevelopment, we will redefine how visitors and locals alike interact with the downtown area in fundamental ways," Mr Davis said. "Bay Street and the surrounding area should be grounded in the Bahamian experience in ways that demonstrate the best elements of our culture, people, and way of life.
"The port is a testament to this vision. This extensive $300m redevelopment project expands our capacity and enhances our offerings."
"It brings with it many opportunities for Bahamian ownership and employment. Not only are there jobs directly related to the operation of the port itself, there are also formally designated areas for hair braiders, taxis, tour operators, and vendors of all kinds. Over 70 Bahamian businesses, including food vendors, Bahamian-made goods and craft stores, and tour operators, will occupy this space."
Mr Davis also acknowledged a partnership with the University of The Bahamas that will see a 2,400sq ft space used for culinary students to build experience while showcasing Bahamian food.
Mr Davis said the government remains committed to revitalising the city. He said there are steps to address these challenges, including demolishing existing eyesores and creating room for new development.
Nassau Cruise Port CEO Mike Maura emphasised the expansive nature of the project.
He added: "We also have mega yacht berth. We have a ferry terminal with 16 berths. We have a west marina with 14 berths, all combining for 1.9 miles of vessel berth here at Nassau Cruise Port.
"While the pandemic slowed the aggressive growth of the industry, there is no question that cruising is back with record-breaking forecasted growth. Just a short while ago, Nassau welcomed 20,554 passengers in a single day."