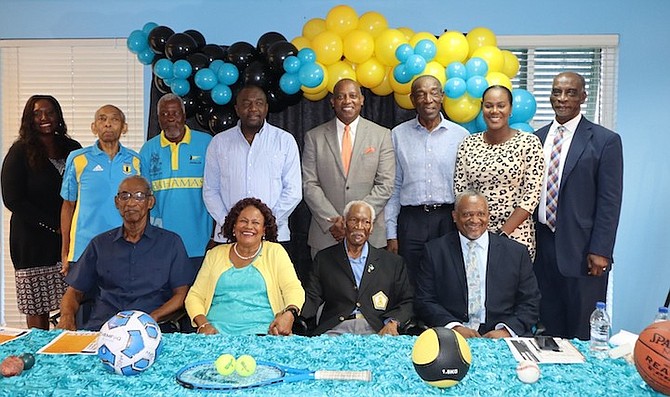 By BRENT STUBBS
Senior Sports Reporter
bstubbs@tribunemedia.net
Thursday, November 23rd will be a special day for 12 more distinguished Bahamian sporting personalities. They will be inducted into the Ministry of Youth, Sports and Culture's Class of 23 National Hall of Fame.
The ceremony will take place at Government House at 6:30 pm.
During the ceremony, the ministry will also select its outstanding athletes, teams and coaches for their achievements during the past year.
The event is being staged under the theme: "United in sports - A Golden Jubilee." Being inducted are Lawrence 'Larry' Davis (basketball), Anton Sealey (soccer), Allan Murray (swimming), John Johnson (basketball), Craig Flowers (golf), Peter Pratt (track and field), Mark Knowles (tennis), Irvin Taylor (cricket), Jennifer Isaacs-Dotson (volleyball), Yvonne Lockhart (softball), Fernley Palmer (boxing) and James 'Sam' Brown (cycling).
During a press conference on Monday at the Ministry of Sports, more than half of the honourees were introduced to the public.
Those in attendance expressed their delight in receiving the gesture.
Issacs-Dotson, who played a number of sporting disciplines but really excelled in volleyball as a setter and softball as an infielder, called it a "dream come true" for her.
"To receive this award and to be recognised nationally is overwhelming," said Isaacs-Dotson, who now serves as the first female president of the Bahamas Softball Federation. "It's also humbling as well to be recognised with the persons you are with as Hall of Famers."
Looking at the class, Isaacs-Dotson said it's one filled with a lot of people who deserve the recognition because of what they accomplished during their era, so she's enthused and excited to be a part of the class.
For her, the highlight would be when she was a member of the women's national volleyball team that lost the Caribbean Volleyball Championship title to Barbados when it was first played here and the following year they went to Barbados and avenged the defeat by winning the title.
Flowers, a businessman who served as a long-time executive and player of the Bahamas Golf Federation, commended Minister Mario Bowleg and his team at the ministry for the initiative to stage a month of celebrations as a part of the country's 50th Jubilee.
"Whatever they give you, you have to accept it because it gives you the opportunity to be recognised and brought to the forefront, those of us who would have made our contribution to sports," Flowers pointed out.
As for himself, Flowers said he doesn't do what he does to be recognised.
"I do have a profound respect for those persons who made the choice in selecting me," he said. "The things I've done are not to be given back. For whatever reason people think that is so, but that is where I beg to differ. I did nothing to receive anything in return. "But in light of the fact that we are being recognised, I'm honoured and I am pleased that the ministry is recognising me and I would be the first to be on the water tower and tell them how pleased I am to receive the recognition."
Davis, who served as a long-time executive of the Bahamas Olympic Committee while making his contribution as an executive and referee in the Bahamas Basketball Federation, said he's also honoured to be recognised.
"To be able to get an award along with the people who are being honoured, I feel it's a great thing," Davis stated.
"It is an honour but, on the other hand, I am very humbled to receive the recognition.
"I've made my contribution but what I did, I did it for the love of sports. I never really went out there to do anything to achieve anything in return. I just wanted to do my part to help to make the Bahamas the number one sporting nation in the world. I think I've done that."
Over the years, Sealey would have served as a soccer player, coach and executive in the Bahamas Football Association. The immediate past president of the BFA said he's now elated to receive the highest sporting honour in the country, which is to be inducted into the National Hall of Fame.
"This culminates a long career for me in sports and so it's humbling and indeed I am honoured to be a part of the Class of 2023," Sealey pointed out.
"I am just thrilled to be considered in this class of honourees.
"I think it's an exceptional class, to be honest with you. I'm happy to be going in with this class that includes Craig Flowers, a noted golfer, Larry Davis from the Olympic movement and Fernley Palmer, my goodness. It's a very good and impressive class and I'm very proud to be a part of it."
And John Johnson started playing organised basketball at the age of 18 out of Mason's Addition in 1964. He remembered playing against teams from the east to the west and from the north to the south. "I'm elated. I'm happy that they are finally honouring me. It's better late than never," Johnson told The Tribune.