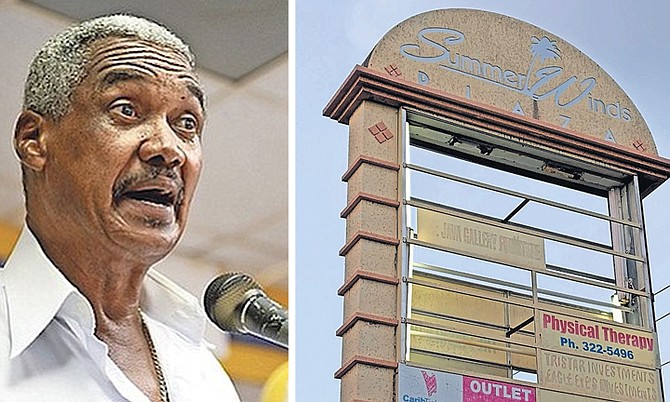 By LEANDRA ROLLE
Tribune Staff Reporter
lrolle@tribunemedia.net
A BAHAMIAN investor who submitted a proposal for the Road Traffic Department accused the Davis administration of "cronyism" for choosing to house the department's headquarters in Leslie Miller's Summerwinds Plaza instead.
Franklyn Robinson, the former CEO of the now defunct Bahamas Automobile Safety and Inspection Centre, said years of work were wasted when the government rejected his proposal.
He sought for 20 years to create a "one-stop" Road Traffic Department project. Even as the plans of his and his partner evolved, they were always rejected by the Progressive Liberal Party and Free National Movement administrations.
He said a senior Davis administration official advised him to stop his efforts because many public service members were against his project.
 "I knew Leslie would have gotten it because it was rumoured that he would get it, so it wasn't a surprise to me, and I really refused to even pursue it anymore, and it is sad that we are going to allow this political process and the cronyism that exists to continue to cause suffrage for the Bahamian people because it's the Bahamian people who will suffer," he said yesterday.
 Government officials did not respond before press time to questions about the merits of Mr Robinson's proposal.
 The businessman said he proposed building a modern four-storey building to house the Road Traffic Department headquarters. He said technology would have been available to issue license plates, driver's licenses and detect fraud.
 He said company officials eyed acres of property just west of Government High School for the facility, which he claimed would have taken less than two years to build.
 He also proposed building nine new sub-offices in Grand Bahama and the Family Islands.
 "Had the FNM approved the project, we would have been in a new facility," he said.
 Mr Robinson said the $30m project would have been funded by his company, PTI Bahamas, in a 20-year partnership with the government.
 In 2014, when the Road Traffic Department issued a Request for Proposals to modernise vehicle licensing processes, Mr Robinson's group partnered with two German companies –– UTSCH AG, which is among the market leaders in licence plate security, and MAHA Maschinenbau Haldenwang GmbH & Co. KG (MAHA), the global manufacturer and supplier of vehicle safety testing equipment –– on the relevant components of their proposal.
 Mr Robinson said despite partnering with premier companies, his proposal did not attract the government's interest.
 Meanwhile, Public Service Minister Pia Glover-Rolle said yesterday that the Ministry of Transport and the Ministry of Works are renovating Mr Miller's space.
"Until such time, a lease will be engaged once the building is occupied, so that's where we are in the process," she said.