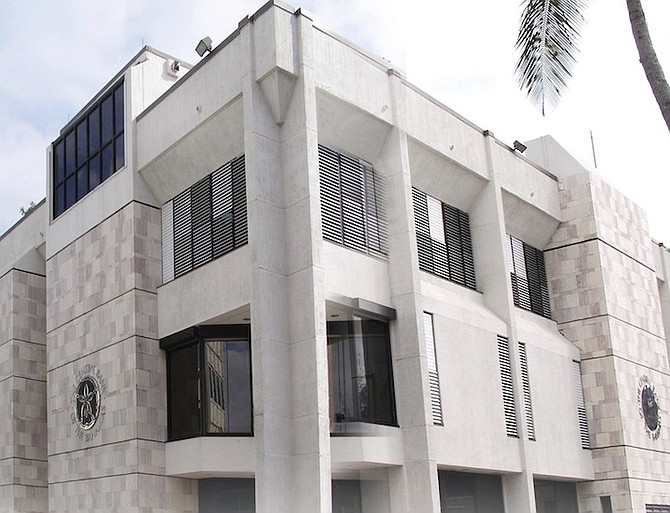 • Quarter rejected as they breach 50% debt service
By NEIL HARTNELL
Tribune Business Editor
nhartnell@tribunemedia.net
Mortgage loan approvals have slumped to their lowest level in four-and-a-half years, it has been revealed, with almost one in four applications rejected because borrowers have a 50 percent debt service ratio.
The Central Bank's full Lending Conditions Survey for the 2023 first half, released on Friday, reveals that less than one third - or fewer than one of every three - out of a total 1,104 applicants were approved for a mortgage loan during the six months to end-June.
And survey data showed that the 32.2 percent approval ratio is the lowest since the 2019 first half, which represented a period prior to both Hurricane Dorian and the COVID-19 pandemic. The 52.6 percent and 52.7 percent mortgage approvals ratio for the 2019 first and second half, respectively, represent the high points of the past four-and-a-half years.
The approval rate slumped in the 2021 calendar second half, dropping from 51.5 percent for the first six months to 39.4 percent and continuing a steady downward slide ever since. While the economic fall-out from COVID is likely to be held at least partially responsible, the Central Bank has since relaxed its lending guidelines by allowing its bank licensees to extend credit worth up to 50 percent of a borrower's income.
Previous guidelines have set this limit at 40-45 percent, but the regulator's lending survey reveals that the reason more than one-third - or one in every three - of mortgage loan applications was rejected during the 2023 first half was because potential borrowers were still breaching the more generous 50 percent debt service ratio.
Using the Central Bank's statistics, just 356 of the total 1,104 mortgage applications submitted during the 2023 first half were approved by its commercial bank licensees. This means that two-thirds, or 748, were rejected. Of that 748, some 33.6 percent or 251 were declined because the applicants' debt service ratios would breach the 50 percent benchmark.
This would mean more than half their income would be going to servicing debt, placing their finances under stress especially if something went wrong. That 251 is equivalent to 22.7 percent of all 1,104 mortgage applications, which means close to one in every four submissions was dismissed because the potential borrowers/homeowners are already too heavily indebted.
"During the six months to June 2023, banks processed 1,104 mortgage applications, of which residential mortgage requests represented 96.4 percent of the total," the Central Bank said. "Approximately 32.2 percent of mortgages were approved in the six months to June 2023, indicative of a 1.4 percentage points decrease relative to the same period in the prior year.....
"With regard to rejected applications, other 'miscellaneous' factors - inclusive of, but not limited to, low credit scores, lending outside of bank policy and missing information - were the foremost reason quoted for loan denials (41.4 percent).
"Other factors included breaching the total debt service ratio threshold of 50 percent of income (33.6 percent), previous loan delinquency (10.3 percent), underemployment (10.3 percent), insufficient collateral (2.6 percent), insufficient time on job (0.9 percent) and unverifiable income (0.9 percent)." Poor credit scores and incomplete financial information thus also featured heavily in mortgage loan rejections.
The Central Bank did not analyse the economic and societal implications of the lending survey data. It indicates that Bahamians are increasingly struggling to obtain the financial means to afford home ownership, which is for many people typically the largest investment they make in their lives.
Realtors have often cited the inability of buyers to access mortgage financing as one of the main reasons why residential sales and deals fall through. This leads to a less-than-buoyant local housing market, impacting the earnings of all associated sectors including contractors, realtors and attorneys, and helps to undermine social cohesion and stability.
Mario Carey, realtor and founder of Better Homes & Gardens Real Estate MCR Group, yesterday told Tribune Business that the growing level of mortgage application rejections is occurring in an environment of relatively low, stable interest rates where the Central Bank's discount rate and Prime rate have been at 4 percent and 4.25 percent, respectively, for years.
"From the real estate side, this should be an environment where Bahamians should be accessing cheaper money to invest in real estate. Why is that not happening?" he asked. Mr Carey said there were likely multiple factors involved, including the price and affordability of real estate; the inability of salaries and incomes to keep up with living costs; and persons taking on too much consumer debt.
"One thing is for sure. We have the best borrowing terms as far as affordable money. We have the best borrowing conditions, and then we have a situation where people cannot borrow," he added. "The questions that come out of it are: Are salaries not keeping up with the costs of living?
"You look at the cost of living. Everybody's grocery bill has gone up 40 percent easily. You have the cost of electricity that's gone up. Last time when we went through all the foreclosures, the majority of properties were valued under $300,000. That's low middle income, and they are just getting overwhelmed. Is the consumer loans market having an impact because they have consumer and credit card debt?"
Since getting stuck with multiple distressed properties it has taken them years to unload following the 2008-2009 financial crisis, Bahamian commercial banks - especially those locally-owned - have focused their lending on consumer loans since they view these as more secure by being able to take a lien over borrower incomes via salary deductions.
This is reinforced by the outcome of the Central Bank's 2023 first half lending conditions survey, which showed that almost nine out of every 10 loan applications during the six months to end-June 2023 was of the consumer variety. And, in a sign of the financial stress facing many Bahamian households, there was a 27 percent rise in debt consolidation applications to 2,863, of which 19,89 or 69.5 percent were approved.
"Comprising 89.8 percent of total loan applications, consumer loans remained the dominant credit component, as demand rose by 11.6 percent year-on-year supported by an increase in applications from the Family Islands (67 percent), followed by New Providence (10.1 percent) and Grand Bahama (2.7 percent)," the Central Bank said.
"Of the 14,271 consumer loan applications received, requests were primarily for 'other' miscellaneous purposes (22.7 percent), credit cards (20.3 percent) and consolidation of debt (20.1 percent). A disaggregation of the consumer segment showed that the number of credit requests expanded for credit cards by 78.5 percent, and private cars by 57.8 percent.
"Further, a rise in loan applications were also recorded for consolidation of debt (26.6 percent) and land purchases (2.8 percent)...... Corresponding with the trend in requests, the number of successful or approved credit applications rose by 4.5 percent relative to the prior year. However, the average approval rate narrowed by 5.3 percentage points to 78.1 percent in contrast to June 2022."