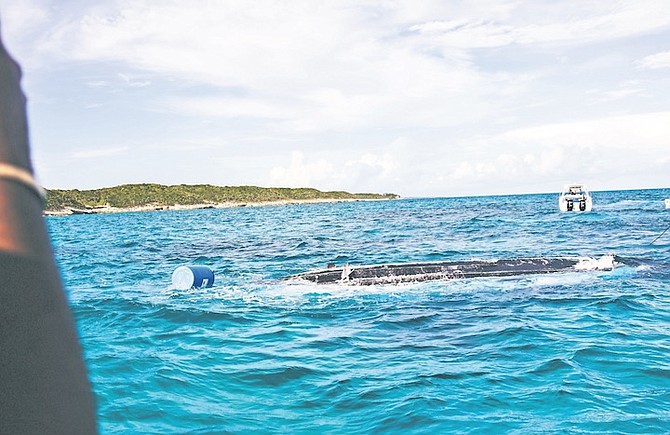 By LYNAIRE MUNNINGS
Tribune Staff Reporter
lmunnings@tribuenmedia.net
POLICE are investigating after a boat capsized just off Rose Island on Friday with 28 people on board.
The incident happened after the boat started taking on water - with crew handing out life vests before the vessel overturned.
 The Royal Bahamas Police Force Habour Patrol Unit transported media members to the wreckage site on Friday.
Upon arrival, crew members and volunteers attempted to tow the capsized vessel to shore. At the site, Press Liaison Chief Superintendent Chrislyn Skippings praised the efforts of the crew and response teams.
CSP Skippings told the media that the vessel left Paradise Island for Rose Island around 10am that morning.
However, as the group was attempting to return to New Providence shortly after 3pm, the vessel started to take on water.
"They were out there for about four hours and on their return back to New Providence, the vessel that they were on started taking on water," CSP Skippings said on Friday.
"The crew, recognising what was going on, immediately sprung into safety mode. They equipped all of the passengers, who were tourists,  with life vests and were able to remove them safely from the vessel.
"As soon as they were all safely removed from the vessel, the vessel overturned and submerged in waters just off Rose Island."
There were no fatalities, but three passengers were taken to the hospital for medical attention after "taking in excessive water".
CSP Skippings declined to disclose the name of the tour company. However, the crew at the scene wore shirts carrying the logo of Oasis Ocean 7 boat charters.