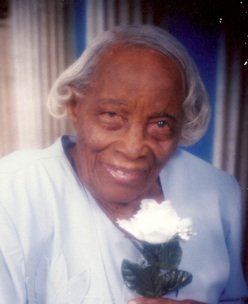 Lenora "Sister Lovely" Ferguson-Evans
unknown - unknown
Funeral Service for Lenora Ferguson-Evans "Sister Lovely", 96, of Lyon Road and formerly of Snug Corner, Acklins, will be held on Friday, April 27, 2012 at 10:00 am.

Church: Church of God of Prophecy, Life Transformation Centre
Address: East Shirley Street
Officiating: Senior Pastor Dale Moss, Associate Pastor Stephen Green and Associate Pastor Terrance Forbes
Assisted by: Minister Patrick Musgrove
Interment: Woodlawn Gardens Cemetery, Soldier Road
"Lovely's" undying memories will be remembered by her daughter-in-law: Audrey Evans; granddaughter: Rene Gibson; grandson: Kendrick Evans; grandson-in-law: Craig Gibson; great grandchildren: Adissa Gibson and Rhonda Evans; adopted daughter: Annamae V. Kemp; sister-in-law: Ismalene Ferguson; nephews and nieces including: Theodore Burrows, Kelly Burrows of Freeport, Grand Bahama, Harry and Preston Ferguson, Corporal Andre Curry, Dr. Dario Curry, Priscilla Rolle, Terry Bowe, Gloria Neely, Mizpah Hall, Stephanie Johnson and Edna Rolle; grandnephews and nieces including: Dillon Burrows, Kelly Burrows Jr. of Freeport, Grand Bahama, Harry Ferguson, Eddie Burrows, Lenora Mackey, Jacqueline Styles, Chegera Pople, Kendra Burrows, Vienda, Rose, Lyndell, Cleveland, Clifford, Vernon, Keith and Josey Rolle; great grandnephews and nieces including: Travis and Kianna Evans, Monizue, Beverly, Patrick, Bradley and Denard Rolle; godchildren including: Bishop Dexter A. and Evangelist Annamae V. Kemp and Ruth and Cheryl; grand godchildren including: Alfred, Bradley, Richard, Klaus and Shekeitha Kemp, Apostle Larick and Lady Sherry Kemp and family, Pastors Marvin and Nicole Kemp and family, Pastor Marvetta Pratt and family, Evangelist Verily Kemp-Lam and family; numerous other relatives and friends including: Nora Worell, Florence Rahming and family, Pastor Dale Moss, Mrs. Winifred Williams, Prudence Morris, Hanet and Julie, Icelyn Kemp, Sheila Adderley, Ms. Tanya Walker (Caretaker), Sylvia Gibson, the entire Lyon Road community, the Officers and Members of Church of God of Prophecy, Life Transformation Center, the Officers and Members of Ambassadors Christian Tabernacle United Church of God International Center.
FRIENDS MAY PAY THEIR RESPECTS AT ROCK OF AGES NORTH SIDE CREMATION CENTER ON THURSDAY FROM 10:00 A.M. TO 5:00 P.M. AND AT THE CHURCH ON FRIDAY FROM 9:00 A.M. UNTIL SERVICE TIME.