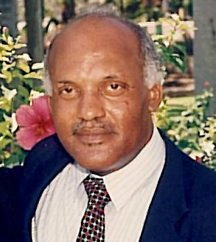 Matthew McDonald Butler
unknown - unknown
Memorial Service for Matthew McDonald Butler, age 69 years, of Ernest Street, will be held on Friday, April 27th, 2012 at 10:00 a.m., at St. Matthew's Anglican Church, Church and Shirley Streets.  Officiating will be Father Crosley Walkine assisted by Deacon Lynden Douglas. Interment will follow in the Eastern Cemetery, Dowdeswell Street.
 
Left to cherish his memories are: his children: Janet Butler-Forbes, Sharon Butler-Been, Lisa Ingraham, Anne and Mark Ferguson; fifteen grandchildren: Normieka, Nortashia, Norman Jr. (NJ), and Norkeia Forbes; Shayvonne, Robert Jr. (Bobby), Shanique, Roshawn (Jake), and Sharika Been, Billy-Joe Williams, Trevor Jr. (TJ), Jordan, Phieron and Joel Wilson, and Mark Ferguson Jr.(MJ); four great grandchildren: Felisha Higgs, Nathan Forbes, Ashley and Brianna Been, and Billica Williams; two sons-in-law: Norman Forbes Sr., and Robert Been Sr.; three siblings: Raleigh Sr., Juanita and Basil Butler; five sisters-in-law: Rose, Princess, Winifred, Clementine and Dorothy Butler; one aunt, Elder Halson Butler; several nephews: Kendal, Dr. Raleigh Jr., Craig, Charles, Jerome, Jonathan, Samuel, David, Joseph, Milo III, Godwin, Jevon, Dominic, Damian, Franklyn II, Martin, Pierre, Paul, Dwight, Allan and Bruce Butler; several nieces: Clarice Butler, Denise Butler, Valarie Osbourne, Claudette Butler, Hon. Loretta Butler-Turner, Dr. Faith Butler, Angela Abdallah, Bernadette Butler, Donna Francis, Anastasia Moss, Janice Ramsey, Whitney (Deanne) Brice, Genia Pinder and Juanita and Rochelle Butler; a host of cousins: Justice Ruby Nottage, Dr. Pamela Etuk, Dr. Marcus Bethel, Dr. Paulette Bethel, Michael, Marion, Owen and Chantal Bethel, Alfred Sears, Rev. Dr. Lavinia Stewart and Family, the Watson Family, the Major Family, the Dean Family, the Adderley Family, the Martinborough Family and the Mortimer Family of Long Island; the Butler Family, the Strachan Family and the McKinney Family of Rum Cay and Eleuthera; special friend and confident: Shirley Adderley; numerous other relatives and friends including: Godfrey Eneas and Family, Dr. Eugene Newry and Family, the Fox Family of Wulff Road, Lawyer Harvey Tynes, Anita Ingraham and Family, Gretchen Ferguson and Family, Hensel Ferguson and Family, Bernadette Rolle, Kenya Ward and Family, Tonya Gibbs and Family, Michael LaRose and Sarah of London, England, the Adderley Family of Lincoln Blvd, Noel Munroe, Brandon Ford, Felix Knowles Jr., Stacia Williamson and Family, Janet Hutcheson and Family, Jacqueline Forbes-Foster and Family, Shevaun Stubbs-Bain and Family, Dwight and Kamer Major, Nevertera Thompson and Family, The Christ Community Church Family, The Ministry of Labour and Social Development Staff, The Department of Social Services, Disability Affairs Division Staff, The Bahamas Association for the Physically Disabled (BAPD) Staff, The First Caribbean Bank Staff, St. Matthew's Anglican Church Family, Butler's Bargain Mart Staff, The Flying Dutchman Staff, The George Padmore Institute (GPI), The New Beacon Books of London and many others too numerous to mention.
Arrangements are being handled by Butlers' Funeral Homes and Crematorium, Ernest and York Streets.