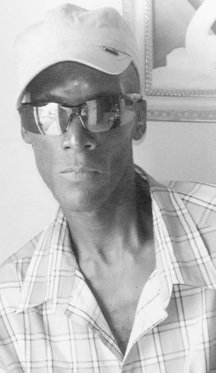 Patrick Flowers
unknown - unknown
Last rites Patrick Flowers aged 45 of Farmer's Hill Exuma will be held on Saturday at 11:00 A.M. at Church of God of Prophecy Minnie Street. Officiating will be Pastor Carlson Arthur assisted by Pastor Eulamae Johnson. Cremation will follow.
He is survived by 5 Sisters: Brendalee Flowers, Deloris Smith, Claramae Flower,
Cynthia Demeritte and Leonamae Flowers; Adopted Mother: Dorcas Shuttleworth;
2 Brothers: Audley and Andrew Flowers; 1 Aunt: Louise Moss; 2 Uncles: Reuben and Gerald Roxbury; 1 sister-in-Law: Pamela Flowers (Dolly), 3 Brother-in-Law: James Smith, Valentino Smith and Adrian Demeritte; 2 Nephews-in-Law: Holland Smith and Tristen Orlando; 6 Nieces: Kathy Orlando, Karen Smith, Tavana, Samantha Flowers, Lature Taylor, Keisha and Keshan Delancy: 13 Nephews: Cpl 2381 Paul Adderley, William Jr. Adderley, Marvin, Kendrick, Elvis, Peter, Delvon, Arlington Jr., Ebony Flowers, Dave and Anthony Jr Lightfoot and a host of grand nieces and nephews – Cousins: Zelma, Nixon, Pastor Wesley Ferguson, Pastor Eula Johnson, Jacklyn Smith, Brenda, Carrimae,, Mavis, Melvese, Carolyn, Karen, Janey, Del, Mildred, Priscilla, Jewel, Newtlyn, Debbie, Inez, Angela, Emma, Rhodriquez, Debra, Mancio, Orlando, Edward, Derry Hutchinson, Roger, Frederick, Juan, Basil Wright, Keno Armbrister, Carlton, and Roxburry to numerous to mention and a host of other relatives and friends including: Elridge Rolle, James Capron, Nixon Family, Flowers Family, Mrs. Netti Rolle, Mrs. Elisemae Smith, Mrs. Oveta Strachan, Mr. Gladstone Rolle, Social Services Department, Ferguson Family, Staff at Princess Margaret Hospital, McKenzie Family, Pastor Adam Brown and The Community of Farmer's Hill.
The body will repose at Kurtiss Memorial Mortuary, Robinson Road and Fifth Street on Friday from 11:00 A.M. until 5:30 P.M. and at the church on Saturday from 10:00 A.M. until service time.