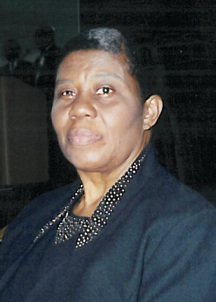 Violet "Bernice" Williams
unknown - unknown
Funeral Service for Minister Violet 'Bernice' Williams age 71 years, a resident of #76 East Beach Drive will be held on Saturday, April 28th, 2012 at 10:00a.m. at Church of God Temple, Peachtree Street, Freeport, Grand Bahama. Officiating will be Bishop Patterson A.Williams assisted by Bishop Dudley Carter and Bishop Kenneth A. Williams. Interment will follow at Grand Bahama Memorial Park #2, Freeport Grand Bahama.
She is survived by: husband: Arnold F. Williams; father: Jeffrey Capron; daughters: Joann Carter, Ruby Outten, Cyprianna, McQuella and Keturah Williams; sons: Bishop Patterson Williams, Bishop Kenneth Williams and Bishop Albert Williams; daughters-in-law: Minister Eleanor Williams, Deaconess Ellen Williams and Barbara Williams; sons-in-law: Bishop Dudley Carter and Elrod Outten; adopted daughters: Candace and Kirizza Smith; sisters: Dorothy Goldsmith and Dell Capron; brothers: Edmund Capron and Arlington Capron; sisters-in-law: Hazel Smith, Veroniqua Williams and Jackie Capron; brothers-in-law: Terrance Goldsmith, Joseph (Jackie) Williams and Clarence Simmons; grandchildren: Adrian, Daphane, Noah and Evelyn Carter, Eleason, Eleleon and Soraya Williams. Jarod, Jaiden and Jaliah Outten and Ke'Adre Thompson; uncle: Cleophas Capron Sr.; aunts: Victoria Davis and Roslyn Capron; nieces and nephews: Shara, David, Satchi and Ishan Bowen, Jamie Austin, Tiffany, Amber, Edwin, and Arlington Capron Jr., Blythe, Adell Beverley and Monica Simmons, Beatrice Garland, Moitis Roberts, Edith Hall, Denise Osuwu and Bridget Newnan, Reuben Hepburn, Jr. Berch Simmons, Andrew, Ernest, Wendall, Patterson and Kyle Williams, Hartful, Kerlin and Austin Smith, Ash-Lee, Jared, Ethan, Caius Goldsmith; god-children: Sandra Jones, Mark Parker & Naaman Forbes; numerous cousins and other relatives and friends too numerous to mention.
Viewing will be held on Friday, April 27th, 2012 at Westside Memorial Mortuary , Hanna Hill, Eight Mile Rock from 9:00a.m – 12:00p.m and at Church of Christ Apostolic, 19 Pioneers Loop, Freeport Grand Bahama from 1:00p.m. to 6:00p.m NOTE: THERE WILL BE NO VIEWING AT THE CHURCH ON SATURDAY.