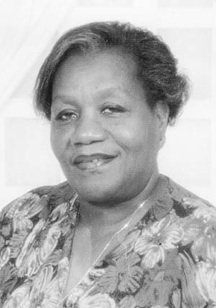 Elaine Deloris Arnett
unknown - unknown
Funeral service for Elaine Deloris Arnett, 73 yrs., a resident of Garden Hills #1 & formerly of Betsy Bay, Mayaguana, will be held at Pilgrim Baptist Cathedral, St. James Road, on Saturday at 10:00 a.m. Officiating will be Rev. Frederick Kelly. Interment follows in Ebenezer Cemetery, Shirley Street.
Left to cherish her memories are her sons: Harcourt Holbert, Terrance & Tremain Arnett; ;stepdaughter: Velma Burrows; grandchildren: Ryan, Hallysha & Harcourt Holbert III, Jaelyn & Tuere Arnett; sister: Remelda Smith; brother: Luther Smith - High Commissioner of Australia; adopted sister: Peggy Swan; daughter-in-law: Mayfield Holbert; sisters-in-law: Naomi Arnett, Ella Clarke, Miriam Arnett, Meryl Hinsey, Esther Thompson, Veronica Smith; brothers-in-law: Rev. Frederick Arnett & Oswal Arnett; close relatives: Melvina Gardiner, Gertrude Young, Dorothy Lightbourne, Madge Cox, Jane Bain of Freeport, Keva (Bunny) Pusmtt of Nigeria, Jestina Vergill, Deborah Lee Foulkes, William & George Swan, McDonald Penn, Rev. Arthur Charlton, Humprey Arnett, Dewey Knight II, Sarah, Edith & Rev. Charles Gardiner, Edith Bodie, Portia Hanchell, Charotte Swan, Emerald Wilkinson, Jan Young, Alice Charlton, Fred & Jackie Cooper of Freeport, Claudette Bain, William & Benson Young, Ricardo Lightbourne of Freeport, Monique Leary of Freeport, Adrian Lightbourne of North Carolina, Anishca Lightbourne of Baltimore, Sean & Eric Smith, Rev. Ulric Smith of Antiqua, Sisco Smith, Prince, Ulric, Jeffrey, Perry, Melford, William & Christopher Charlton, Perry, Jerry Johnny, Charles, Godfrey, Barry, Anthony & Arthur Swan, Virginia Tabor of Altanta, Robert Jr., Dwight, Keith, Kennedy & Brian Bain, Clayton Taylor & Rev. Geoffrey Wood; numerous godchildren including: Janelle Sands, Omar-Bachus Rolle, Joshua Whylly, Crystal Smith, Derika Cambridge & Kimsley Ferguson; other relatives & friends including: Ann Thompson & family, her faithful & trusted neighbor Esther Burrows & family, Vincent & Nora Smith & family, Victor & Lolamae Rolle & family, Philip & Betty Roberts & family, Ingrid Kerr & family, Keith & Ernestine Sands & family, Sandra Collie & family, Tessa Deleveaux, Lillian Foreman, Deann Fitzgerald, Frank Hanna, Julia Thompson & family, Ironica Kemp & family, Cliff & Donna Ferguson & family, Douglas & Chelly Thompson, Dorothy Johnson & Isame Reed of New York, Olga Bethel & family, Rev. Fredrick & Angela Kelly & family, Epiphany Methodist Church family, Officers & Members of Bible Truth Hall, Brensil Rolle, Trevor Whylly & family, Lorna Williams & family, parents from Queen's College parking lot, Michael & Ozell Richardson & family of Beaufort, South Carolina, Marna Bolde of Beaufort, South Carolina, Luesette & Pete Howell, Fredrica Wilson & family, Ida Williams & family, Florence Christie & family, Rosita Smith-Duvalier & family, Colonna Burrows & family, Emily Colebrook & family, Patricia Smith & family, Patricia Mitchell & family, Paul Demeritte & family, Rose Gilbert, Meredith "Neighbor" Wilkinson & family, Elaine "Namesake" Sawyer, Sadie Moss & family, Gloria Moss & family, Cornell Mortimer & family, Deborah Boodle & family, Pauline & Keith Outten & family, Sandra Carey, Donnelle Knowles & family, Debra Wood & family, Ann Bowe, Arabella Cambridge & family, Maureen Storr, Chrystal Young & family, Veronica Pratt & family, Faye Culmer & family & a host of other relatives & friends too numerous to mention.
Friends may pay their last respects at Demeritte's Funeral Home, Market Street, from 10-6:00 p.m. on Friday & on Saturday at the church from 9:00 a.m. until service time.