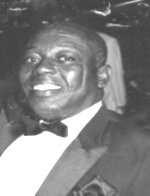 Charles ""Sluggo"" Bertram Ferguson
unknown - unknown
Funeral Service for the Late Charles Bertram "Sluggo" Ferguson, 65, of Mount Pleasant Village, will be held on Saturday July 28th, 11:00 a.m. at Mission Baptist Church, Hay Street. Rev. Ruben Cooper Jr. will officiate. Interment will follow in Woodlawn Memorial Gardens, Soldier Road.
He is survived by his Wife: Marilyn Ferguson; Daughters: Charlene Ferguson, Dorothea Demeritte-Ferguson and Chardae Ferguson; Sons: Vernon " Sluggo" Ferguson and George De'Lamar Ferguson (deceased); Stepchildren: Reynaldo McClain and Nina Hall; Sister: Princess Ferguson; Step-sister: Rev. Virginia Bowleg; Grandchildren: Takia Thompson, Deaudra and Alden Minus, Arlington Butler, Shannon Rahming, Scott Taylor, Ebony, Reynaldo, Vernon II, Lavardo Vernon III, Travencia, Vernika, Raynell, Tonisha, Queen and Tanisha Ferguson; Great Grandchildren : Quntaisha, Nia, Barry, Carniss, Keano and Dwayne Ferguson; Great-great Grandniece : Devante Decosta; Nieces: Natasha Decosta, Shonathea and Yvette Ferguson; Nephews: Antonio Ferguson, Dwayne Decosta, Neville Ferguson; Grand Nephews: Davano, Andron, Antonio Jr. and Anthony Ferguson; Godchildren: Shanez Bowleg, Dressler Albury and Charmaine Newbold; and a host of other friends and relatives including: Patricia Roberts, Paulamae Ferguson, Bouncy Buchanan of Freeport, Paul Thompson and Family, Graham Hastedt, Reuben Stuart, Marilyn Brennen, Vincent and Laurie Saunders of Freeport, Don and Dorothy Major and Family, Uriah Wilson, Ricky Newbold, Paul Outten, Paul Adderley, Joseph Sands, Samuel Goodman, Sterling and Terell, Marie Coakley and Family, Rosebud Sturrup, Vernon Wilkinson and Family, Everette Jones of Freeport, John Neymour, Hazel Taylor and Family, Charisse Ferguson and Family, Vaughn Douglas, Lionel Braynen and Family, Pearl Hendfield and Family, Francina Rolle and Family, Charles Outten, Terry Miller, Harry Miller, Frank and Virginia Roach, Idamae Bain, Linda Brice, Kenneth and Trudy Ward, Eileen Goodman, Ted Thompson and Family, Shirley Redwood, Freda Darrel, Annette Polhemus and Family, Paul and Sonia Williams and Family, Laura Johnson-Taylor and Family, Pastor Ricardo Turner and Family Ernestine Joffer and Family, Rhonda, Laverne and Kim Edgecombe, Betty Knowles and Family, Peter Maguire, Evenette and Eleanor Gardiner and Family, Doralynn Tinker and Family, Dr. Dean and Mt. Pleasant Village Family and the Lyford Cay Taxi Drivers the then Lyford Cay Softball Team. Special Thanks to: The Lyford Cay Club and The Princess Margaret Hospital Male Medical I. Special Gratitude are extended to: Rev. Reuben Cooper and the entire Mission Baptist Church Family. We are asking the Lord for forgiveness for those who we have failed to mention and we're asking your forgiveness.
Friends may pay their last respects at Bethel Brothers Morticians, Nassau Street on Friday from 10:00 a.m. to 6:00 p.m. and on Saturday at the church from 10:00 a.m. until service time.