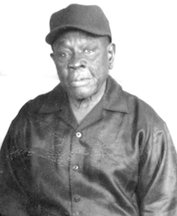 Patrick Theophilus Williams
unknown - unknown
Funeral service for the late Patrick Theophilus Williams, 87, of #35 Robyn's Nest Drive, Imperial Park, Freeport and formerly of Matthew Town, Inagua will be held on Saturday, July 28, 2012 at 10:00 a.m. at Universal Household of Faith, Hawksbill, Grand Bahama. Officiating will be Pastor Shirley Stubbs, assisted by Min. Chad Adams. Interment will follow in the Grand Bahama Memorial Park II, Settler's Way and Frobisher Dr., Freeport, Grand Bahama.
Cherished memories are held by his three daughters: Cestina (Berkley) Finley of Matthew Town, Ida (Manfred) Brown and Stephanie (Emmanuel) Cefort; four sons: Samuel (Renee) Williams, Aulric (Martha) Williams of Inagua, Cecil (Beverley) Williams, Patrick Jr. (deceased) and Dwayne Williams of Inagua; one brother: James Williams of Hart Exuma; 31 grandchildren: Kehfie (Patrick) Rodriguez, Douglas (Portia) Finley, Rhonda (Derrick) Williams, Berkley, Edna, Desmardo "Stileet", Captain Terry Iphan and Kervieo Finley, Bastian, Davaugn, Daron, Samuel Jr. (Brendalee) Williams, Nathesia "Tash" (Richard) Arthur, Sharvis "Box" (Tiffany) Brown, Dewitt, Shardley, Sharntaley Brown, Gary Augustine and Jelissa Eugene, Jarvis (Dashineak), Reagen (Jasmine), Pineil, Roderick, Cecil Jr., and Giovanni Williams, Zyria and Zynnia Cefort and Brittany Williams; numerous  great-grands including: Shaquel, Radejha, Razhena and Royal Arthur, Sharvis Jr., Sharphinee, Jordan, Desmardo Jr., Montel, Breon, Daron Jr., Jarvis Jr. and Kenia, most especially Ashad, Patrick and Sharmaz (his special care-givers); sister-in-laws: Whitleen Forbes, Dorcas Cox, Queenie, Angeline, Madlin Hanna, Madlin Gardiner, Shirley Thurston, Sylvia Deleveaux and Rita Carney; brother-in-law: Claygon, Alfons and Alfred Hanna, Leo Gardiner and Kelson Cox; special nieces: Ruth Hield, Sharon Seymour of Nassau, Mageurita Burrows and Jane Major; numerous nieces and nephews including: Lydia, Consuella, Willamae, Rosemae, Irene, Renee, Helen, Anthony, Edward, Sammy, Alfred of Harts Exuma, George, Harry and Roger Williams and family of Nassau, Stanley, Waynewright, Nelson, Lewis, Betty, Kay, Prince, Paul, Hemenus of Turks and Caicos Island, Keiller, Alvin, Geniveve, Velma, Paul, Mable, Liz, Caroline, Charlotte, Verniece, Jane Williams, Jermaine, Michelle and Daphne of Miami, Florida, Dr. Carolyn Rolle, Dianne, Georgette and Leon Sr. and a host of other relatives and friends.
Viewing will be held at Zion Baptist Church (Freeport), East Sunrise Highway, on Friday, July 27, 2012 from 12:00 p.m. to 6:00 p.m. and on Saturday, July 28, 2012 from 9:00 a.m. to service time at the church.