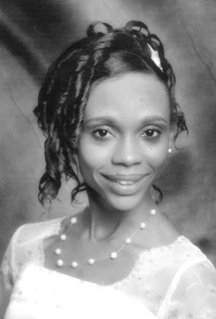 Cindi Melissa Smith-Finley
unknown - unknown
Final Rites and Burial for Cindi Melissa Smith-Finley, Age 31yrs, a resident of First Street, Coconut Grove, will be held at Southland Church of God, Soldier Road on Saturday 30th June, 2012 at 10:00 a.m. Officiating will be Bishop Revy Francis, Rev. Lavado Duncanson, Rev. Darvin Toussaint and Rev. Rufus Lightfoot and Interment will follow in the Eastern Cemetery, Shirley Street.
Left to cherish her memories is her Son: Tyreke King, Mother: Michelle Finely, Father: Steve Smith, Step-Father: David Sands, Four Sisters: Darlene, Tanaz, Shantanique and Shantish, Two Brothers: Steve (Deangelo) and Stephano, Grandparents: Paula Darville, Oswald Finley and Oswald Sands, Brother-in-Law: Hueton Hall, Niece: Huetonyse Hall, Fourteen Aunts: Cherrylee Neillie, Paulamae Williams of Miami Fl., Marva Gilcott, Denise Gardiner, Arnette and Shacarah Finley-Charlow, Connie and Betty Smith, Mildred, Lana, Hazel, Thelma and Juliet Newbold and Janet Sands, Fifteen Uncles: Raymond and Oswald Finley Jr., Calvin, Hank, Harry Jr., Hector, Alex, Reed, Rescord and Wesley Poitier, Ian, Jetson and Johnelle Gilcott, James Newbold, Thomas and Felton Sands, Twenty Grandaunts: Miriam Finley, Leoni Duncanson, Judy, Verdell, Marsha and Mary Fawkes, Myrtle Sweeting, Alice Adams, Elaine Wilson, Effie and Louise Williams, Prudence Palacious, Ruth Hield, Gloria Finely, Shirely Armbrister, Rosemary Burrows, Arnett Davis, Blanch, Coralee and Bernadette Demeritte, Nine Granduncles: Locksley Jr., Leroy, Richard Sr. and Anthony Fawkes, Mitchell and Berkley Finely, Leroy, Anthony and Anville Demeritte, Numerous Cousins: Rev. Alfred, Rev. Timothy and Rev. Andrew Stewart, Shukuanya, Daval, Devin, Grea, Gredisha, Angelo, Wesleyann, Lashawnda, Wesley Jr., Kayshell, James, Jerome, Ira, Darren, Regan, Kaygelle, Georgette, Lavardo, Clarissa, Sonovia, Jamal, Dominique, Deandra, Kendece, Thomas Jr., Sheniqua, Gino, Perez, Shenequa, Mavalo, Tonia, Devono, Sharee, Dyanza, Owen, Shamaine, Lakeisha, Timmar, Demond, Bernadette, Renando, Richard Jr., Christopher, Colyn, McCardia, Tennesse, Bianca, Amanda, Leroy Jr., Trevor, Camile, Karen, Julie, Charles, Rhonda, Adrian, Tracey, Dino, Kim, Vaughn, Sharlene, Crystal, Gail, Marco, Craig, Dominic, Damian, Charmaine, Robin, Lavern and Evelyn Stewart, Susan Moss, Sally Ferguson, Jocelyn Simms, Deborah Darville, Susan Knowes, Sonia Rolle, Pauline and Mathew Curry, Roslyn Lightbourn, Sherry Sands, Sylvia, Garnett and Kenneth Kemp, Michelle Ryan, Chester Finley, Beryl, Mardia, Ashley, Jade, Sarah and Marty Powell, Four Godchildren: Tahjae, Raven, Raiden and DJ and A host of other Relatives and Friends Including: Daniel Sturrup, Inez and Katina Pinder, Frantz King, Ray, Rachel and Shelia Sands, Rudell Capron, Shirley White, Lynden Gardiner, Melonie and Tyrone Watkins, Patsy Virgil, Cara Russell, Tamika Stuart, Acribba Wemyss, LaQuesha Arthur, Janeile Pinder, Emily Robinson, Father Basil Tynes, Captian Curry(St.Barnabas), Chris Justilien, Elva Larondas, Felicity Johnson, Sandra Rolle, Shantell Hutchinson, Andrea Sweeting and the Sister Sister Breast Cancer Support Group, Andica Stubbs, Delgardo Rolle, Jaydian Miller, Denise Brown, Jewel Moss, Shannya Joseph, Vonette Saunders, Talinda and Gary Williams, Donna McKay, Eloise Munnings, The Smith's, The McPhee's, Myrtle Deveaux, The Douglas Family, Shekera Reckley, Stephanie Sweeting, Bishop Revy and Bernice Francis and the New Victory Temple, The Cornerstone Church of God, Southland Church of God, The Golden Gates Assembly, Evangelistic Temple, Dr. Locksley Munroe and Team, Dr. Margo Munroe, The Staff of Oncology, Dr. Devaughn Curling, Dr. Theodore Turnquest, Dr. Gerrad Deveaux, The BTC, Minister Glennis Hanna-Martin MP, Mr. Paul Moss, GHS Class of 1998-99, The Colors Junkanoo Group, H.O. Nash, Facebook Friends, The Coconut Grove Community and Families and Relatives and Friends to Numerous to Mention.

The body will repose at the Chapel of the Saints Sweeting's Colonial Mortuary and Crematorium, #84 Blue Hill Rd. from 10.00 am on Friday until 6:00pm and on Saturday from 9:00 am and at the Church until service time.