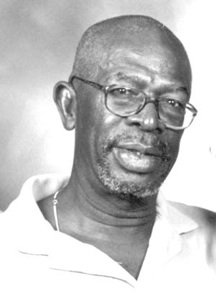 Errol Bostwick Dorsette
unknown - unknown
Funeral Service for Retired Police Corporal 696 Errol Bostwick Dorsette age 66 of Rum Cay and formerly of Yellow Elder Gardens, who died June 13th, will be held on Friday 10:00 a.m. at St. Barnabas Anglican Church Baillou Hill and Wulff Roads. Canon Basil Tynes assisted by Father Roderick Bain will officiate and cremation will follow.
Precious memories are held by:
His wife: Janet
Children: Jerome, Corporal 2490 Kareem Dorsette of the Royal Bahamas Police Force, Kristna, Karlin, Rashad, Owen, Tracy, Shavonne, Lorna, Kimberly and Nicole
Grand-children: Kenneth Jr., Tevin, Juliano, Keanu, Carlos, Jerome Jr., Jerkasah, Jerkay, La Lola, Deja, Kristin and Jermina
Brothers: Rudolph and Philip Strachan, Franco Dorsette and Philip White (N.J.)
Sisters: Merlene Gordon, Rosa and Cheryl Dorsette
Nieces: Shavon, Shantell, Felicia Scott, Yvonne Evans, Suzette Sands, Gia, Bianca, Anishka, Tamika, Anthonecia, Brittney, Lakhia, Janae, Raquel, Rev. Letha Strachan, Tossie and Lucita, Calae, Madlyn, Sekya, Tequia, Tonia, Paulette and Valencia
Nephews: Julian, Ricardo, Keith, Kevin, Paul, Brian, Franco Jr., Clayton, Philip Jr., Gayle, Charles, Sidney, Rudolph Jr., Tavano, Tavaughn, Tauren, Tavaz, Terrance, Brandon, Bryon, Javon, Justin, Gerard, Tamal, Michael Hudson, Fredrick, Daron, Corderro, Desmond, Devon, Receo, Lenardo, Tavares, Demetrius an Michael Marvin Johnson
Mother –in-law: Aleta Hudson
Son-in-law: Paul
Daughters-in-law: Crystal Dorsette and Leshorn Neely
In Laws: Ettamae and Stafford Johnson, Carol and Perry Johnson, Elva and Bruce McIntosh, Marilyn and Charles Gibson, Gaynell and Craig Peterson, Pamela and Keith Kelly, Japhena Strachan, Rose Strachan and Francita Dorsette
Other Relatives and Friends Include: Dave and Judymae Knowles, Hermie Bain and family, Delores, Kay, Donna Wilson and family, Madrick Strachan and family, The Gaitor family, Jackie Nottage, Terry Strachan and family, Joseph Harding and family, Alonza Major and family, The Rum Cay Social Club, The Royal Bahamas Police Force, Airport Authority, Petrona Major, Shirley Strachan, Theodore Bain and family, Patricia Whitfield, Linda, Terry Harris and family, Jane Walkine and family, Sean Tynes, Gloria Bain and family, Paula Williams, the Peterson family, the Yellow Elder community, Woodcock Primary School, Fellowship Church Of God In Christ family, James and John Brown, the Cruising Partners, numerous other family and friends.
Relatives and friends may pay their last respects at THE CHAPEL OF MEMORIES COMMONWEALTH FUNERAL HOME INDEPENDENCE DRIVE on Thursday from 11:00-7:00 p.m. and at the church on Friday from 9:00 a.m. to service time.
Thanks Mary