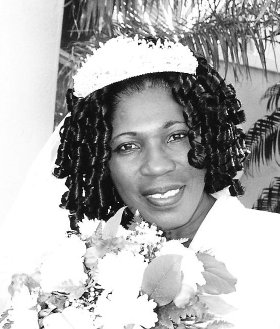 Birdiemae Musgrove-Curtis
unknown - unknown
Funeral Service for the late Birdiemae Musgrove-Curtis age 57 years of Moss Town, Exuma will be held on Friday May 4th, 2012 at 10:00am at Moss Town Seventh Day Adventist Church, Moss Town, Exuma. Officiating will be Pastor Anson Albury assisted by Pastor Terry Tannis. Interment will follow in Hermitage Public Cemetery, Hermitage, Exuma.
Left to cherish her memories is her Husband: Ralph Curtis; Children (6): Chantel Stubbs, Shayvonne Deveaux, Trevor Rhodriquez, Lashanna Rolle, Damien Rolle, Dario Rolle; Grand children (8): Akarien, Demagio Dames; Keiron Sears, Tariq, Trevor Rhodriquez Jr.; Ron, Rihanna Rolle; Chalex Stubbs; Adopted Children: Michelle, Natanya, Lashanta, Harvey, Eric, Kevin Curtis; Patrica, Kamesha, Donnell Smith; Alexavier Stubbs; Sons-In-Law (2): Prince Stubbs Jr., Reno Rolle; Mother-In-Law: Leona Curtis; Brothers (6): Charles, Japheth, Melville, Basil, Alfred, Rupert Musgrove; Adopted Sisters (6): Shirley Musgrove, Craydora Musgrove, Eldora Stuart, Margaret Melvin, Sharon Moosa; Adopted Brothers (2): Derek Bodie, Eric Morley Sr.; Godchildren: Shakera Beneby, Shanell (Tiffany) Taylor, Shawn "DJ Scooby" Wright; God Sisters & brother: Laverne Symonette, Sharon Wright, Kethuramae Wright , Martin Clarke; Brothers-In-Law (6): Patrick Curtis (Helen Curtis), Anthony Curtis (Dorothy Curtis), Ted Curtis, Wayne Curtis (Denise Curtis), Lynden Curtis, Ezekiel Stubbs; Sisters-In-Law (6): Priscilla Musgrove, Jane Musgrove, Ava Musgrove, Paula Walker, Pamela Curtis, Verna Lewis (Milton Lewis); Nieces (8): Jamie, Clarinda Musgrove, Sophia Ferguson, Lisa Stevens, Charise, Inga, Celeste, Natasha Musgrove; Nephews (13): Patrick, Shane, Neil, Vaughn, Marvin, Jeffrey, Oliver, Montello, Morleno, Altello, Roger Musgrove; Everette Roach, David Ferguson; Aunts (2): Arimina Musgrove, Pearl Musgrove; Aunts-In-Law (9): Lizzie Rolle, Gweneth Smith, Grennie Smith,Christine Curtis, Beverly Smith, Sylvia Smith (Patrick Smith), Mathilda Stuart (Cleveland Stuart), Beverly Smith, Dorothy Brown; Uncle: Freddie Morley Sr.; Host of Other Relatives and Friends including: Helena, Arthur, Robert Musgrove; Cynthia Labosky, Marie Musgrove, Ivy Davis, Beatrice Munroe, Carolyn Collie; Elva, Sydney Bodie; Althea, Beatrice Morley, Carolyn Brice, Freddy Morley Jr., George Morley, Eddie Bodie, Ruth Milton, Margaret Jones; Lean Clarke, Eunal Mckenzie, Alexander Taylor Sr., Maxine Bethel, Christine Clarke, Sabrina Hepburn, Egliston Brown, Kendal, Adrian & Lavardo McPhee, Daisymae Ingraham, Roland Ferguson, C.P. Morley, Pastor Alexander Taylor Jr., Paulette, Nathalie, Advira Taylor, Anniemae Gelin, Leroy, Louise, Shirley, James McPhee Jr., Livingston & Leroy McPhee, Miriam Bain, Doreen Strachan, Karen Thompson, Ulyssis, Sonny, ASP Noel Curry, Moses & John Curry, Norma Farrington, Doris & Christine Rolle, David Dames, Eleanor Burns, Margaret Adderley, Marina Taylor, Everette Miller, Sharon Tinker, Hal, Sally Bodie, Sharlene Morley, Pastor Randy & Zilpha Musgrove, Thelma & Mary Musgrove; Rodney, Lydia, Hosea Sr., Iona, Marilyn, Rose, Elizabeth, Francis Musgrove, Hosea Jr., Wentworth & Patrick Musgrove, Maxine Bethel, Christine Clarke, Pastor Kendall & Juanita Mckenzie, Rev. C.W. Saunders, Rev. Cedric Smith, Rev. Adam Brown, Isabella Smith & Family, Shirley Marshall, Pamela Marshall, John & Desdemona Musgrove, Judy Musgrove, Glendamae Musgrove-Knowles, Aruda Mckenzie, Karen Ferguson, Barbara Darville, Erica Archer, Christine Forbes, Terry Taylor-Rolle & Family, Joey, Sandra, Yvonne Gibson, Laverne, Sharlene, Andy and Donald Whylly, Irvin Bodie & family, Marcel & Judith Russell, Bernard Bodie, Miriam Bodie, Donnamae Bodie, Stevie Bodie, Shenique Carmichael, Theresa Musgrove, Maria Pinder, Esther 'Tiny' Rolle, Leaniemae Bodie, Janet, Lorraine, Sharanda, Dwight & Ricardo Bowe, Anthony Musgrove, Bill Curtis, Lettice Clarke, Vernon & Margaret Curtis, Cassandra & Roger Forbes, Alvan K. Rolle, Perry, Pedro Rolle, Pheobe McFall, Vernie Rolle, Leolean Rolle, Veronica Marshall, Beverly McPhee, Sharlene Sturrup, Naomi Rolle, Ivan & Sharon Rolle, Patrick & Laverne Symonette, Valerie Tony, Oralee Martin, Rhona Davis, Edna, Sarah & Donnie Bain, Juanita Monestine, Valerie Ferguson, Audrey Clarke, Kerlean Brown, Sharon Wright, Carolyn Ferguson, Vivian Burrows, Cynthia Major, Daisy Thompson, Clarise Ingraham, Amanda Lundy-Ferguson, Ethlyn Nixon, Daisy Thompson, Latisha Smith, Rosetta Gilbert, Petral Russell, Yvonne Cartwright, Magnola Clarke & Family, Susan Clarke, Sonia Morley, Paula & Mazzie Gray, Richard & Debbie Balfour, Anthony & Sheila Moss, Melverne Mckenzie, Elsiemae Smith, Marion Clarke, Shirley Bodie, Ray Bodie & Family, Francina Saunders & family, Sheila Saunders, Verbilee Clarke, Ruth Clarke & family, Foster & Lovie Clarke, Shadrach & Loretta Collins; Gladstone Rolle & family, Everette Hart, Teddy Clarke, Ruthmae Dames, Annamae Johnson, Iva Rolle, Luther & Thelma Rolle, June Marshall-Rolle Patsy Ferguson; Mildred & Isadora Lloyd, Patience Forbes, Edna Brown, Laverne Turtle, Advara Lewis, Marion Bowe, Marilyn Dames, Sheila McPhee, Angela Bethel & family, Vincent & Etoy Bethel, Audrey Beneby & Family, Patricia Deveaux Brennen & family, Emily Rhodriquez and family; Esther Rolle, Linda & Erica Johnson, Clemon & Mag Ferguson, Theresa Black, Margaret Styles, Gloria Rolle, Paulette, Jackie, Vangy, Brenda Clarke, Reginald Bain, Ronald, Val, Shirley, Vanda McPhee, Carriemae Bowe & Marie, Jenniemae Mckenzie, Faye Brown, Anya Adderley, Javan Gray, Latina Gray, Renae Arne, Tina Tucker, Greta Pennerman, Lachez Ferguson, Savaletha Rolle, Jenniemae Rolle, Naomi McKenzie, Berthalee Lloyd, Porsha, Yvette, Kim, Wayne & Mizpah, Rubyann Cooper-Darling, Oris Cooper, Verne McKenzie, Wendy Morley, Sue Smith, Paul & Nelda Armbrister, Ann Glinton, Renee Styles, Clifford & Minerva Rolle, Brenda & Merilee Rolle, Joanne McKenzie, Ruth Smith, Dorcas Shuttleworth, Alfred & Betty Adderley, Jay Rolle, Ernest, Maria, Marilyn & Philip Munroe & Family, Myrtis Deveaux & Family, Leanna Weir & Family; Nola Adderley, Deloris Bulter, Edna Baker, Vena Rolle, Godfrey Rolle Sr. & family, Wayde & Teryann Rolle, Lynika & Theo Gray, Alvin Dames, Laura, Arimina, Rose & Leolean Wright; Benjamin Deveaux, Caesar Clarke, Julian Dames, Wellington McPhee, Errol & Natasha Clarke, Laronica Mckenzie, Tavara Flowers, Crystal Ferguson, Caleb Rolle Jr.; Denvar Miller, Heather Henfield, Dorrith Smith; Bodie, Musgrove, Ferguson, Curry, Smith, Curtis families; Moss Town, Hermitage, The Forest & Mt. Thompson Communities, Moss Town & Mt. Thompson Seventh Day Adventist Churches, Keith Moss, Stephen Smith, Dr. Nicholas Fox, Mrs. Barbara Bethel, Dr. Fox and Nurses of George Town Clinic, Staff of Civil Aviation, N.I.B. Exuma staff, Dr. Grant & Social Service Exuma Team, BAF Financial Exuma, BTC Team especially Leroy, Franklyn & Blinkers, Sandals Emerald Bay family, Ministry of Tourism Exuma, other relatives and friends too numerous to mention.
Viewing will be held in Moss Town Seventh Day Adventist Church, Moss Town, Exuma on Thursday from 10:00am to 7:00pm and again at the church from 8:30am until service time on Friday.