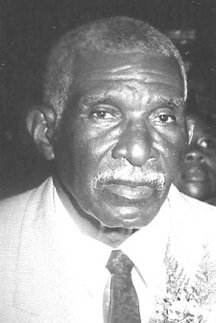 Joseph Alexander Hall Sr
unknown - unknown
Funeral Service for Joseph Alexander Hall Sr. age 83 affectionately called "Dody" of Rock Sound Eleuthera, who died May 11th, at his daughter's residence Yamacraw Close will be held on Saturday 11:00 a.m. at Faith Tabernacle Assemblies Of God Rock Sound Eleuthera. Rev. Tyrone L. Sands Senior Pastor of True Worshippers Assembly assisted by Rev. Cedric H. Hall Senior Pastor of Faith Tabernacle will officiate and interment will follow in the Public Cemetery Rock Sound Eleuthera.
Predeceased by: wife Mary Elizabeth Hall
Precious memories are held by:
Eight sons: Gannet, Joseph Jr., Harold, Alfred, Johnny, Dwight, Shayan and Devon Hall
Fourteen daughters: Sherlyma Joffry, Cleomi Gibson, Theola Cleare, Evalina Nesbitt, Mary Bowe, Betty Ann Hall, Noralee Rolle, Katherine Sands, Patsy Knowles, Lidia Basden, Doretta Hall, Tiffany Clarke, Linda and Trissie Hall
Thirty-eight grand-children: Sanjay Sawyer, Lashanta Hall, Jean Gibson, Devaughn Sweeting, Travis Hall, Kirkwood Cleare Jr., Melissa Hall, Reva, Kadisha, Kathera and Shaquille Nesbitt, Eltavio Bowe, Ronard, Verniqua, Garnette Hall, Baronique Missick, Dwight Jr., Devon Jr., Delvon, Davonia, Johnny Jr., Darvin, Johnika, Michaela, Karetta, Galasha, Jameca, Jameo Jr., Alexis, Ashley, Aldika, Ashton and Alkeno
Eleven great grand-children: Shaniece, Shannon, Charity, Alissa, Sean Gibson Jr., Keyshawn, Kayshorn, Jasmine, Kataro and Aldiva Clarke
One sister: Olivia Symonette
Nineteen nephews: James Hall, Jim, Daryl, Vince, Keith, Sandy Smith, Roy, Jim, Mack, Jack, Manessa, Nathaniel, Ted Hall, Cleveland, Eddie, Andrew Stephen ,Marky Symonette and Cisco Burrows
Twenty-one nieces: Lillian, Roslyn, Norma, Brenda, Delana, Paula, Vangy Rolle, Jackie Sands, Sharlene Kerr, Jandra Roberts, Brenda, Rose, Cynthia, Patsy Hall, Dorothy, Elsada, Edith, Delena, Mary, Iva and Lenora Hall
Five sons-in-law: Kirkwood Cleare, Sammy Nesbitt, George Bowe, Albert Rolle and James Basden
Two sisters-in-law: Maud McKinney and Susan Hall
Three brothers-in-law: John, Jimmy and Dewitt McKinney
Other relatives and friends include: Samuel Johnson, Elliot Sands, Remilda Larrimore, Theodore Curry, Kathleen Culmer and family, Farlease Knowles and family, James Sands and family, Edris Moncur and family, Joseph Sands, True Worshippers Assembly family, Staff of Montaque Gardens, Staff of Waterloo, Staff of Shantz Place, the communities of Tarpum Bay, Green Castle and Rock Sound Eleuthera.
Relatives and friends may pay their last respects at THE CHAPEL OF MEMORIES COMMONWEALTH FUNERAL INDEPENDENCE DRIVE on Thursday from 11:00-3:00 p.m. and at the church in Rock Sound on Friday from 6:30 p.m. to service time on Saturday.