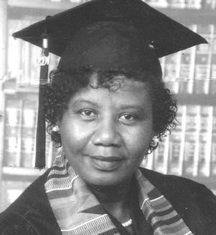 Laura Everlena Delancy Ferguson
unknown - unknown
Funeral Service for Laura Everlena Delancy Ferguson age 60 affectionately called "Lena" of Oasis Drive off Adelaide Road and formerly of Wemyss Bight Eleuthera, who died May 17th at the Princess Margaret Hospital, will be held on Saturday 10:30 p.m. at Holy Spirit Anglican Church Howard Street Chippingham. Rev. Father Peter A. G. Scott assisted by Father Enrique McCartney will officiate and interment will follow in Woodlawn Gardens Soldier Road.
Laura Delancy Ferguson is survived and cherished by:
Her two children: Quentin and Vanessa Ferguson
One grand-daughter: Jada Ferguson
Five brothers: William(Judy)Delancy, Alkin(Donna)Delancy and Willard Williams of New Providence, Walter Delancy of Wemyss Bight Eleuthera and Christopher(Carmen) Delancy of Florida

Five Sisters: Veronica (Nita) and Judy Delancy of New Providence, Clarice Delancy of Wemyss' Bight Eleuthera, Kim Wendy Delancy-Gibson of Freeport, Grand Bahama, and Keron (Jacinth) Clarke.
Nieces and Nephews: Janice Young, Cleveland and Carla Delancy, Yvette Charlie, Anastasia Jones, Demettrius, Al-marie, Al-leecia, and Alkin Jr. Delancy, Jacintha, Jayden and Jayda Clarke, Rosetta, Christopher Jr. and Byshon Delancy .
Eight ( 8): Grandnieces and Nephews.
Aunts (2): Mable and Minerva Delancy.
Cousins: Patrona Kemp and family, Judith Williams and family, Kelsey Williams and family, Patrica E. Sands and family, Rudolph William and family, Roosevelt Williams and family, Doris Gibson and family, Philip Wallace and family, Gertrude and Ernie Hooker and family, Charmiane Davis and family, Margaret Thompson, Wilfred Delancy and family, Agatha Brown and family, Eleanor, Henry, Joe, Philip, Alfred, Kevin, Dwight, Wayde Delancy, Ona Davis and family, Loretta Minnis and family, Margaret Thurston and family, Cyntha Rolle and family, Iona Williams and family, Anna Duverson, Leonie Williams and family, Abigail, Anastasia and Wilkie Delancy, Lewis Williams and Family, Wilson Delancy and family and the children of the late Helen Culmer, Merlese Hall and Samuel Williams.
Other Relatives and friends: Catherine Rolle and family, Leonie Cartwright, Lezena Butler, Joe Butler, Elaine Thompson, Delores Bethel, Louise Coleby, Emily Knowles, Magdaline Thompson, Patrick Brown, Dianne Johnson, Dianne Bowe-Pindling and family, Andrew Gibson and family, McArthur and Llewelyn Thompson and family, Joe Major and family, Annamae Pinder and family, Erlin Munroe and family, Una Williams, Millie Young and Siblings and the Community of Wemyss' Bight Eleuthera, Father Scott and The Holy Spirit Anglican Church family, Doctors and Nurses of the Princess Margaret Hospital.
Relatives and friends may pay their last respects at THE CHAPEL OF MEMORIES COMMONWEALTH FUNERAL HOME INDEPENDENCE DRIVE on Friday from 10:00-1:00 p.m. and at the church on Saturday from 9:30 a.m. to service time