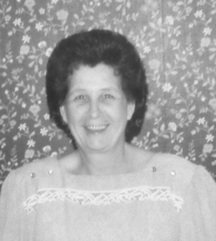 Marion Janet Roberts
unknown - unknown
A Memorial Service for Mrs. Marion Janet Roberts, aged 75, of Rosetta Street, Nassau, The Bahamas and formerly of Spanish Wells, The Bahamas, who went home to be with her Lord, on Sunday, 11th November, 2012, will be held at Shirley Heights Gospel Chapel, Mount Royal Avenue, Nassau, on Wednesday, 21st November, 2012 at 5:00 p.m.
Brother Tom Roberts will officiate.
Left to cherish her memories are her two daughters, Joan Cates of Nassau, The Bahamas and Irene Park of Friendship, Tennessee; a son –in-law, Richard Cates; three grandchildren, Brian Cates , Rebekah Cates and Ashton Tritt; Three sisters, Juliana Pinder, Dianne Underwood, and Sonia Pinder; One brother, Freddie Pinder.( She was pre-deceased by her brother, Alvin Pinder.) Two brothers-in-law, Willie Pinder and Mitchell Underwood; Three sisters-in-law, Lucy Pinder, Yvonne Pinder and Suzanne Albury, numerous nieces and nephews in Nassau, Spanish Wells and Abaco and many other relatives and friends including her Shirley Heights Gospel Chapel family, Billy and Lulabelle Cates, Gwen Cates, Juanita Baker, Terry and Ruth Cates, Sheena Lowe, Evelyn Sweeting, Linda Sawyer, Katherine Moxey, Era Burrows, Gilian Pinder, Lucy Kelly, and Audrey Smith.
Relatives and friends may pay their respects at Kemp's Funeral Home Limited, 22 Palmdale Avenue, Palmdale, Nassau, on Tuesday, 20th November, 2012, from 2:00 p.m. to 6:00 p.m., and on Wednesday, 21st November, 2012 from 10:00 a.m. to 12:00 noon.

Arrangements by Kemp's Funeral Home Limited.