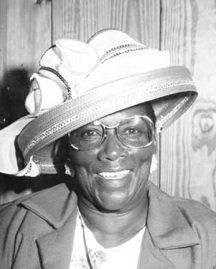 Enid Bowe Munroe
unknown - unknown
Last rites for Enid Bowe Munroe aged 87 of Yellow Elder Gardens and formerly of Forbes Hill Exuma will be held on Saturday at 11:00 A.M. at Salem Union Baptist Church, Taylor Street off East Street. Officiating will be Rev. Dr. Charles W. Saunders and Other Ministers of the Gospel.
Interment in Woodlawn Gardens, Soldier Road.
She is survived by her 2 sons: Chief Immigration Officer, Eddie Ferguson, Superintendent of Health, Kendall Ferguson; 4 daughters: Ednamae Hunter, Sgt. (HMP) Judy Whyms, Patricia Morley, Antoinette Bowleg; 2 daughters-in-law: Keturah Ferguson and Dr. Marcella Ferguson;
4 sons-in-law: Samuel Hunter, Rudy Whyms Sr., Bursel Morley and Oris Bowleg Sr.;
24 grandchildren: Ivan Major, Margo Newbold, Elgadro Rolle, Awanno Nonhomme, Yvette Kelly, Marlyn, Leandro, Keisha, Evanca, Edrica Ferguson, Nkomo and Kendall Ferguson Jr. Deondre Farquharson, Rudy Whyms Jr., Junique Whyms, De'Antrinique Whyms, Tyvonne Smith, Brea Morley, Oris Bowleg Jr., Opal, Oriel, and Oren Bowleg. 4 grand daughters-in-law: Dora Major, Migdalia Rolle, Janet Ferguson and Santiala Ferguson; 2 grand sons-in-law: Gary Kelly and Eddison Nonhomme; 29 great-grandchildren and 3 great-great-grandchildren;
2 sisters: Francina Bowe and Mary Dames; 1 brother: Forester Bowe; 2 sisters-in-law: Susan Bowe and Coralee Bowe; God-children: Rebecca Brown Thomas, Elean Johnson, Sidney Mcphee, Jesse Cooper, Jeremy & Johnathan Clarke. 1 aunt: Epsie Wallace; Cousins: Mr. & Mrs. Nigel Bowe; Charles & Visna Mackey; adopted family: Commissioner of Police Ellison & Kimberly Greenslade, P.O. (RBDF) Stanley Pitt, Rev. Lewis Rolle, Donna Box, Vernon & Marilyn, Ken & Jackie, Gregory Farquharson, Godfrey & Sonya Bowe, William & Tanya Manos, Nigel Bowe, Charles & Visna Mackey, Caroline Ferguson, Dundas Munnings and Franklyn Brice Numerous nieces, nephews, family and friends including: Victoria "Vera" Rolle, Shirley Clarke, Roselda Humes, Sandy McTarget, Julie & Richard Kimble, Edison Brice, Godfrey & Rozelda Moxey, Gloria Williams, Nellie Walkes, Rev. Henry Seymour, Cheribelle Jones, Ulean Bodie, Ienty & Zandra Grey, Witlean Rahming, Mavis Thompson, Mr. and Mrs. Cladius Rolle, Gray & Smith Family, Staniel Cay Exuma, Mavis Thompson, Daisy Armbrister, The Farquharson Family, Dames, Bowe, Ferguson, Munroe, Sears and Bullard Families, Armenta Nottage & Family, Barry & Queenie Butler, Mr. & Mrs. Loyd Johnson, Robyn Cooper & family, Forbes Hill Family, Mr. Granville Ferguson, Albertha Bullard, Carrie Mae Bowe, Miriam Martin, Bloneva Sears-Mckenzie, Elcita Ferguson, Beulah Sears, Carlene Beneby, Sudlin & Theresa Black, Nurse Melda Hanna-Ferguson, Creswell & Eula Morley, William & Hattie Bethel, Rudolph & Dereck Curtis and Ronald Mackey . Special thanks to Nurse Philippa Smith and the staff of the Emergency Department and Female Medical Ward at the Princess Margaret Hospital.
The body will repose at Kurtiss Memorial Mortuary, Robinson Road and Fifth Street on Friday from 11:00 A.M. until 5:30 P.M. and at the church on Saturday from 10:00 A.M. until service time