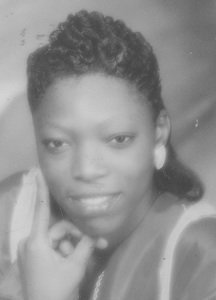 Bridgette Nicola Thurston
unknown - unknown
Funeral service for Bridgette Nicola Thurston, 39 yrs., a resident of Gambier Village, will be held at Mt. Zion Baptist Church, Gambier Village, on Saturday at 12:00 p.m. Officiating will be Pastor J. Lesley Rolle, assisted by other Ministers of the Gospel. Interment follows in the Church's Cemetery.
Left to cherish her memories are her husband: Ava Meme; 1 daughter: Arnel Cash; 2 sons: Arnwill Cash & Dedrick Ingraham; 3 sisters: Tracy Thurston, Zenetta Fernander & Minister Valetta Arthur; 3 brothers: Robert Jr., Pachaino & Omar Thurston; 8 nieces: Shawice, Zamoune, Anaka, Samra, Sasha, Patrice, Devonique & Tricka; 3 nephews: Roston, Kevin & Lorez; 2 brothers-in-law: Samuel Arthur & Edison Fernander; 15 aunts: Cynthia Albury, Estherletta Mackey, Coral Poitier, Judy & Orson Morris, Debbie & Lenora Poitier, Anne & Marlyn Bridgewater, Carol, Janet & Tracy Thurston, Sonetra Huyler, Denice Bethel & Minister Susan Griffin of Florida; 9 uncles: Cecil Morris, Leslie & Nikita Poitier, Gregory & Godfrey Bridgewater, Reginald, Machael, Everette & Cyril Thurston; 4 grand aunts: Julia Huyler, Ethel Johnson, Agnes Pinder, Janice Johnson of Pompano, Florida; 1 grand uncle: James Fernander; 76 cousins: Mary & Martha Forbes, Donell Rolle, Monica Porter, Sabrina Poitier, Racquel Forbes, Mayetta Albury, Tamara, Deandra & Rufilina Mackey, Anettta Albury, Timolin Bodie, Samantha, Meryl Morris, Theresa Marshall & Denora Pratt, Selina, Jennifer & Wentey Huyler, Shavonia, Avebea, Marissa & Jaydonna Bridgewater, Naphateria Bridgewater, Monique, Maxine, Lakia, Sarah, Elizabeth & Angelica Beneby, Macara, Bianca, Vincess, Ruth & Miriam Hepburn, Deandra & Kimberley Thurston, Benji, Briton & Brandon Albury, Frank & Michael Minnis, Olin & Gerrad Hanna, Ashton Pratt, Kenneth, Renaldo & Dominique Poitier, Gino Marshall, Kenneth & Edward Morris, William Hunt Jr., Gregory Bridgewater Jr., Alvin & Calvin Huyler, Reginald Bridgewater, P.J. Bridgewater, Antonio Maxwell, Angelo & Omar Beneby, Bernard Hepburn, Jack Thurston, Capt. Borris & Kaven Delancey family, Richard Delancey & family; a host of other relatives & friends including: Chantel Gardiner, Pastor Osmond & Joan Sampson of Effective Life Changers Ministry, Carol Brown, Berthamae Lightbourne, Antionette Miller, Ruthmae Poitier, Gladstone & Ruth Thurston, Minister Valencia Huyler, George McPhee, Pastor J. Leslie Rolle & family, Mt. Zion Baptist Church, St. Peters Baptist Church, Church of God of Prophecy, New Providence Community Church, Bishop Moss, Rev. Sherlock Padmore & Christ Is The Answer Ministry, Turks & Caicos Islands, Staff of Wendy's, Staff of Rhoda's Place, Staff of Smokey's Place, Gwendolyn Brown, Mike Hopkins, Gambier Community, Gambier School, Gambier Clinic, Doctors & Nurses of ICU at Princess Margaret Hospital, Hon. Hubert Minnis, Mr. Frank Watson, Zonica Wallace, Cheryl Sands, Genice Rolle, Frank & Wendy Cartwright, Neville Wisdom & family, Loren Rolle & family, Marilyn Wallace, Stacy Poitier, Judy Morris & numerous others too numerous to mention.
Friends may pay their last respects at Demeritte's Funeral Home, Market Street, from 10-6:00 p.m. on Friday & on Saturday at the church from 11:00 a.m. until service time.