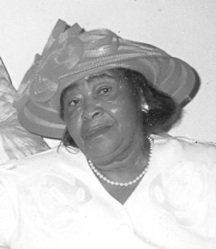 ELLAMAE PRATT
unknown - unknown
Funeral Service for ELLAMAE PRATT aged 87 years of Blake Shore Road, off Blue Hill Road who died on March 22nd, 2013 will be held on Saturday, April 6th, at 10:00am at First Baptist Church, Market Street & Coconut Grove Avenue. Officiating will be Rev. Diana Francis assisted by other Minister of the Gospel. Interment will follow in the Southern Cemetery, Cowpen & Spikenard Roads.
She is survived by her (2) Daughters: Emily Pratt-Gardiner & Katymae Archer; (2) Nephews: Anthony Davis of New York & Johnathan Davis; (1) Nephew-in-law: Mr. Tyrone Archer Sr.; (4) Grand Niece: Mrs. Veronica Bethel, Christina Adderley, Mrs. Florence Gardiner & Jonneisha Davis; (2) Grand Nephews: Antonio Archer & Tyrone Archer Jr., (1) Grand Nephew-in-law: Andrew Gardiner; (4) Great-Grand Niece: Mrs. Krizia Tynes-Williams, Veronique Bethel, Andria & Alexi Gardiner; (3) Great -Great Grand Nephews: Elwood Tynes, Andrew Gardiner & Tyrone Archer (Ty-Ty); One Great Grand Nephew-in-law: Mr. Valentino Williams; (2) Great Great-grandchildren: Kayden Williams & Elwood Temo Tynes; (1) Cousin: Alice; A host of other Relatives & Friends including: Mrs. Ella Louis Strachan, Edmund, Tavares, Kareem, Dario, Roman, Ramun, Tamesha, Sally, Frank, Sandra, Margaret, Jermaine, Harry, Walter, Henry, Terrance Jeffery, Miss Petral, Mrs. Beverley Wallace-Whitfield, Winston, Kenneth & Paul Wallace Whitfield, The Big Pond Subdivison family, Dale Rahming, Melvese Seymour, Lashan Culmer, the Strachan family, the Archer family, Alfie Bethel, Sharon Fowler, Marva Cox, Merline Miller, Judy & family, the Point staff, the Evening Star Prayer Group & Mr. Capron and the Good Samaritan Home family.
Viewing will be held at Clarke's Funeral Home #41 Tonique Williams-Darling Highway on Friday, April 5th, from 1:00pm to 6:00pm and on Saturday from 10:00am at the church until service time.