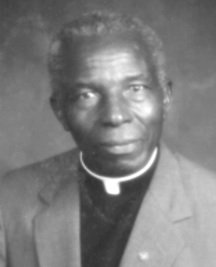 Rupert William Johnson
unknown - unknown
Funeral Service for Bishop Rupert William Johnson, J.P., 77 years of #36 Butler's Addition and formerly of Smith Bay, Cat Island, will be held on Sunday April 7th, 2013, 1:00 p.m. at Mission Through Faith Church of God, Soldier Road, East. Rev. Carroll Johnson, Bishop Benjamin Gibson and Bishop Lindo Wallace will officiate. Interment will follow in Woodlawn Memorial Gardens, Soldier Road.
Left to cherish his memories is his family is his wife: Amanda G. Johnson; one (1) daughter: Elease Johnson-Jenkins; son-in-law: Kelvin O. Jenkins; two (2) granddaughters: Nicole and Amanda Jenkins of Nashville, TN; four (4) brothers: Rev. Carroll Johnson, Holston Johnson of Cat Island, Osborne Johnson and Emerson Johnson of Nassau; one (1) aunt: Thelma Symonette, sister-in-laws: Alice Johnson, Christine Johnson of Nassau, Sabrina Johnson of Cat Island, Leonie Johnson, Elease Williams of Nashville, TN, Ancel Knowles, Mary Collie, Laurencene McSweeny, Charlotte and Amanda Williams of Nassau; brothers-in-law: Rev. Dr. Charles Williams of Nashville TN, Lloyd Williams Jr. and Donald Knowles J.P., of Nassau; a host of nieces and nephews and their spouses and families including: Christine Forbes; Patricia, Michelle, Marsha and Rosanna Johnson; Goran; Drusilla, Elsaida, Denise, Colley and Vanderia Forbes; Cindy Cartwright; Kim Thompson; Janet Rolle; Jill Hanna; Karen; Mizpah; Pamela; Krista; Yvonne; Diane; LaQuinta; Natasha; Catherine; Donnie; Rickie; Anthony; and Holston Johnson Jr. Calvin Davis Jr.; Troy; Marvin; Irken; Ryan; Carlos; Emerson Jr.; and Michael Johnson; Harold Johnson Jr. of FL; Dennis and Johnley; Also, Carlos Williams of Nashville TN; Keith Collie of FL, Joseph Collie Jr., of Nassau; David, Howard, Donald Jr. and Charles Knowles of Nassau; Clarissa Hanna, Kelly and Ruthie Knowles of Nassau; Kervin McSweeny, Keiran McSweeny and Kristian McSweeny; Stanley Williams Jr. of Atlanta and Dr. Bruce Williams of Atlanta, GA:, Kenneth and Keith Williams of Smyrna, TN; Carl and Andy Williams of Freeport, Dr. Timothy Williams of Freeport; Ted Williams of FL, Delphane Rolle, Brenda Williams, Louise Simzone, Carolyn Davis; and Lisa Pinder of Freeport; Shirley Williams of Las Vegas, NV; Montey and Kendall Williams, Erica Williams-Archer, Dania and Renauld Williams; Blache; Franklin Jr.; and Christopher Williams. Shirley Williams-Simms; Desond Williams; And numerous other relatives and friends including: Jane and Joseph Williams, The Rose Family (Children of the late Almanida Rose), The Simmons Family, The Johnson Family, The McKenzie and Livingston Families. Also, the Brown, Hart, Seymour and Ring Families. the Williams Family, the Daminios Family, the Gaiter, Sanders and Devaux Families. Mr. Alfred Bullard and Family, The Mission through Faith Church Family, Goddaughters: Natasha Larimore, Teresa Johnson and Verona "Ronnie" Seymour.
Friends may pay their last respects at Bethel Brothers Morticians, #32 Nassau Street on Saturday from 10:00 a.m. to 6:00 p.m. and on Sunday from 10:00 a.m. to 11:00 a.m. and at the church from 12:00 noon until service time.