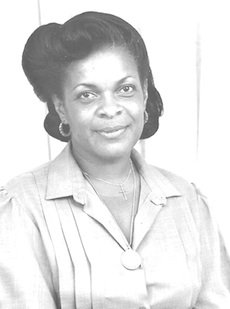 Clarissa ""Clara" (née Pinder)" Wallace
unknown - unknown
Funeral Service for CLARISSA "Clara" Wallace (née Pinder) of The Bight, West End, Grand Bahama, formerly of Pinders Point, Grand Bahama, will be held at St. Mary Magdalene Anglican Church, West End, Grand Bahama, on Saturday, April 13, 2013 at 11:00 a.m.  Officiating will be Father Ian V. Claridge.  Interment will be made in the West End Public Cemetary, West End, Grand Bahama.
She is survived by three sons: Alton Kingsley II, Andrew Xavier and Drexel Anthony;  one adopted daughter: Jennie Anderson; seven grandchildren: Anastasia, Denesha, Avandi, Andrea Wallace, Traynard Walker, Kyle Saint and Anaia Wallace; one brother: James Pinder; two daughters-in-law: Stephanie and Donnette Wallace;  adopted son-in-law: Rufus Anderson; one aunt: Janice Stuart; one brother-in-law: Robert Wallace; nephews: Shervin Bastian (wife Donna), Austin Rolle (wife Pearline), Wellington, Anthony and Jerry Pinder, Hartman, Mikey, Jerome and Neko Pinder, Charles Stuart (wife Phyllis), Emmanuel Stuart (wife Portia), Horatio Stuart (wife Ludell); nieces:  Maudline Martin, Earline Anderson (husband Leviticus), Rosemary Williams, Linda Evans, Annie Roberts (husband Buster), Verdell Pinder, Veronica Ferguson, Clemintina Pinder and Jasmine Pinder, Sandramae Saunders, Jeanette Parker (husband Walter), Ellie, Carolyn and Bernice Stuart; numerous grand nieces, grand nephews, great grand nephews and great grand nieces;  other loving family and friends including:  Mr. and Mrs. David Wallace and Family, Emanuel Wallace and Family, Mary Nairn and Family, Coleen Vincent and Family, Beverly Wallace and Family, Adrianne Wallace and Family, the entire communities of  West End and Bimini, Pinders Point and Holmes Rock.
Special thanks to: The Doctors, Nurses, Staff and former Staff of the Rand Memorial Hospital.    The Doctors, Nurses and Staff of the West End Clinic. Also: Caregivers - Angelita Martin, Elsie Williams, Robin Vincent and Retta Vincent. 
Viewing will be held at Russell's and Pinder's Funeral Home, Eight Mile Rock on Friday, April 12, 2013 from 1:00 p.m. until 7:00 p.m. and at the Church on Saturday, April 13, 2013 from 9:30 a.m. until service time.